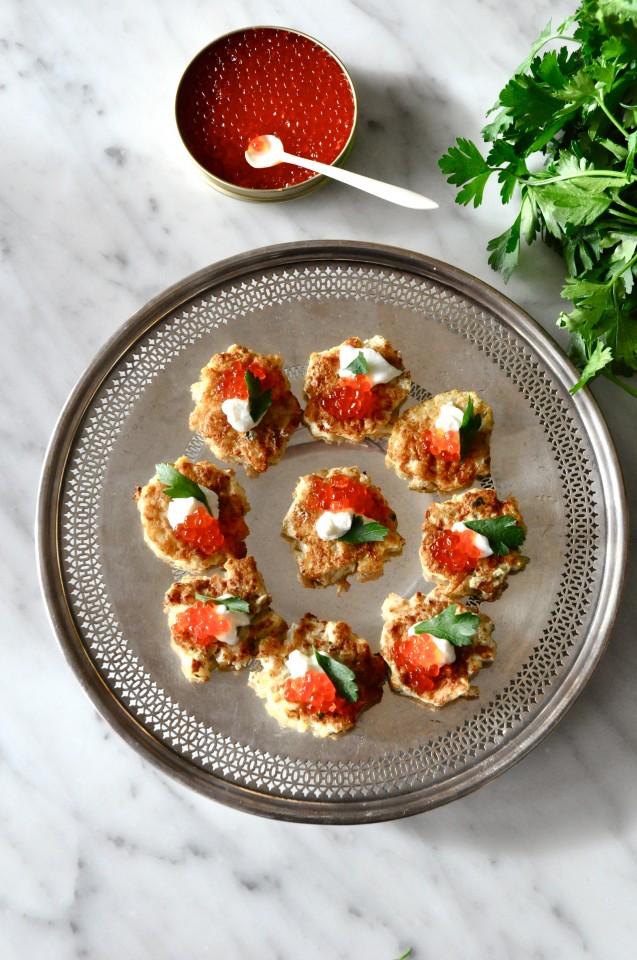 After all of the Christmas day feasting I am sure no one wants to talk about canapés but we have New Year's Eve coming up in less than a week and I still have some great recipes to share.
Let's cut to the chase.
Making these fritters was a bit of a revelation for me. They are like a pancake but so light and airy. Perhaps that is because they are made without any flour and so as long as you use a gluten free baking powder these are great for the wheat free people in your life. The nubs of boiled (or roasted) cauliflower are spiced with some cumin, coriander and allspice and everything is held together by beaten egg whites.
Topped with some yogurt and salmon roe these are one of my new favourite canapé recipes that I can't wait to make for our classes and dinners in 2014!
Cauliflower Fritters with Yogurt and Salmon Roe
Recipe is by José Andrés via Food and Wine.
The recipe calls for cauliflower that is chopped and then blanched in boiling water. I happened to have some roasted cauliflower in the fridge and simply chopped it up and proceeded with the recipe. I feel like the flavour of the roasted cauliflower was perfect and even enhanced the overall flavour of the fritters. Feel free to try it both ways.
1/2 large head of cauliflower florets finely chopped (about 2 cups)
Fine grain sea salt
1/4 teaspoon freshly ground pepper
1/2 teaspoon baking powder
1/4 teaspoon ground cumin
1/4 teaspoon ground coriander
1/8 teaspoon ground allspice
3 large egg whites
6 tablespoons whole milk yogurt
1 1/2 teaspoons extra virgin olive oil, plus more for frying
Salmon caviar for garnish
Parsley sprigs or micro greens for garnish
Bring a medium saucepan of salted water to a boil. Add the cauliflower and cook for two minutes. Drain well and spread the cauliflower pieces on a paper towel lined baking sheet to cool. Pat the cauliflower dry.
In a small bowl, combine 1/2 teaspoon of salt with the baking powder, cumin, coriander, pepper and allspice.
In a bowl of a stand mixer, beat the egg whites with a pinch of salt on high speed until stiff peaks form. Fold in the cauliflower and the spice mixture.
Heat a large non-stick skillet over medium to medium high heat. Lightly oil the surface and trop tablespoons of the fritter batter into the skillet and cook until browned on the bottom, about 2 minutes. Flip the fritters and cook on the other side until browned.
Transfer to a large rimmed baking sheet and repeat with the remaining batter, coating the skillet with oil as needed.
In a small bowl, blend the yogurt with 1 1/2 teaspoons of olive oil and season with salt. Place the fritters on a platter and garnish each fritter is a small dollop of the yogurt sauce and some caviar. Garnish with a small sprig of parsley.
The fritters can be fried earlier in the day and kept at room temperature. Reheat in a 350 degree F (175 C) oven for a few minutes before garnishing with the yogurt and roe.
Makes 24 canapés.