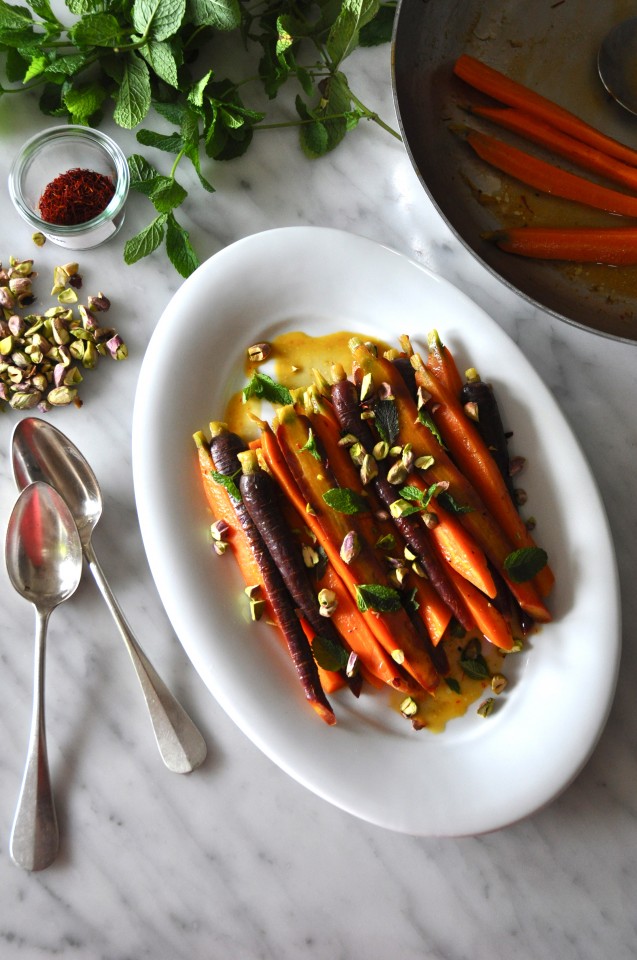 Yesterday was one of those days where there were many things on my to-do list and yet somehow very little got done.
There were plans to bake a cake, make some fresh pasta for ravioli, work on the cooking class schedule, plan some menus and spend at least a couple hours working on organizing my office.
None of it happened.
Instead I walked with my sister and the dog in the morning sunshine. I puttered around making beds, tidying the kitchen, drinking coffee and making lists.
I did manage to clean out the fridge.
In the crisper drawer amongst the eggplants (destined for a green curry) and a bag of rather sad looking watercress (to be paired with potatoes and chicken stock for soup) were some lovely carrots that I had picked up at the market on Saturday.
One bunch of purple and one of orange.
On the counter was a bowl of unshelled pistachios and in a small water glass a bouquet of the last mint from the garden.
I was reminded of a dish that I made last year as part of our Thanksgiving feast. Nestled in among the platters of turkey and stuffing and bowls of cranberry sauce and roasted Brussels sprouts was a plate piled high with these glazed carrots. Scented with saffron and a splash of red wine vinegar and garnished with toasted pistachios and some mint they were so flavourful and pretty enough to hold their own at the table.
With Thanksgiving menu planning in full swing this recipe will once again have a place at our table. I thought it was the perfect time to share this recipe with you just in case you are looking for a special side dish for your upcoming celebration.
After the holiday I plan to enjoy these on a bed on quinoa and topped with a bit of crumbled feta. They would also be great with roasted duck legs and a savory kale and Gruyere panade. Alongside roasted lamb. Maybe even puréed and topped with the toasted pistachios and a swirl of crème fraïche.
Yesterday when I made them they barely lasted long enough to be photographed as my sister and I ate them (with our fingers!) right off the plate. The humble carrot. Who knew?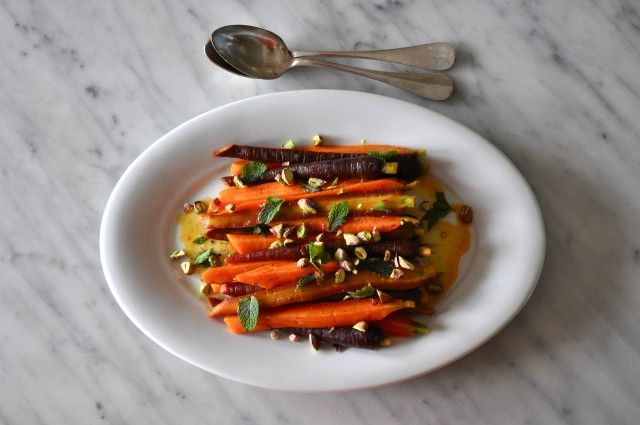 Glazed Carrots with Saffron, Pistachios and Mint
This dish looks particularly fetching if you can find a variety of different coloured baby carrots but works perfectly well with just the orange variety.
Adapted from Jonathan Waxman's A Great American Cook.
3 bunches baby rainbow carrots, greens attached
2 cups water
Fine grain sea salt and freshly ground black pepper to taste
Large pinch of saffron
1/4 cup hot water
3 tablespoons unsalted butter
2 tablespoons red wine vinegar
1/4 cup shelled pistachios, toasted and chopped
2 tablespoons chopped mint
Trim the carrot greens, leaving 1 inch at the top. Peel the carrots and then cut in half or quarters depending on the size of the carrots.
Place the carrots in a large sauté pan with the 2 cups of water, salt and pepper. Bring to a boil over high heat, cover and reduce to medium. Steam the carrots until al dente, 6 to 8 minutes. Drain the carrots and set aside to cool.
Place the saffron in a dish cover with the 1/4 cup of hot water. Set aside.
When ready to serve place the carrots, saffron water, butter and vinegar in a large sauté pan and bring to a simmer over medium heat. Cook until the sauce is reduced and the carrots are glazed, about 2 minutes.
Transfer to a warmed serving platter and top with the chopped pistachios and mint. Drizzle the sauce over the top and serve warm.
Serves 8 as a side course.