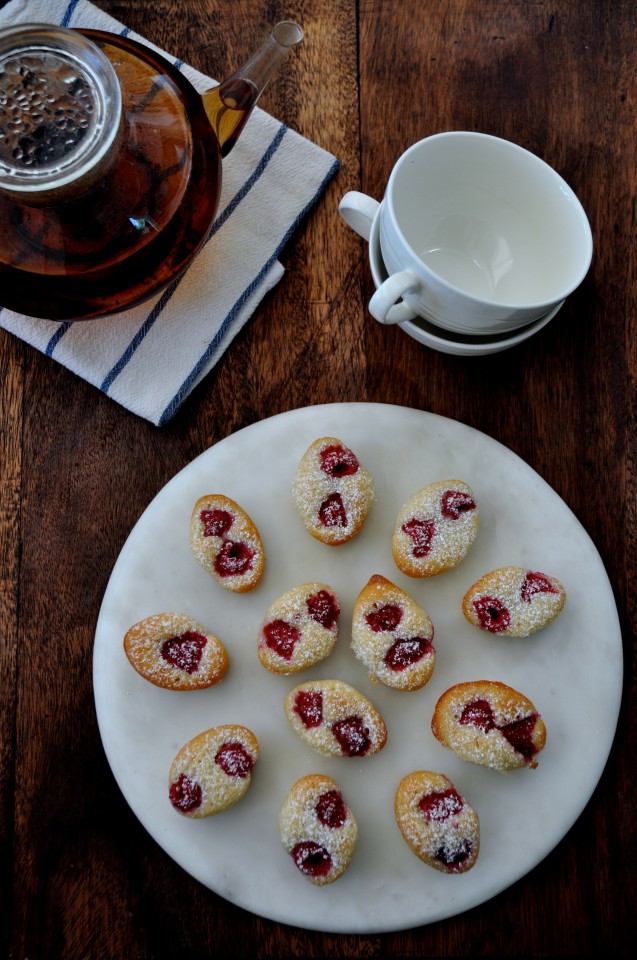 Just a quick post today. I am busy getting ready for my son's 12th birthday party on Saturday but wanted to put up a recipe that is a great way to use up the egg whites from my last post (fig leaf ice cream) and showcase some summer raspberries at the same time.
Whenever I make ice cream or carbonara that requires only the yolks of eggs I always save the whites to use in some other dish. The whites, saved in an airtight container in the fridge, will happily keep for a few days but it is always great to have a few recipes up one's sleeve to use the egg whites other than making an egg white omelette which I am not a huge fan of.
Mini pavlovas are one great way to use up leftover egg whites but require a whole lot of beating and can be a bit intimidating to make. Here is a one-bowl-wonder of a recipe that only requires a quick whisking of the egg whites that are then combined with ground almonds, sugar, a bit of flour and some salt. The batter is quite thin and can be easily poured into greased friand or financier molds and topped with a raspberry (or peach slice or cherry slice or even blueberries) and baked to produce a small yet special treat to enjoy with a cup of tea.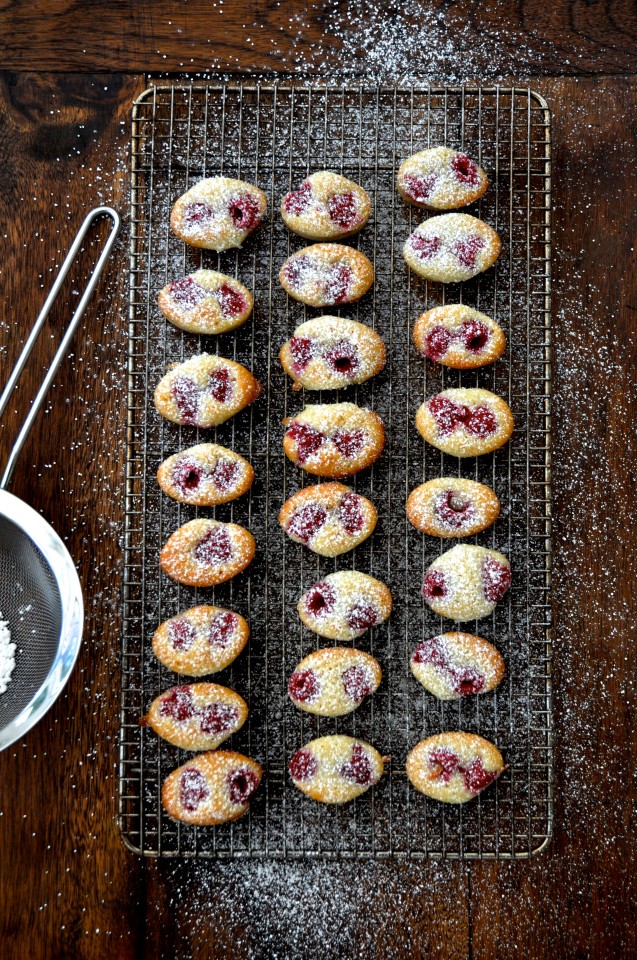 Once they emerge hot from the oven, dust them with a bit of icing sugar and enjoy.
Wish me luck with the big birthday party, I think I am going to need it!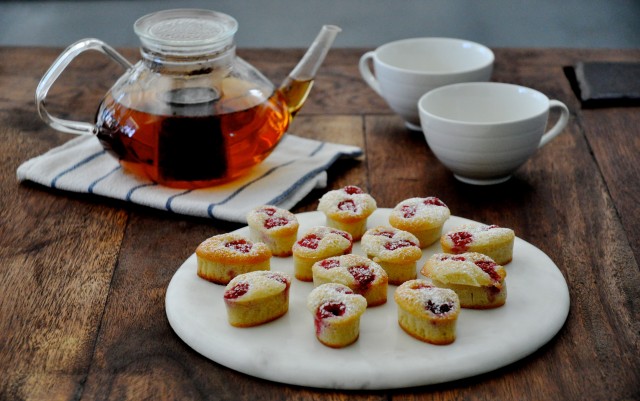 Raspberry Friands
I make this using mini friand molds that I ordered online. You can also use financier molds or even mini muffin tin. These can also be made using full size moulds just ensure you bake until a skewer inserted into the centre of each cake comes out clean. This recipe (especially if you are making full size friands) can be easily doubled.
Recipe is adapted from Katie Quinn Davies What Katie Ate: Recipes and Other Bits and Pieces.
5 large, free-range or organic egg whites
1 1/4 sticks (141 g) of unsalted butter, melted
3/4 cup (71 g) finely ground almonds
1 cup plus 3 tablespoons (142 g) of icing sugar, sifted, plus more for dusting
1/3 cup (43 g) of all-purpose flour, sifted
pinch of fine grain sea salt
1/4 lb (113 g) fresh raspberries, plus extra to serve
Preheat the oven to 400 degrees F (205 C). Lightly grease 24 mini cup or friand molds (silicon or not stick).
Whisk the egg whites just until lightly combined and then add in the melted butter, sifted icing sugar and flour and salt and beat lightly to combine well. Pour into the prepared friand moles or pans filling each cup 3/4 of the way full.
Place two raspberries on the top of each friand and bake in the oven for 20 to 25 minutes until a skewer inserted into the centre comes out clean.
Remove from the oven, allow to cool for a few minutes in the pan and then remove from the pan and place on a cooling rack.
Dust with the extra icing sugar and serve warm with the additional raspberries.
Makes 24 mini friands.