Hello again!
I am sure there are a few of you out there that had given up on seeing another recipe here on this "food" blog ever, ever again.
Finally, at long last here it is! A recipe for a really easy (and delicious) duck confit. A recipe worth waiting for, I promise!
We made this duck confit during our culinary tour in Paris in the spring and it was one of the most popular cooking class recipes we demonstrated. Everyone in our group loved that it demystified the whole confit process, that it didn't require large tubs of expensive duck fat and that it still managed to taste fantastic. The joy of this recipe is that all you need to make a very good duck confit at home is some good quality duck legs, some common herbs, salt and pepper and a bit of patience.
I wish I could claim ownership of such a great confit technique but credit must be given to New York Times columnist Melissa Clark and Chef Eric Bromberg who developed it while working on the Blue Ribbon Cookbook that was to feature a traditionally made French duck confit.  Home cooks have always been reluctant to make duck confit primarily due to the amount of expensive, and not readily available, duck fat. So Melissa and Eric set out to develop a more user friendly method that works like a dream at home.
A traditional duck confit is made by curing duck legs with herbs and spices and then slowly poaching the legs in duck fat until the meat is super tender and falling off the bone. Once cooked the legs can be cooled and placed in a container and then completely covered by a layer duck fat. This is a centuries old method to preserve meat, allowing it to be stored for up to six months. When ready to eat the legs are removed from the fat and placed in a hot pan to crisp up the skin and warm the meat.
The traditional approach to making confit makes perfect sense in a restaurant kitchen as duck fat, and lots of it, is readily available from the butchering of ducks for other dishes.  Not so at home. This non-traditional approach will not allow you to preserve the duck legs for long periods of time but duck confit never lasts more than a day or two around my house anyway.
By simply slowly rendering the fat from the duck legs themselves in a pan before cooking them in a low oven for a couple of hours yields surprisingly unctuous results. The amazing added bonus is that there is just enough duck fat left over to fry up a batch of crispy potatoes!
You will need to cure the duck legs for at least 24 hours before you slowly cook them so do plan ahead.
When I make duck confit I always add in a few additional legs to use in other dishes. Duck confit Shepherd's Pie with truffled mashed potatoes and caramelized corn is a personal favourite. Leftover duck confit is also very at home paired with risotto, in salads, soups or in sandwiches.  A little taste of Paris!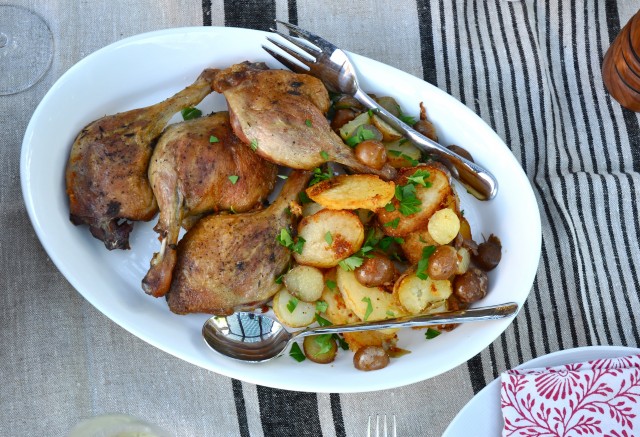 Really Easy Duck Confit
Recipe adapted from Bromberg Bros. Blue Ribbon Cookbook by Bruce Bromberg, Eric Bromberg and Melissa Clark.
2 teaspoons fine grain sea salt
Freshly ground black pepper
4 sprigs of fresh thyme
3 fresh bay leaves torn
4 duck legs (about 2 lbs/1 kg total), rinsed and patted dry but not trimmed
Place the duck legs in a shallow dish or pan and season with the sea salt and some black pepper. Strip the leaves of thyme from the sprigs and scatter on top of the seasoned legs and add in the torn pieces of bay leaf.
Cover tightly with plastic wrap and refrigerate for 24 hours.
The next day, heat the oven to 325 degrees F (169 C). Allow duck legs to come up to room temperature.
Place the duck legs, fat side down, in a large ovenproof skillet, with the legs fitting snugly in a single layer.
Heat the duck legs over medium heat until the fat starts to render. When there is about 1/4 inch of rendered fat in the pan, about 20 minutes, flip the duck legs over and cover the pan with foil or a lid. Place in the preheated oven.
Roast the legs for about 1 1/2 hours, or until the meat is very tender, falling away from the bone and the duck is golden brown. Remove the duck from the fat and use the fat for another use (like frying potatoes)!
Serve the duck hot or warm.
Serves 4.