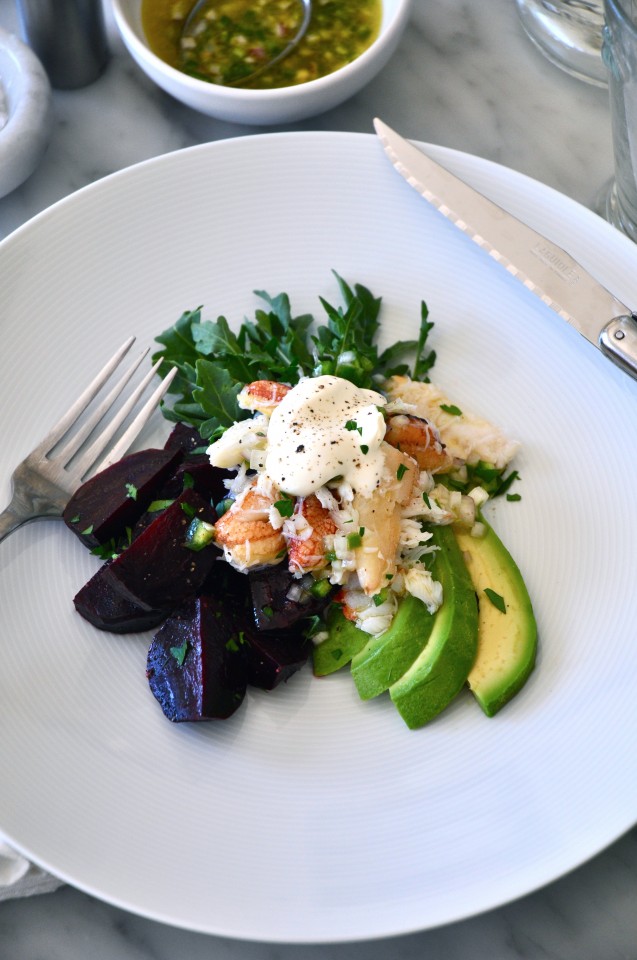 Two weekends ago I was invited out for dinner at a friend's house. This may not sound like a big deal but I very, very rarely get invited out for dinner at someone's home. I used to wonder if this was because I was a lousy conversationalist, didn't bring the right kind of wine, or perhaps at the end of the evening I left too early (or late).
Finally, I asked a friend and she said, "Well, people don't want to have to cook for you. They are intimidated to cook for someone who teaches other people how to cook. What if they have a cooking disaster and you are there to witness it, or what if the food just tastes bad? Plus people feel that they have to make something special, not just the same old macaroni and cheese casserole they usually serve when they have friends over."
The funny thing is that people who love to cook, people who cook for a living, absolutely LOVE it when someone else cooks for them. We understand and appreciate all of the effort that goes into making a meal, from the shopping to the prepping to the setting of the table to the actual cooking part. I happen to love macaroni and cheese and, in fact, will happily eat any dish that is put before me, especially when someone has gone to the effort of inviting me to share a place at their table.
And the idea that people need to "impress" people who cook professionally? Nothing could be further from the truth. If I want a five star meal with a million tiny courses and truffles all over the place I will go to restaurant where they have a kitchen brigade to successfully pull off such culinary feats. But, quite honestly, I'm just not very interested in that kind of fancy schmancy cooking. I crave simpler, thoughtful, homemade meals, laid out on platters and served around a communal table.
Which brings me back to my recent dinner out.
The dinner was held at my friend Natalie's warm and comfortable home that's filled with great furniture, cool art, books and flowers and a fire in the fireplace. Some beautiful olives, perfectly ripe cheese and a selection of crackers were laid out on the living room table when we arrived. Sarolta and Cathy, two of my favourite people in my world, were there too. The four of us sat and talked and laughed and nibbled and drank some nice wine. When it was time for dinner we moved into the kitchen so that Natalie and Cathy could pull together a lovely, low key supper in the kitchen.
While Natalie grilled some fragrant, local sausages, Cathy assembled a couple of salads she had pre-prepped. One consisted of silky slices of prosciutto, grilled asparagus and a grainy mustard crème fraîche which was served on a platter to go alongside the sausages. The other dish was the salad you see pictured above and was served as the starting course. It was the perfect start to our very perfect dinner. For dessert we had chocolate tarts prepared by a friend of Natalie who is a budding pastry chef and some peppermint tea.
Since our dinner at Natalie's I have made the proscuitto salad and served it with some sausages I picked up at the Farmer's market and I was also inspired to give the crab and avocado salad a go. Stealing bits of inspiration.
I have thought back on this evening a number of times trying to pinpoint why it was so special for me. I loved the meal. I loved the entire evening. I loved that it was relaxed and comfortable and full of great conversation. It was great to be surrounded by good friends.
Most of all it was wonderful to be invited to take my place at the table.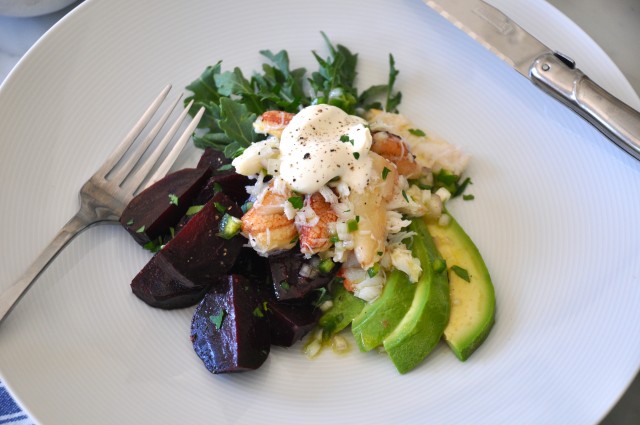 Dungeness Crab Salad with Avocado, Beets, Crème Fraîche, and Lime
Recipe is adapted from Sunday Suppers at Lucques by Suzanne Goin
3 bunches medium beets
3/4 cup extra virgin olive oil
1/2 lemon
1/4 cup finely diced shallots
3 tablespoons seeded, diced jalapeños
1/3 cup lime juice
2 large avocados
6 small handfuls of arugula leaves
3/4 lb (454 g) cooked Dungeness crab meat that has been carefully picked for stray bits of shell
1 tablespoon chopped flat-leaf parsley
1 tablespoon chopped cilantro
1/2 cup crème fraîche
Fine grain sea salt and freshly ground pepper
Preheat the oven to 400 degrees F (205 C).
Trim the beets of their roots and stems and wash them well. Toss the beets with 1 tablespoon of olive oil, sprinkle with some salt and then wrap them in aluminum foil and place on a baking sheet. Place in the oven and roast for 40 to 50 minutes until they are easily pierced with a sharp knife.
When the beets are done remove from the oven and allow to cool. When cool enough to handle peel the beets by slipping off the skins with your fingers and then slice in 1/2 inch wedges. Place them in a medium bowl and toss with 1 tablespoon of the olive oil, a generous squeeze of lemon juice and some salt and pepper. Taste and adjust seasoning. Set aside.
While the beets are roasting, combine the shallots, jalapeños, lime juice and 1/2 teaspoon salt in a small bowl and let sit for 5 minutes. Whisk in 1/2 a cup plus 2 tablespoons of olive oil and then taste for balance and seasoning.
Cut the avocados in half lengthwise, remove the pit and peel. Cut into 1/4 inch slices and then season with salt and freshly ground black pepper. Fan the avocado slices on one side of a chilled platter or on six individual plates. Place the beets on the other side and arrange the arugula in the middle.
Toss the crab gently with two-thirds of the jalapeño lime vinaigrette, the parsley and the cilantro in a large bowl. Taste the crab and season with some salt and/or lime juice if you like. Pile the crab on the arugula and top with the crème fraîche and a few grinds of black pepper. Drizzle a bit more of the vinaigrette over the avocado.
Serves 6.