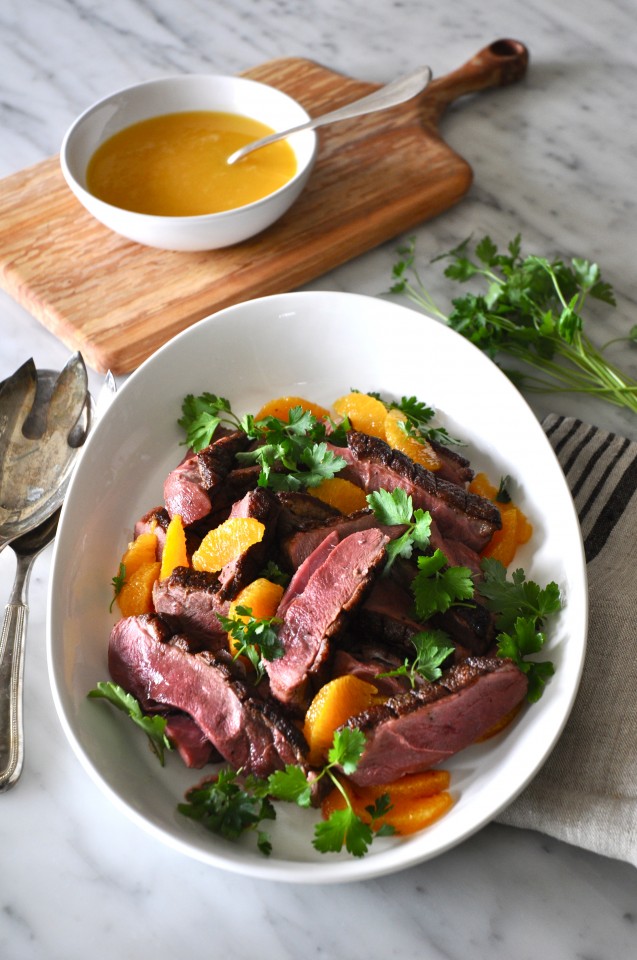 Just waiting for our group to arrive so that we can tie on our aprons and cook our first dinner together in the Paris kitchen.
Today we spent a couple of hours wandering the streets of our neighbourhood, picking up the items we needed for our cooking class tonight. From our shopping list we found duck breasts for searing and oranges to make an accompanying sauce. We bought potatoes, comté, cream and garlic for a gratin dauphinois. We picked up some lovely endives and some tangy Fourme d'Ambert for our salad course. We found some beautiful strawberries that will be paired with a caramel vinegar sauce, mint and a few grinds of black pepper for dessert.
Then there were a few things that were not on the list but looked so good that there was no way we couldn't pack them up and bring them home as well (rhubarb tart anyone?).
Today I am posting the recipe for one of the duck recipes that we will be preparing tonight. We couldn't decide between doing a seared magret de canard or a really easy duck confit so we figured we would just do both.
Tomorrow we are off to discover the sweet side of Paris. See you then!
xo J
Duck Breast with Orange Sauce
2 cups freshly squeezed orange juice
3 13 ounce (390 g) duck breasts, skin scored almost to the meat
3 tablespoons unsalted butter, cut into cubes and chilled
Fine grain sea salt and freshly ground pepper
2 oranges peeled and segmented
1 tablespoon extra virgin olive oil
2 teaspoons red wine vinegar
Sprigs of flat-leaf parsley to garnish
Place the orange juice in medium, heavy-bottomed pan over medium heat. Bring to a simmer and reduce by half. Check often to ensure that your juice isn't reducing too quickly. When the juice has reduced to the proper consistency, remove it from the heat and set aside.
Meanwhile, preheat the oven to 400 degrees (205 C). Season the duck breast well with salt and pepper.
Heat a non-stick frying pan over medium heat for 3 minutes. Add the duck breasts, skin side down and cook for 5 to 6 minutes until the skin is golden and most of the fat has rendered. Transfer to a baking tray and roast in the preheated oven for 6 to 7 minutes for medium rare, or until cooked to your liking. Rest, covered for 5 minutes.
While the duck is resting, reheat the reduced orange juice over low heat. Quickly whisk in the cubes of cold butter, working on and off the heat so that it emulsifies into the orange juice, causing it to thicken slightly. Season with a bit of salt and pepper. Keep sauce warm.
Place the orange segments in a bowl and toss with the oil and vinegar and some salt and pepper.
Slice the duck crosswise on the bias and arrange the pieces on individual warmed plates or on a platter. Top with the orange segments and parsley sprigs, then drizzle on the orange sauce.
Serves 6
.