I arrived home three weeks ago today but my heart and mind are still very much in La Belle France. The transition back to my real life has been a little less smooth than I would have liked but luckily my family has been very, very patient and things are starting to come together around here. Just this week I have begun to feel the winds of change and am excited to see signs of a beautiful Vancouver spring blossoming everywhere.
It is time to say farewell to France (for now) and what better way than to bake up a batch of sweet little donut/cake/muffins that are charmingly called French puffs.
I baked these last Sunday afternoon with the back doors wide open and the sun streaming into the kitchen.  I hauled out the stand mixer, set out butter and sugar and flour and eggs and buttermilk and listened to some 1940's and 50's French ballads sung by my friend Jill Barber who just put out her first French language album. During my afternoon baking session I missed Villefranche a bit but felt glad to be back in my Vancouver kitchen again.
Are these little puffs really French at all? To be honest, I don't think so. They may be French in the same way that "french toast" is french (which, by the way, the French call pain perdu and serve for dessert…) but no matter what they are called they are wonderful little bites to eat and share with those you love, wherever you may be.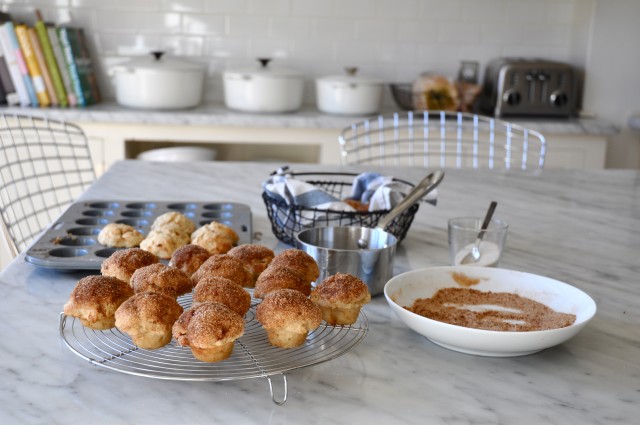 Nutmeg Scented French Puffs
Recipe is Adapted from Standard Baking Co. Pastries via Sweet Amandine.  These are best served warm and the day that they are made. I have read that they can be frozen and then warmed up but have never given this a whirl myself. You will need a 24 cup mini muffin tin to make these.
For the batter:
3/4 cup (170 g) butter, plus more for greasing the pan
1/3 cup granulated sugar
1/3 cup packed dark brown sugar
2 eggs, room temperature
1 1/2 teaspoons pure vanilla
1 cup of buttermilk, room temperature
2 2/3 cups of all-purpose flour
3/4 teaspoon salt
1 1/2 teaspoon baking powder
1/4 teaspoon baking soda
1 teaspoon ground nutmeg
2 teaspoons orange zest
For the sugar coating:
6 tablespoon butter, melted
1/2 cup of granulated sugar
1 teaspoon ground cinnamon
In a heavy bottomed pan, heat the 3/4 cup of butter (170 g) over medium high heat and cook, stirring frequently, until browned and nutty smelling. Set aside and allow to cool to room temperature.
Preheat the oven to 425 degrees (220 C) and butter and 24 cup mini muffin tin.
Whisk together the flour, salt, baking powder, baking soda, nutmeg and orange zest in a large bowl and set aside.
In the bowl of a stand mixer fitted with the paddle attachment, cream together the cooled brown butter, granulated sugar and the brown sugar on medium until smooth. Beat in the eggs one at a time and then add the vanilla. Lower the mixer speed to low and add in about half the butter milk and mix well, ensuring that you occasionally scrape down the sides of the bowl. The batter may look a bit uneven or like it has curdled at this point but don't worry, it comes together at the end.
Still on low speed add in half of the flour mixer and mix until just incorporated and then add in the rest of the buttermilk followed by the rest of the dry ingredients. Mix until the batter is smooth.
Divide the batter evenly into the greased cups of the muffin tin, about 2 heaping tablespoons per cup.
Bake in the preheated oven for 12 – 14 minutes, rotating the tray halfway through the baking time. Bake until the tops of the cakes are firm to the touch, and a tester inserted into the centre comes out clean.
Cool on a rack in the tin for a few minutes.
Meanwhile, melt the butter for the topping and in a separate bowl mix together the sugar and the cinnamon. While the puffs are still warm dip the tops in the butter, one by one, and then gently roll them in the cinnamon sugar. A thin layer of the cinnamon sugar on each puff is what you are aiming for. Transfer to a platter as you finish each one and serve warm!
Makes 24 mini puffs.