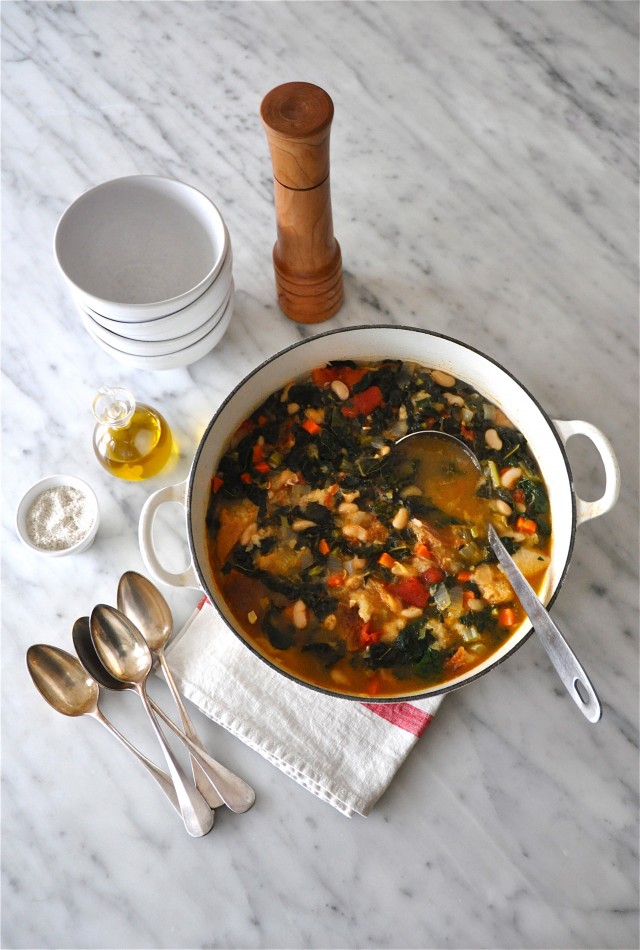 I would by lying if I said I wasn't glad to see the end of this month of January. I usually love the beginning of a new year. A fresh start, a laundry list of resolutions, looking forward.
But sometimes, as they say, "man plans and God laughs". This January was a real test of my inner strength and I fear that I came up a bit short.
Regardless, there is so very much to be thankful for. My Baba made it home from the hospital and this was no small feat. After she broke her hip she had surgery to repair the three breaks, she recovered from a heart attack that she had while in the hospital, and overcame a urinary tract infection and kidney failure. Did I mention that she is 99 years old?!
Now she is back in her own home and, with a whole lot of help (thanks Mom!), she is very slowly, very steadily getting better every day. I am so inspired by her strength and by her spirit.
Not to be overly dramatic but I am feeling somewhat spent. There have been a number of sleepless nights and a nagging sense of worry over the many decisions that needed to be made. There was my regular life that just kept on going and needed daily attention as well. I am feeling quite relieved that all of the important people in my life are still here, struggling to do our best and even celebrate the small moments of joy in each day.
Happily I feel like things have turned a corner. Some great things are planned for the month of February and I am ready, very ready, to embrace them.
I haven't posted a recipe in a while and that is partly because, in times of stress, I tend to cook many tried and true recipes that I have previously posted here on the site. But here is a great soup that I just made today for my Baba that speaks of all of the good things to come. It is simple and warming and can be made ahead (for when you need a breather) and can even be successfully frozen so that you can borrow some comfort when you don't have time to create some from scratch.
It is ever so tempting to try to tart this soup up by adding in pancetta or by using chicken stock or a fancy artisan bread. However, this is simply not that kind of soup. I have taken the liberty of adding in a Parmesan rind that I had kicking around in the freezer but it is good to keep in mind that this is a rustic, peasant style Italian soup. Easy and cheap to make and so very satisfying to eat. A soup with soul. Much like my Baba.
I do hope that the beginning of your year has been filled with wonder and adventure and love and ease. I'm counting of February to be just that kind of month for me.
xo J
Ribollita
This soup is adapted from recipes by both Heidi Swanson of 101 Cookbooks and Jamie Oliver, King of the World. A love child of sorts…
2/3 pound (310 g) cannellini beans, soaked overnight
1 bay leaf
1 tomato, squashed
3 tablespoon extra virgin olive oil
1/2 teaspoon fennel seeds, toasted and ground
1 medium onion, peeled and chopped
3 carrots, chopped
4 celery stalks, chopped
4 medium garlic cloves, chopped
1 14 ounce (400 ml) can of crushed, or whole, tomatoes
1/2 teaspoon crushed red pepper flakes
1 Parmesan rind (optional)
Fine grain sea salt and freshly ground pepper
1 pound (454 g) cavolo nero kale, washed, leaves and stocks finely chopped
1/2 pound bread (day old works great here) torn into chunks
Zest of one lemon
Good quality extra virgin olive oil for drizzling
Grated Parmesan cheese (optional)
Chopped black olives (optional)
Add the soaked beans to a pot and cover with water by a couple of inches. Add in the bay leave and the squashed tomatoes. Bring to a simmer and cook until tender about 1 and a half hours or until the beans are nice and soft. Discard the bay leaf.
In a large, heavy bottomed pot combine the olive oil the the ground fennel seeds over medium heat. Fry the fennel until aromatic and then add in the chopped onion, carrot, celery and garlic. Season well with salt and pepper. Reduce the heat to medium-low and sweat the vegetables, for 10 minutes or so, until they are soft but take care not to brown them.
Add in the tomatoes and the red pepper flakes and simmer for another 10 minutes or until the tomatoes thicken up a bit. Add in the cavolo nero, the beans, the optional Parmesan rind and 8 cups of water. Bring to a boil, reduce heat and add in the chunks of bread.
Simmer, stirring occasionally, until the bread breaks down and the soup thickens about 20 to 30 minutes. Check for seasoning and add more salt and pepper if necessary.
Remove the parmesan rind and stir in the lemon zest.
Serve immediately with a good drizzle of olive oil and the optional Parmesan and chopped olives or cool and refrigerate overnight.
Ribollita means reboiled and is wonderful (and much thicker) the next day.
Serves 8.