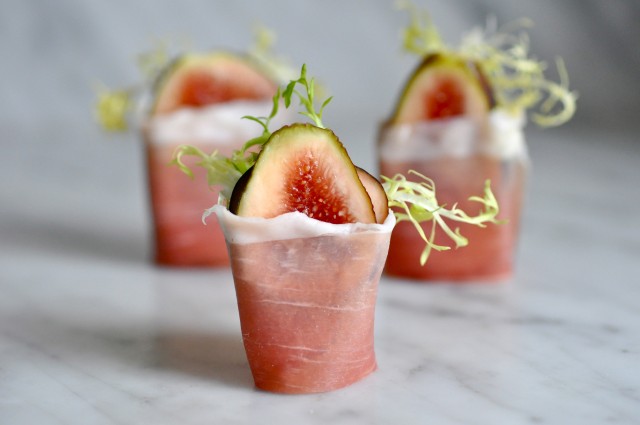 These pretty morsels are delightfully old-school and have been on the cocktail party scene for a very long time. I still love them though as they manage to be elegant in their presentation but combine some flavours that are somewhat rustic staples of Italian cooking.
Feel free to substitute arugula for the frisée if that is what you happen to have on hand. Also, if you are having trouble finding fresh figs at this time of the year or they are prohibitively expensive you could also use slices of ripe pear that have been sprinkled with some lemon juice to keep them from turning brown. You could even caramelize the pear slices in a little butter and brown sugar first before rolling them up in the salty slices of prosciutto or Serrano ham.
The rolling can be just a bit fiddly at first but after a few of these you will soon get the hang of it! These canapés can be made up to a few hours ahead of serving. Just make sure to store them in an airtight container and refrigerate. Allow to come up to room temperature before serving.
Fresh Figs Wrapped in Prosciutto with Frisée and Lemon Mascarpone
Recipe is from Dish Entertains by Trish Magwood
1/2 cup mascarpone cheese
Zest of 1 unsprayed lemon
Fine grain sea salt and freshly ground pepper
10 slices of prosciutto or Serrano ham
1 bunch of frisée lettuce or arugula
6 to 8 fresh figs, sliced lengthwise ( you will need 20 full slices)
Mix the lemon zest into the mascarpone cheese and season with salt and pepper.
Cut the prosciutto sliced in half widthwise. Lay a slice of prosciutto out onto a work surface and spread a thin layer of the mascarpone mixture of the bottom third of each slice.
Top with a few sprigs of the frisée greens and then lay a fig slice on top of the frisée. Roll up the prosciutto and arrange on a serving platter.
Repeat with the remaining pieces of prosciutto.
Makes 20 hors d'oeuvres.