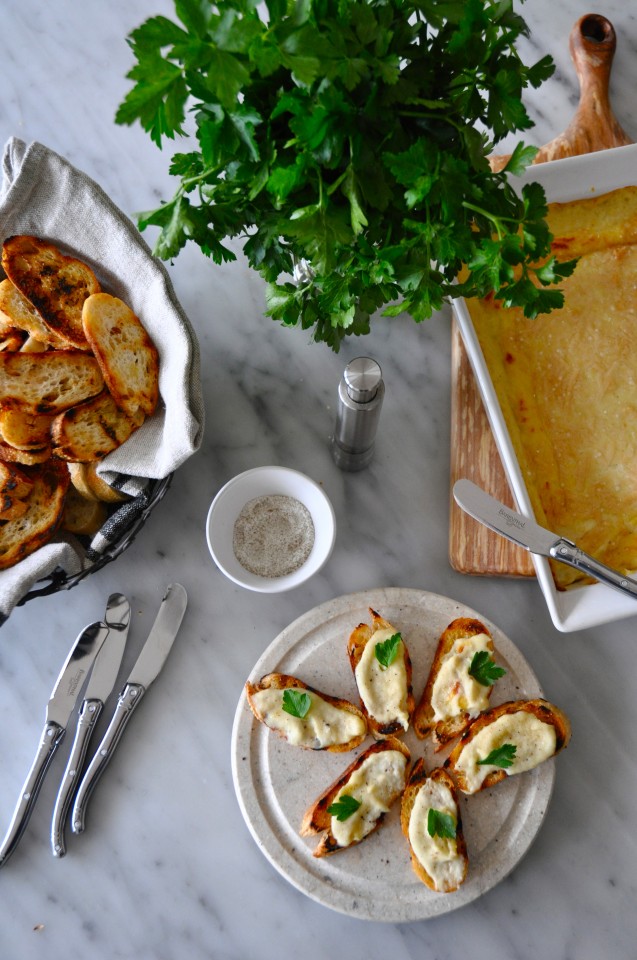 So many hors d'oeuvres tend to be last minute affairs. Assembling a tray of canapés moments before your guests arrive, no matter how small the group, can be a bit stressful.  When planning your party menu it is always a good idea to have at least of couple items that can be made ahead without a lot of last minute fussing.
Here is where this brandade de morue au gratin comes in. Morue is the french word for salt cod (the Spanish call it bacalao) and brandade refers to an emulsion of salt cod and olive oil. This is a dish eaten, generally in winter, in the South of France and all over the Mediterranean with bread or potatoes.
There are plenty of variations to this dish, some regions add boiled potatoes in with the salt cod and oil, others add garlic and/or artichokes or chestnuts and/or milk. Generally the salt cod is first soaked, (for 24 to 48 hours to remove the excess salt) then cooked and then simply mashed into the other ingredients.
This recipe, by venerable chef Jacques Pépin, calls for processing the ingredients in a food processor until they are silky smooth, topping the brandade with a bit of Parmesan and then baking in the oven until golden brown. It can be assembled and refrigerated for up to 3 days ahead! Once baked, the result is a luxurious gratin, made from very modest ingredients, that is perfect for holiday entertaining…
Brandade de Morue au Gratin (Whipped Salt Cod Gratin)
Recipe is from Jacques Pépin via Food and Wine
The assembled brandade can be refrigerated of up to 3 days. Bring to room temperature before baking.
1 lb (454 g) skinless salt cod
1 lb (454 g) large red-skinned potatoes
1 1/2 cups of whole milk
8 large cloves of garlic, peeled
1 teaspoon finely grated lemon zest
2 tablespoons fresh lemon juice
1/8 teaspoon cayenne pepper
3/4 cup good quality extra-virgin olive oil
Freshly ground black pepper
2 tablespoons freshly grated Parmigiano-Reggiano cheese
2 baguettes, thinly sliced and toasted and rubbed with half of a garlic clove
Place the salt cod in a bowl and cover with 1 inch of cold water. Refrigerate for at least 24 hours, changing the water 4 times.
Place the potatoes in a large saucepan and cover with water. Bring to a boil over high heat and cook until tender, about 30 minutes. Drain the potatoes and peel them once they are cool enough to handle.
Meanwhile, drain the cod and  transfer to a medium saucepan. Add 8 cups of water and bring just to a boil. Drain and rinse out the pan. REturn the cod to the pan, add 4 cups of water and bring to a boil. Reduce the heat and simmer over low heat for 5 minutes. Drain the cod again and return it to the pan. Add the milk and the garlic, bring to a boil, then cover and reduce the heat to a simmer and cook for 10 minutes.
When the cod is cooked remove it from the pot (reserving the milk and garlic cloves) and using two forks flake the fish ensuring that there are no bones. In the large bowl of a food processor place the fish, reserved milk and garlic cloves along with the lemon zest, lemon juice and cayenne pepper. Break the potatoes into chunks and add in to the processor as well.
With the machine on, slowly pour in the 3/4 cup of oil until incorporated. Season with black pepper.
Preheat the oven to 400 degrees F (205 C) and lightly oil a 9 x 13 inch (22 x 33 cm) baking dish. Spread the brandade in the dish and sprinkle the cheese on top.
Bake on the top shelf of the oven for 20 minutes, until golden brown. Serve with the garlic toasts.
Serves 8 – 10.