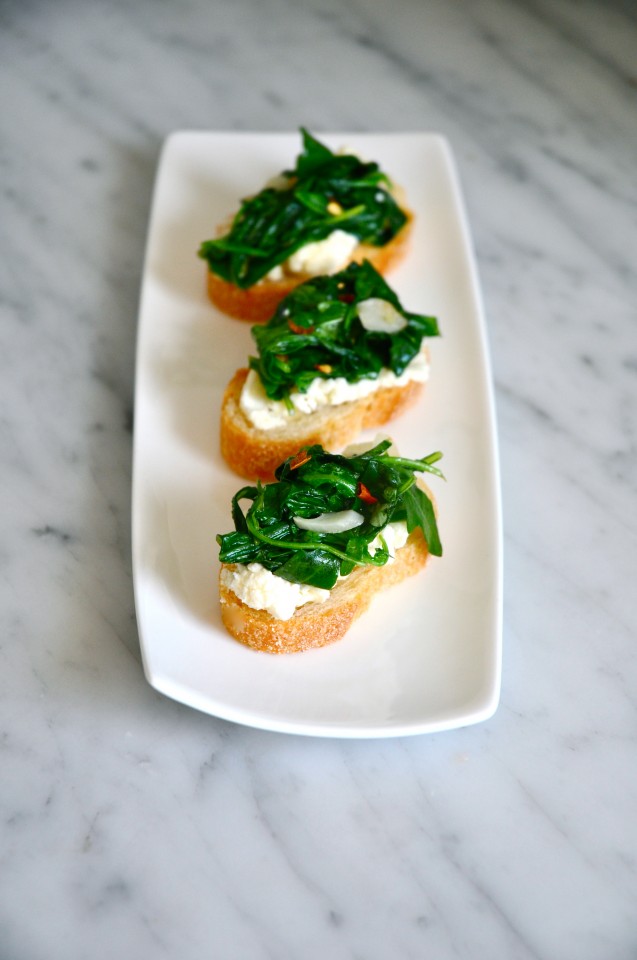 Okay, here we go with day two!
This is a recipe that we made the other night at our fundraiser and I was so pleased as to how well it was received.
Sometimes when we think of canapés we tend to envision fancy little morsels that are finicky to make and filled with expensive ingredients.
These little bruschetta are rustic, inexpensive to make, pack a flavourful punch and are a breeze to pull together.
If you are not up to making your own ricotta (no judgement here) then just stop by your local deli and pick up a good quality, fresh ricotta.
If you do want to give ricotta making a whirl I promise that it is worth the minimal effort involved. For just a tiny time investment and a few grocery store staples you end up with fluffy, creamy curds that have a slight tang and great depth of flavour. Combined with the spicy bitter greens (in this case arugula) and topped with a thin shaving of Parmigiano Reggiano, you have a little a perfect cocktail party canapé.
Bruschetta of Spicy Wilted Bitter Greens and Homemade Ricotta
Recipe adapted from Simple Italian Snacks by Jason Denton and Kathryn Kellinger
For the ricotta:
4 cups whole milk
1 cup heavy cream
3/4 cup buttermilk
1 teaspoon fine grain sea salt
Squeeze of fresh lemon juice
For the bruschetta:
24 baguette slices, cut 1/2 inch thick, toasted
12 cups tightly packed bitter greens (such as arugula, watercress, radicchio or a combination)
1/3 to 1/2 cup extra virgin olive oil
8 garlic cloves, thinly sliced
1/2 teaspoon chilli flakes
Zest of 1 unsprayed lemon
1 1/2 cups fresh ricotta cheese
Fine grain sea salt and freshly ground pepper
Shavings of Parmesan cheese for garnish (optional)
For the ricotta:
Place the milk, cream, buttermilk and sea salt in a large pot and gently stir to combine. Bring to boil over medium heat and boil gently for 2 minutes. At this stage you should be able to see the curds begin to separate from the whey. Remove from heat and stir in the squeeze of lemon juice.
Allow the pot to sit off the heat for 30 minutes or so to help further develop the curds.
Meanwhile line a sieve or fine mesh strainer with a few layers of cheesecloth and place over a deep bowl.
Gently ladle the curds into the cheesecloth lined strainer. Once you have ladled out all of the curds allow the curds to drain in the strainer for 10 minutes for a very moist ricotta (which is what we are looking for for this recipe) or longer to produce a drier ricotta. Set aside.
For the bruschetta:
Heat a large sauté pan over medium heat. Add in 1/3 cup of the oil and the sliced garlic and chilli flakes. Sauté the garlic until it is fragrant and softened but not brown. Add in the greens in thirds wilting them down before adding the next batch. Add more olive oil if needed and season with salt and pepper and add more chilli flakes if desired. Once the greens have been wilted and removed from the heat add the lemon zest. Drain off any excess liquid.
To assemble:
Spread a scant tablespoon of fresh ricotta over each toast. Top with some of the wilted greens and a shaving of Parmesan cheese. Season with a bit of freshly ground pepper and salt and a drizzle of olive oil. Repeat with the remaining toasts and arrange on a serving platter. Serve.
Makes 24 bruschetta.