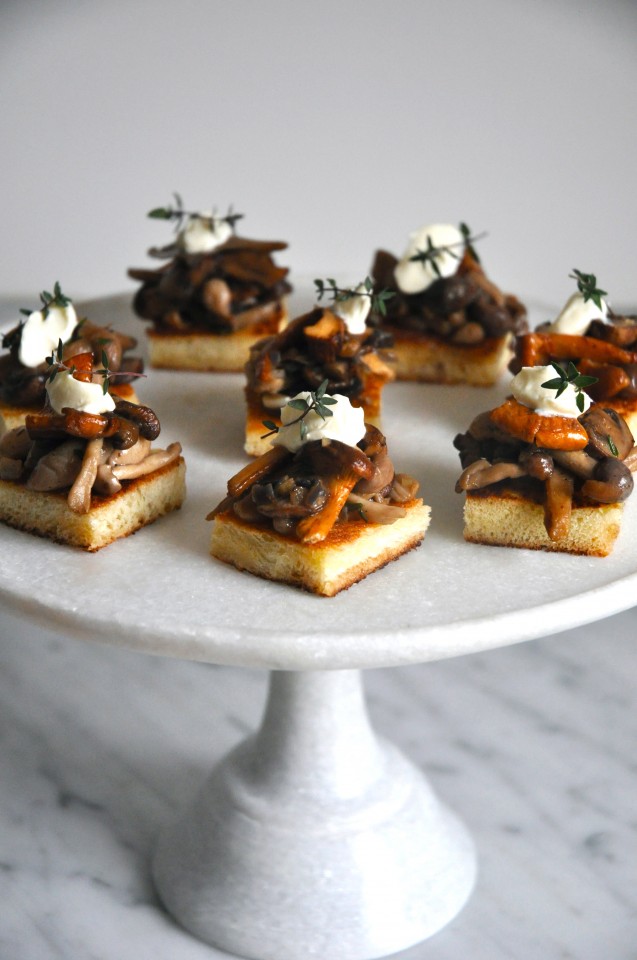 Happy New Year's Eve!
A huge, heartfelt thank you to everyone who stopped by here over the last year! Thank you for your comments and good wishes, thanks to those who booked a class with us, or signed up for a culinary tour (on Commercial Drive or in Paris!), those who came out to our winter fundraiser and who invited us to speak at an event. And a special big thank you to everyone who cooked a recipe from this site over the last year for someone that they love. When I think about what was special about the last year and what I am most looking forward to in the year ahead it all comes back to gathering people around the table to eat, drink, talk and laugh. Here's to a very happy, very healthy 2013!
For the second year in a row we are rounding out our twelve days on the very final day of the year which is kind of a nice way to wrap up this crazy canapé extravaganza.
On this 12th day I am offering up a sophisticated, vegetarian, easy, beautiful and delicious canapé. These truffle scented wild mushrooms on toasted brioche topped with some crème fraîche and a sprig of thyme are the hors d'oeuvre equivalent of the little black dress. These are best served with a tall flute of very cold Champagne.
Wild Mushrooms on Brioche Crostini
Recipe is from Nick Mackintosh via The Telegraph 
5 large slices of brioche, 1/2 inch (1 cm) thick, crusts removed
4 tablespoons olive oil
Fine grain sea salt and freshly ground pepper
17 ounces (500 g) mixed wil mushrooms
2 teaspoons butter
2 garlic cloves, crushed
1 shallot, thinly sliced
1 teaspoon chopped fresh thyme
1/4 teaspoon white truffle oil
3 1/2 ounces (100g) crème fraîche
24 small sprigs fresh thyme
Preheat the oven to 350 degrees (180 C). Place the brioche on a baking tray and brush with 2 tablespoons of olive oil.  Season with some salt and pepper and bake for six minutes or so until golden grown.  Cut each into four squares and set aside. The crostini can be made a couple of days in advance and stored in an airtight container.
Clean the mushrooms, discard the stalks and slice. Heat a frying pan with the butter and the rest of the oil over medium heat. Sauté the garlic, shallot and mushrooms until golden. Season with salt and pepper and stir in the thyme and truffle oil. Do this a day or two in advance (if possible) to allow the flavours to develop. Refrigerate but warm up the mushrooms a bit when ready to serve.
Divide the mushroom mixture between the crostini and garnish with a dollop of crème fraîche and a sprig of thyme.
Makes 20.