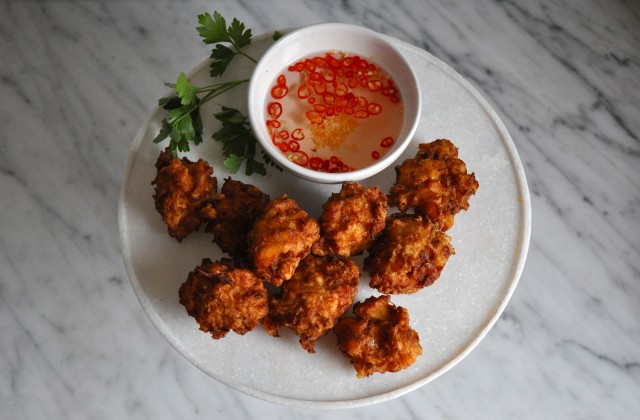 Here is a recipe that I have been meaning to try for at least a couple of years, earmarked in a wonderful cookbook by Michel Roux Jr. called Matching Food & Wine. Since I had picked up some salt cod for another one of this year's canapé recipes (which can be found here), I decided to give these salt cod and crab fritters a go.
I am so glad I finally made these as they are a great combination of flavours with the salt cod and the crab and a cinch to pull together. These are best made for a small group and should be served right away, while they are still piping hot. Since the salt cod will need to be soaked for 24 hours to remove some of the saltiness you will need to plan ahead. The dipping sauce, spiked with red chilli slices, couldn't be easier yet is truly the perfect sweet/spicy foil to the richness and saltiness of these fritters.
Salt cod and chilli have strong flavours and so Chef Michel Roux Jr. suggests serving a non-vintage Champagne, Cava or Chablis. A very good idea, I think.
Salt Cod and Crab Fritters
Recipe slightly adapted from Matching Food & Wine: Classic and Not So Classic Combinations by Michel Roux Jr.
For the fritters:
1/2 pound (250 g) skinless salt cod
1/3 pound (175 g) crab meat, picked over for bits of shell
1 garlic clove, minced
1 small onion, finely chopped
1 egg, lightly beaten
3 1/2 ounces (100 g) plain flour
1 teaspoon chilli powder
1/4 cup (65 ml) milk
Fine grain sea salt and freshly ground pepper
Vegetable oil for deep frying – enough for oil to be about 6 inches (15 cm) in the pan
For the dipping sauce:
1 tablespoon sugar
4 tablespoons water
1 tablespoon white wine vinegar
1 clove
1 red chilli, thinly sliced
Place the salt cod in a bowl and cover with 1 inch of cold water. Refrigerate for at least 24 hours, changing the water 4 times.
Drain, dry and remove all bones. cut the cod into a small dice and add to the grab, garlic and the onion.
Make a batter with the egg, flour, chilli powder and the milk making sure there are no lumps. The batter will be quite thick, not thin like pancake batter. Add in the salt cod and crab and season with salt and pepper and allow the batter to rest for an hour.
Using a tablespoon dipped in water and shape into little patties.
Heat the oil in a deep fryer or a big saucepan. Drop the fritters into the hot oil for 3 to 4 minutes, turning them over to give an even colour. Drain on a kitchen towel and serve warm.
Meanwhile make the dipping sauce by mixing the sugar, water and vinegar in a small saucepan and bring to a boil. Add the clove and chilli and allow to cool. Serve with the warm fritters.
Makes 20 to 25 fritters.