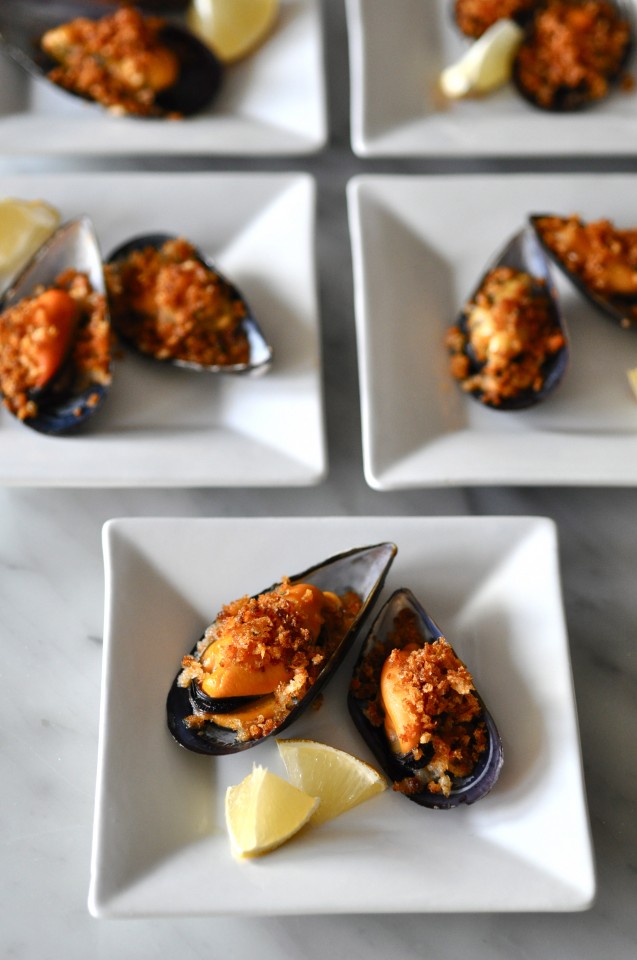 Welcome to the third annual "Twelve Days of Canapés" here at Kitchen Culinaire.
The holiday season is officially upon us and with all of the parties and potlucks and recipe exchanges there is no better time to roll out a brand new batch of festive hors d'oeuvre recipes. Before the month is through I will post a dozen carefully curated and personally tested canapés that will pair perfectly with a group of your dear friends, family or colleagues and a glass of champagne or your favourite cocktail.
This first recipe is one that I was hoping to make during our Food Bank Fundraiser last Saturday but somehow we ran out of time. I've been feeling a bit bad about it as I know that all the folks that gathered around the kitchen island for the cooking demos would surely have enjoyed this and I'm sure many would have gone on to make it for their own holiday parties. So the least I can do is feature it now and give it pride of place as our very first recipe for our 2012 version of the "12 Days".
I love that these mussels can be made ahead of time and then broiled at the last minute.  They are pretty simple to make yet they have some great flavours and an amazing spicy crunch from the paprika bread crumbs. Serve hot with a squeeze of lemon…
Stay tuned for tomorrow's recipe and I would also love to hear from anyone who has their own tried and true favourite canapé recipe that they would like to share.
Here's to a delicious December!
Broiled Mussels with Hot Paprika Bread Crumbs
Recipe is from Food & Wine's Marcia Kiesel
2 tablespoons unsalted butter
1/2 cup dry white wine
1/2 teaspoon finely grated lemon zest
2 lbs (1 kilo) mussels, scrubbed and debearded
Fine grain sea salt and freshly ground black pepper
2 teaspoons hot paprika
2 tablespoons extra-virgin olive oil
1 tablespoon chopped fresh thyme leaves
3 cups coarse fresh bread crumbs
1 large garlic clove, minced
Lemon slices to serve
In a large pot add the white wine and bring to a boil. Add the cleaned mussed and cover with a lid. Cook over high heat, shaking the pot until the mussels open, about 4 minutes. Using a skimmer, transfer the mussels to a rimmed baking sheet (discarding any mussels that have not opened) and allow to cool.
Pour the mussel cooking liquid into a bowl. Loosen the mussels in their shells and discard the empty half of each shell. Spoon the cooking liquid over the mussels to keep them moist.
Place the breadcrumbs in a medium bowl. Heat a small skillet over medium heat and melt the butter and oil together. Add the garlic and paprika and cook until fragrant but do not allow the garlic to brown or it will impart a bitter taste to the crumbs. Scrape the contents of the skillet over the crumbs and add the theye and lemon zest to the bowl. Season with salt and pepper and toss well.
Preheat the broiler. Top the mussels with some of the bread crumbs. Broil 6 inches from the heat for about 2 minutes, rotating the pan as necessary until the bread crumbs are browned and crisp. Serve hot with a slice of lemon.
Serves 8.