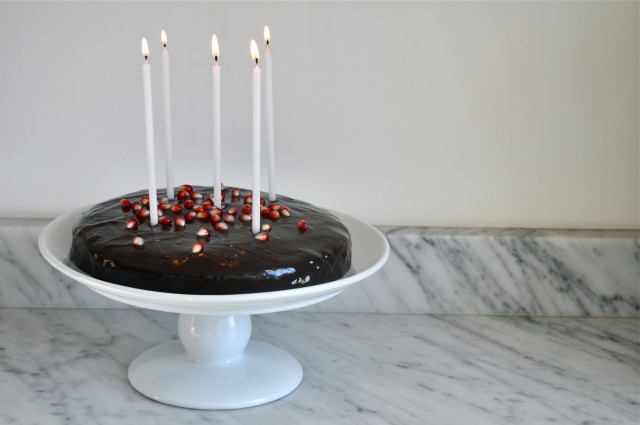 A birthday cake for Beth.
A few weeks ago we celebrated a very special birthday at one of our dinner classes. I have been meaning to tell you about it for some time now but haven't had a quiet moment to sit and write until this rainy holiday Monday.
Lately we have been hosting a lot of birthday parties here at Kitchen Culinaire headquarters. All are special, of course, but for this particular class we were celebrating a milestone birthday of someone rather dear to us. My business partner/fellow cook and best friend Sarolta has a sister named Beth and Beth was celebrating her 50th birthday!
Sarolta wanted to do something special in honour of her sweet sister so she got together with her Mum to come up with something that would be meaningful for Beth on such a momentous occasion. Sarolta knew that Beth had always wanted her 50th year to be filled with things that she had never done before. Sarolta's Mum knew that Beth had always expressed an interest in getting a group together to take one of our cooking classes but had never managed to find the time.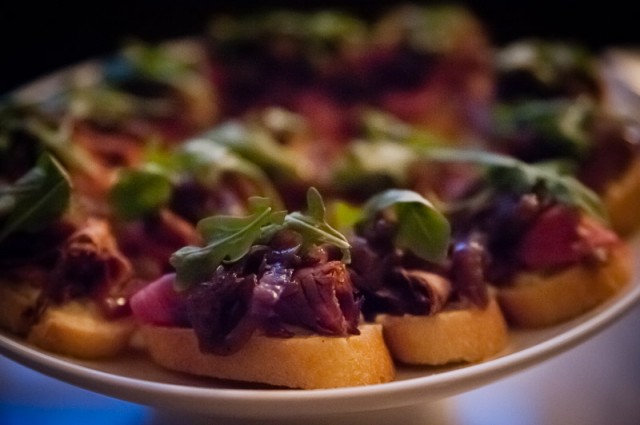 Perfect! We would host an intimate group of 10 for a mulit-course cooking class and birthday dinner party.
Next we worked out the logistics. Sarolta and her Mum put their heads together and figured out the guest list and discussed the menu options and wine pairings. We printed the recipe cards, bought the groceries, wine and flowers. Sarolta's Mum insisted on paying for the entire evening which was so very generous (thanks Bess!). We put together take-home gifts and recipe packets and then lined up Sarolta's husband Ross, who is a professional photographer, to do double duty as party guest and event photographer. All the photographs in this post (except for the first one) are courtesy of Pink Monkey Studios (thanks Ross!).
It didn't take us long to come up with a menu that we thought would please the birthday girl and tried to include what we knew to be many of her favourite foods. We started with a trio of hors d'oeuvres and Prosecco and then moved on to an onion tart with tomato confit and goat cheese. Next up was an arugula salad with pears, hazelnuts and a pomegranate vinaigrette. The main course was sablefish with risotto bianco, a citrus beurre blanc and topped with truffled pea shoots. We rounded out the savoury courses with a cheese plate featuring a lovely local camembert served with some fruit and nut bread.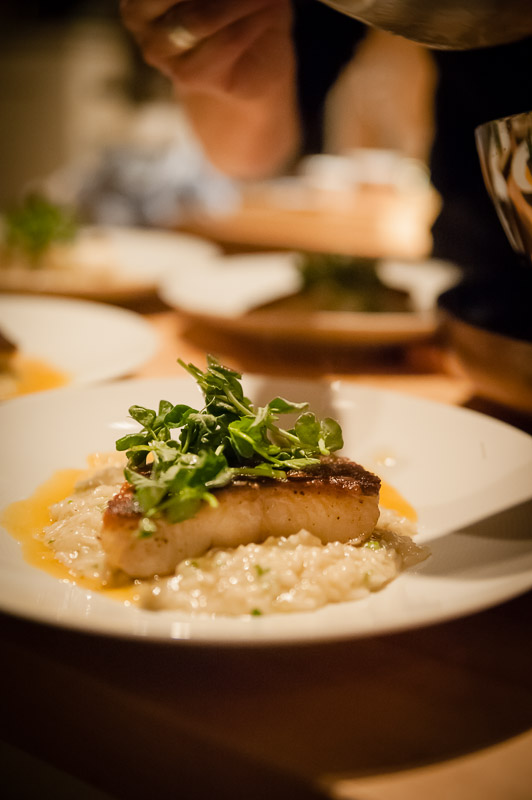 Beth loves chocolate and so for dessert we pulled out the best, grown-up, red-wine-spiked, chocolate cake recipe that we know.
This cake is so chocolately, rich and rather sophisticated to boot. The red wine in the batter adds a spice and earthiness that is further complimented by a bit of cinnamon. We often serve this just with a dusting of icing sugar or a dollop of mascarpone cream, but for this special occasion we decided to gild the lily and enrobe the cake in an espresso scented ganache. You can garnish this with seasonal berries or pomegranate seeds or even candied violets.
So what was happening in between all of the cooking and eating and drinking? Well, there were some heartfelt speeches and toasts, a video montage showing Beth on some of her adventures near and far, surrounded by her family and friends. And there were a whole lot of laughs as well. Beth spent much of the evening grinning from ear to ear.
When the party guests had departed and we were doing the clean-up in the kitchen Sarolta and I talked about what a lovely, sweet and special evening it had been. Very much like the birthday girl herself…
Happy birthday Beth!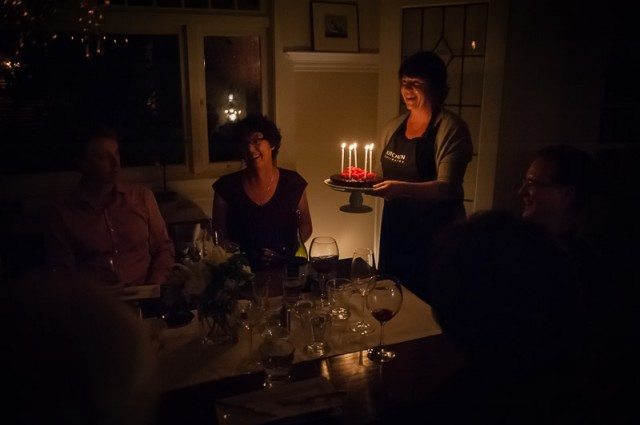 Red Wine Chocolate Cake with Espresso Ganache
Recipe adapted from Smitten Kitchen
With its faint red colour and hint of red wine flavour this may be the best "red velvet" cake ever.
For the cake:
1/3 cup (85 g) unsalted butter, at room temperature
3/4 cup firmly packed dark brown sugar
1/4 cup white granulated sugar
1 large egg plus 1 large egg yolk, at room temperature
3/4 cup red wine
1 teaspoon pure vanilla extract
1 cup plus 1 tablespoon (133 g) all-purpose flour
1/2 cup (41g) Dutch process cocoa powder
1/8 teaspoon baking soda
1/2 teaspoon baking powder
1/4 teaspoon fine grain sea salt
1/4 teaspoon ground cinnamon
For the ganache:
1/2 cup heavy cream
8 ounces (225 g) semi-sweet chocolate chips
2 teaspoons finely ground espresso
For the cake:
Preheat the oven to 325 degrees F (160 C). Butter and flour the bottom and sides of a 9 inch round (23 cm) cake pan and then line the base with parchment paper.
In the bowl of a stand mixer, cream the butter over medium speed until smooth. Add in the two sugars and beat until light and fluffy, about 3 minutes. Add the egg and the yolk and beat well and then add the red wine and the vanilla. Beat until well combined. Don't worry if the batter splits or looks a little uneven at this point.
Meanwhile, in a separate bowl, sift the flour, cocoa, baking soda, baking powder, cinnamon and the salt together. Add this mixture into the wet ingredients and mix on low speed until 3/4 combined. Remove from the mixer and using a spatula fold the ingredients until they come together and no visible streaks of flour remain.Take care to ensure the ingredients are well incorporated but do not over mix.
Pour the batter into the prepared pan and smooth the top using an offset spatula. Bake in the preheated oven for 25 to 30 minutes or until a cake tester inserted into the centre comes out clean. Cool in the pan for about 10 minutes and then flip the cake out onto a rack to continue to cool.
For the ganache:
Place the heavy cream, chocolate chips and espresso in the top of a double-boiler over simmering water until smooth and warm, stirring occasionally.
Place the cake upside down on a wire rack and pour the ganache evenly over the top, making sure to cover the entire cake and sides. You can tilt the rack to smooth the chocolate ganache or use an offset spatula.
Garnish with fresh raspberries, pomegranate seeds or candied violets.
Serves 8 – 10.