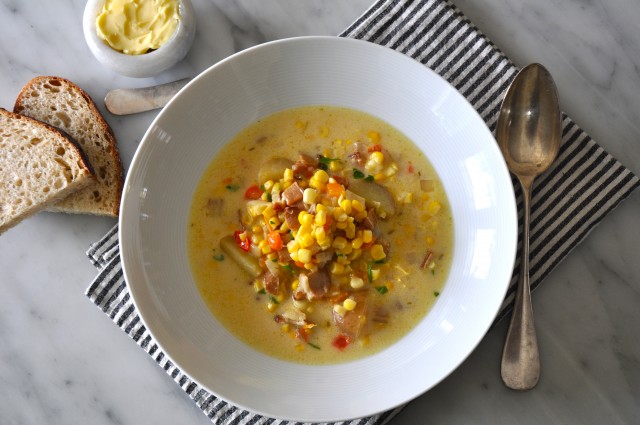 We now have both feet firmly planted in autumn around here. The days are getting shorter, we are breaking out the sweaters and scarves and there has already been some snow on the North Shore mountains.
Fall is my very favourite season to cook. There is still plenty of great late summer produce at the farmer's market that happily sits side by side with the apples, pears, grapes, squash, kale and leeks. Last week was the first week of the Nat Bailey Market and even though it was dark and rainy and cold my Grandma and I still made the trek across town to check out the offerings.
In addition to some concord grapes, Belle de Boskoop apples and heirloom tomatoes I managed to score a few very late ears of corn, some red nugget potatoes and a beautiful red pepper. Once home I grabbed these last three ingredients and snipped some sprigs of thyme from the pot growing on the back porch. There was some turkey stock in the freezer from our Thanksgiving bird, some bacon and cream in the fridge. A warming pot of soup was just minutes away.
If the corn is out of season where you live I would still give this soup a try using a good quality brand of frozen corn. It won't be quite as good but will still provide a great big bowl of comfort on a cold and rainy fall day.
Corn Chowder with Bacon, Red Pepper and Thyme
Recipe is lightly adapted from Jasper White's 50 Chowders by way of Food 52
4 ears of fresh corn or about 2 cups of frozen corn
4 ounces (113 g) bacon, diced
2 tablespoons butter
1 medium onion, diced
1 medium red pepper, diced
1/2 teaspoon fresh thyme leaves, chopped
1/8 teaspoon turmeric
1 lb  potatoes, Yukon Gold or small nugget potatoes, cut into 1 inch cubes
3 cups chicken (or turkey) stock
2 teaspoons cornstarch, dissolved in 2 tablespoons of water
1 cup heavy cream
Fine grain sea salt and freshly ground pepper
If using fresh corn cut the kernels from each cob and place in a bowl. Scrape the cobs with the back of a knife to "milk" them into a bowl. Set aside.
In a large pot over medium heat cook the diced bacon until crisp and golden. Pour off all but one tablespoon of the bacon fat and leave the bacon in the pot.
Add the butter, diced onion, red pepper, thyme and turmeric to the pot and stir well to combine. Season with some salt and pepper and sauté this mixture over medium-low heat for about 10 minutes until the onions are translucent but not brown. Add the corn kernels and their milk, the potatoes and the stock. Turn up the heat and bring to a boil. Reduce the heat so that the soup is at a simmer and cover the pot. Allow the soup to simmer for about 10 minutes or until the potatoes are tender.
Slowly pour in the cornstarch slurry into the pot, stirring well. Continue to simmer the soup until it begins to thicken and then turn off the heat and add the cream. Check and adjust seasonings.
If you are making this soup ahead of time ensure that it cools completely before refrigerating. Also, when reheating ensure that you don't allow the soup to boil as it will split.
Serves 4.