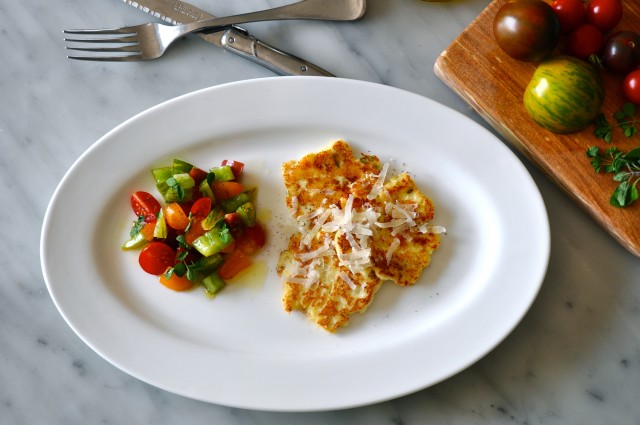 Lately, I've become a bit obsessed with making ricotta cheese. You see, every week I get a couple of litres of milk. Raw milk actually and while much of it is consumed in morning coffees or with cereal or by making yogurt there will often be a few cups left. Raw milk doesn't have the same long shelf life that pasteurized milk does so it needs to be used up within the week.
What started as a way of preserving the milk has blossomed into a bit of a love affair. Making ricotta is so straight forward and takes very little time. You can certainly use any whole milk that you happen to have on hand. Combine it with some heavy cream, buttermilk, a pinch of salt and (perhaps) a squeeze of lemon juice. The creamy, pillowy texture of homemade ricotta is just so different than store bought stuff. And there is a beautiful, ethereal tang from the buttermilk. There are plenty of recipes and even a video or two on the internet if you feel like giving it a whirl.
The great thing about ricotta is that it can be used so many ways. Yes, it is of course great in lasagna and manicotti but is equally at home in a pancake batter and in both sweet and savory tarts. Spread it on garlic toasts and top with some wilted bitter greens.
Here is a great little recipe that takes fluffy, silky ricotta and combines it with some Parmesan cheese, a bit of flour, an egg and some salt and pepper. I like to add in some minced fresh thyme leaves as well.
Fried in a hot skillet with some olive oil these are a bit crisp on the outside, meltingly soft on the inside.
I will often make them for lunch when I am on my own at home but they also work well as an hors d'oeuvres with a small spoonful of the tomato salad on top. It is important to make sure these get eaten while they are still hot from the pan, so cooking these for a large crowd is not ideal.
After all of my waxing poetic about the joys of making your own ricotta these little fritters can certainly be made with store bought ricotta. Just ensure you buy it from a good deli or specialty market where they tend to have better quality ricotta than you will find at the supermarket!
Fried Ricotta with a Little Tomato Salad
Recipe adapted from Jamie's Italy by Jamie Oliver
1 lb (454 g) good quality ricotta cheese
2 tablespoons freshly grated Parmesan, plus more for serving
1 1/2 tablespoons flour
1 teaspoon fresh thyme leaves, chopped
Fine grain sea salt and freshly ground black pepper
1 large egg
1/2 lb (225 g) mixed ripe tomatoes
3 sprigs of fresh basil
1 small fresh red chilli, deseeded and finely chopped
1 tablespoon extra virgin olive oil
1/2 teaspoon sherry vinegar
Olive oil
If your ricotta is very wet ensure that you drain it a bit to release excess moisture. Mix the ricotta with the Parmesan, flour, thyme leaves, some salt and pepper and the egg. This can be refrigerated until ready to use.
Chop up the tomatoes and place in a colander to drain for 15 minutes or so. Finely chop the stems of the basil and tear the leaves into rough pieces and add to the tomatoes. Add in the chilli and then season with the olive oil, sherry vinegar and season with some salt and pepper.
Heat a non-stick frying pan over medium heat and add a splash of olive oil. Drop spoonfuls of the ricotta mixture into the pan taking care not to overcrowd the pan. Fry the ricotta cakes for a couple of minutes until they are golden brown and then turn them over allowing them to brown on the other side. Drain on a plate lined with some paper towel and sprinkle with a bit of salt. You can drizzle a little olive oil over the cakes and then grate some Parmesan on the top. Serve at once alongside a bit of the tomato salad.
Serves 6.