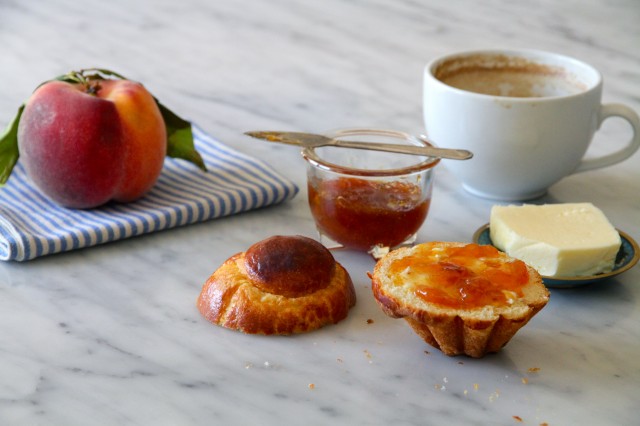 With the official start of autumn just a few days away I wanted to bid summer farewell with this recipe that epitomizes everything that is wonderful about these last balmy days. There are still plenty of peaches at our local farmer's market and the lavender continues to bloom in the garden so if you act fast you could still make a batch or two of this jam to stash away for a rainy day.
The peaches have been amazing this year and I have been trying to eat as many of these ripe, late summer beauties as I can. Perched over the sink, peach juice dripping down my hands and off of my chin. I have also been using them in salads with arugula and burrata or grilling them for a simple dessert topped with a dollop of mascarpone cream.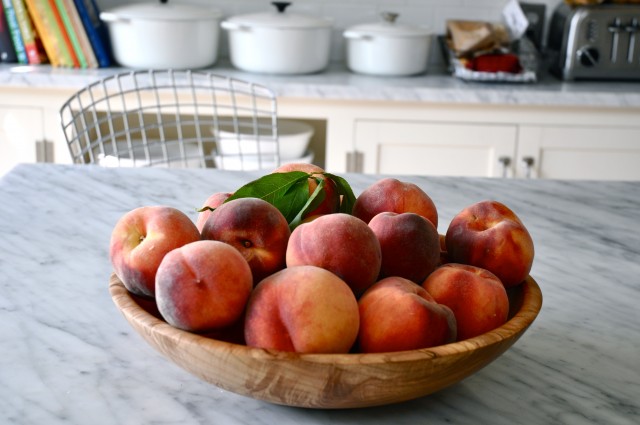 When I found myself with a bit of a ripe peach surplus after I got carried away at the market I decided it was time to make the annual batch of peach and lavender jam. I have been making this jam for years and the recipe is based on a jar that was given to me by a friend many years ago. It was made by her aunt and I fell in love with the subtle perfume that the lavender lends to the sweet peach flavour. My friend's aunt would not reveal her recipe so I enlisted the help of my Mom and with a large flat of peaches we peeled, cored and chopped many peaches and tried different ratios of sugar, dried lavender flowers, fresh lavender stems, lemon juice and cooking methods. We used pectin in some batches for others we just slow cooked the peaches to a thick consistency.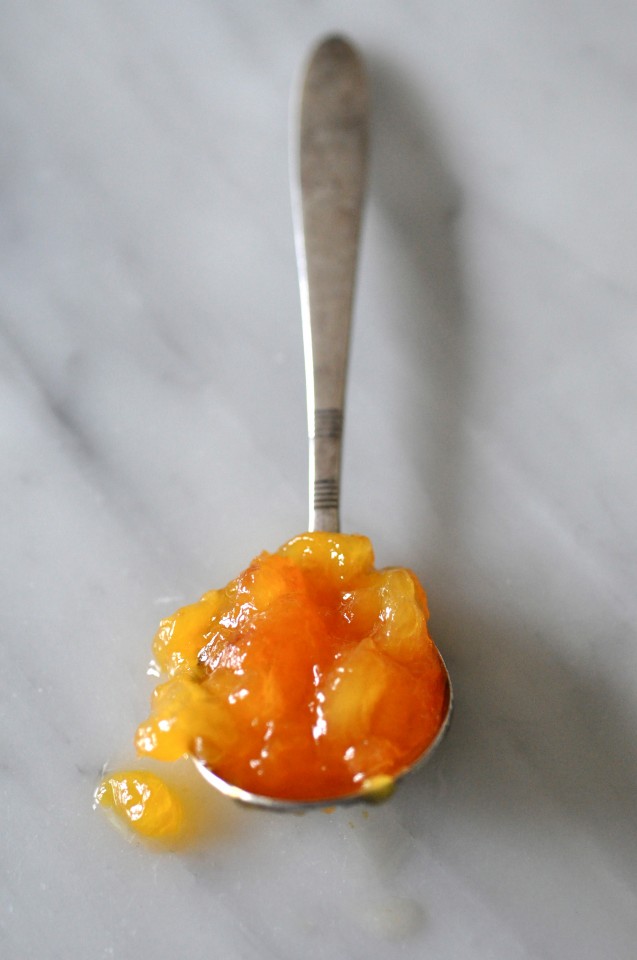 Over the years I have shied away from using pectin in any of my jams and just simmer the jams down until they have a consistency that I like. The trade off here is that you don't have quite as much brightness from the quick cooked fruit but I have come to prefer the more complex and almost caramelized flavour from the longer cooking time.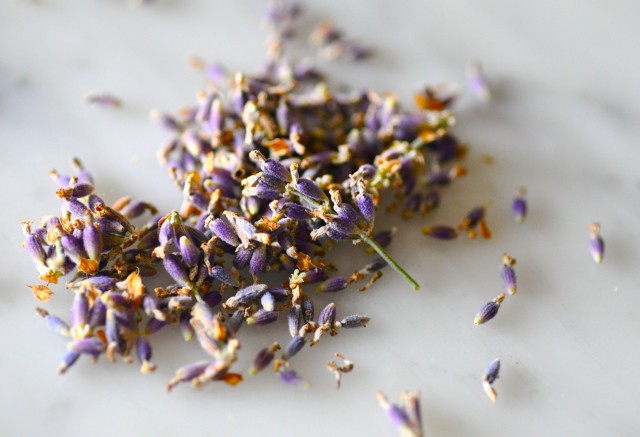 The addition of lavender may strike some as a bit strange, but its role in this jam is one of subtle support, a fleeting ethereal fragrance . The best and most reliable way to achieve this is to steep some dried lavender flowers in boiling water for a few minutes, strain and discard the lavender flowers and add the infused liquid into the peach and sugar mixture.
I have a few lavender bushes in the garden and a couple of smaller plants in pots on my sunny back deck. By mid August, just when the peaches are starting to really ripen, the lavender blossoms start to fade and dry right on the stalks. If you don't happen to have access to your own plants dried lavender blossoms are often available at the farmer's market.
Make a few extra jars to give away to your friends and family. Maybe even stash a few away to hand out in the dead of winter. Whenever I spread a bit of this jam on a toasted baguette on a cold, rainy dreary November morning I am immediately transported back to warm and sunny August day. At least for a little while…
Peach Jam with Lavender
2 tablespoons dried lavender flowers
1/2 cup boiling water
3 lbs (1.3 kg) peaches that have been peeled, cored and chopped
1 1/2 lbs (680 g) sugar
Juice of 1 lemon
Put lavender flowers in a small bowl and pour the boiling water over them. Allow the flowers to steep for about 20 minutes and then strain and discard the flowers. Set the lavender liquid aside.
Combine the peaches, sugar, lemon juice and the lavender liquid together in a large pot and stir well to combine. Bring the mixture to a boil and then reduce the heat to a simmer. Simmer fruit for one to two hours until the mixture has thickened and the fruit has taken on a dark orange colour. Remember to stir frequently to prevent the jam from scorching at the bottom of the pot.
While the fruit is simmering prepare a canner and wash the jars and lids in hot soapy water. Dry completely on a rack and then sterilize them by placing them in a canning pot, filling it with water and brining it to a simmer. Hold jars in water that registers 225 degrees F (107 C) until ready to use.
When the peaches reach the right consistency place the jam in the sterilized jars, leaving 1/4 inch of headspace. Gently tap the jars to release any air bubbles and using a clean, damp dishtowel wipe the rims of the jars and secure the rings and lids.
Place the jars in a water bath of simmering water in a canning pot that is lined with a rack and ensure that once the jars are placed in the canner that the jars are covered by at least an inch of water. Never stack jars as complete water circulation is required for proper sealing.
Bring the water to a boil and process the jam for 5 minutes if using half pint jars, 10 minutes if you are using pint jars. Remove the jars from the canner with tongs and allow to cool completely. Check for proper seals. Any unsealed jars should be refrigerated and used within a couple of weeks. Sealed jars should be stored in a cool, dark cupboard and used within one year.
Makes 8 cups.