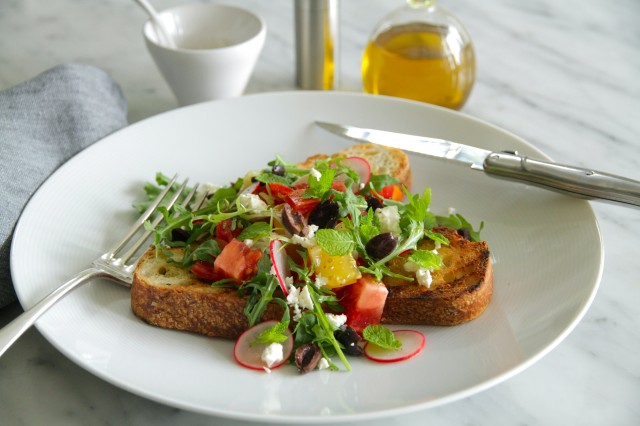 Back with a recipe at last. This one is perfect for these last, long, lazy days of summer with all the amazing tomatoes from the Farmer's Market and the profusion of mint that is growing in the garden.
When I was first intending to post this recipe (some weeks ago while up at our cabin) I was talking about it to my friend Cathy. I was enthusing on how great this Greek salad on grilled bread was especially with the addition of the mint. I could see Cathy's eyebrow raise skyward. "Mint, in a Greek salad?" she asked.
She looked even more concerned when I mentioned the marinated radishes. From the look on her face I didn't have the heart to tell her that I often use pitted Niçoise olives instead of Kalamatas as that is what I tend to have in the fridge.
Little did I know that Cathy is Greek and that making a Greek salad in her family is done by following a somewhat firm set of rules. Making an authentic Greek salad is part of a well loved family culinary tradition and it goes something like this:
Rule number 1: All ingredients must be at room temperature.
Rule number 2: No green peppers shall be included.
Rule number 3: The only herb that belongs in a Greek salad is oregano and it should be dried and not fresh.
Rule number 4: Remember to salt generously.
Rule number 5: Use lots and lots of olive oil.
Rule number 6: Use Macedonian feta from The Parthenon Market on Broadway.
Rule number 7: Kalamata olives are fine but should be served in a separate dish.
Luckily I do use Macedonian feta that I get at La Grotta del Formaggio just down the street. I love the creamy texture and rich flavour of this cheese. I also banish green peppers from my salad and I always have my tomatoes at room temperature as refrigeration turns tomatoes to mealy mush (fruit flies be damned). Okay, so there are a few common practises in our salads. Still, out of deference to my sweet friend, I have decided to forgo my original recipe title of "Greek salad on grilled bread" and use instead "Mediterranean salad on grilled bread". I think it would makes Cathy's Dad heave a heavy sigh of relief.
I know that Cathy makes a great Greek salad (she made one a couple of weeks ago when we had dinner) but she is still interested in giving my version a whirl. I'm pretty sure she will like it with the grilled bread and the freshness of the mint and the tang of the radishes, which are so easy to love. I don't know if she will embrace the Niçoise olives so I am off to the store to ensure that I get some Kalamatas instead.  I'm hoping to make this for here when I see her next week. Full report to follow…
Mediterranean Salad with Mint and Marinated Radishes on Grilled bread
Recipe adapted from A Year in a Vegetarian Kitchen by Jack Bishop
The bread can be grilled on a bbq or a stovetop grill pan or even in a pinch in the toaster.
For the radishes:
2 tablespoons red wine vinegar
1 tablespoon fresh lemon juice
1 tablespoon minced fresh oregano leaves
1 medium garlic clove, minced
6 tablespoons extra-virgin olive oil
18 radishes, very thinly sliced
Fine grain sea salt and freshly ground black pepper
For the grilled bread:
8 small slices of country bread, cut 1 inch thick
Extra virgin olive oil
Fine grain sea salt
For the salad:
6 cups packed greens (I used arugula)
2/3 lb (302 g) cherry tomatoes, halved
1 lb (454 g) mixed, ripe tomatoes (heirloom tomatoes like green Zebras, yellow Valencias, black Brandywines) cores removed and roughly chopped
18 Kalamata olives, pitted and quartered
15 fresh mint leaves, roughly torn
7 ounces (198 g) feta cheese (preferably Macedonian), crumbled
Whisk the vinegar, lemon juice, organo and garlic together in a medium bowl. Season well with salt and pepper. Slowly whisk in the olive oil to form an emulsified dressing. Add the radishes and toss to coat. Allow the radishes to marinate, turning occasionally for 20 minutes or so while you prepare the other ingredients.
Heat your grill pan or light a bbq. Lightly brush both sides of the bread with oil and a sprinkling of salt. Place on the hot grill for one to 2 minutes per side until the bread is streaked with grill marks.
In a large bowl placed the salad greens, tomatoes, olives and mint. Add the radishes with the dressing and toss until all of the ingredients are evenly coated. Top with the feta and gently toss to distribute evenly.
Place 2 toasts on each plate and then evenly divide the salad on top. Serve at once.
Serves 4.