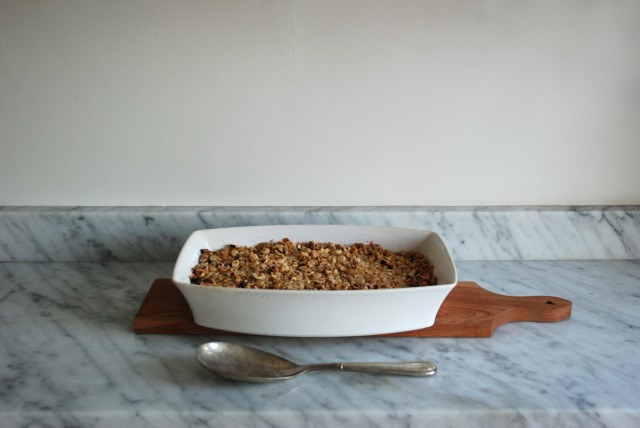 Well, my bags are packed. The amazing thing is my flight is not for another 4 hours. Anyone who knows me understands that this is nothing short of a miracle. Anytime I travel I have grand plans to be organized and prepared and packed in good time. However, every time I travel I end up throwing stuff into a bag while the taxi is waiting outside to drive me to the airport. For this trip I managed to pack last night!
I think my sheer excitement over this trip helped me get an early start on the dreaded packing. You see, this afternoon at 4 pm I am getting on a plane to fly to Paris with my Mom. The two of us went last year for two weeks and had such a special time together. It was so special that soon after we arrived home my Mom began planning this year's trip and she decided it would be even bigger and better. The two of us will spend two weeks in Paris and then my Dad and my husband Glen and my son Max, my sister Lisa and her boyfriend Paolo will join us for another two weeks in and around Paris. One month in France. I still can't believe it.
I have so many things that I am looking forward to. I can't wait to walk for hours exploring the different arrondissements, check out the flea markets, ride bikes, eat at a bunch of new restaurants and visit some of our favourites from last year too. I can't wait to go up the Eiffel Tower with Max who made me promise to wait for him so we could experience it together. I'm planning on meeting up with a friend who moved to Paris a few years ago as well as see another Vancouver friend who happens to be spending a few weeks in the city while we will be there too. There will hopefully be time for a romantic dinner with Glen as well as some big family feasts.  I am signed up for an all day market tour run by Le Cordon Bleu and also have a cooking class booked with Susan Loomis whose cookbooks I adore.
I am hoping to post a photo a day while I am away and there may even be a recipe or two as the apartment we have rented appears to have a pretty decent kitchen. But before I go I wanted to post this simple recipe for rhubarb crumble.
I have been busy harvesting all of the rhubarb from my garden before I go and this is my very favourite ways to use it. I absolutely love rhubarb. I love rhubarb so much that I do not like to mess with it very much when I'm cooking. I am definitely not a fan of mixing it in with strawberries or raspberries. I like my rhubarb to taste, well, like rhubarb.
Here, beautiful ruby rhubarb is complimented with a hit of cardamom and some earthy hazelnuts which add a pleasing crunch. Top it with a dollop or crème fraîche or a scoop of vanilla ice cream and you have a perfect spring dessert.
I still have a few errands before I leave so I better run. If you have any must sees/dos in Paris or France please leave a comment. All ideas welcome! xx J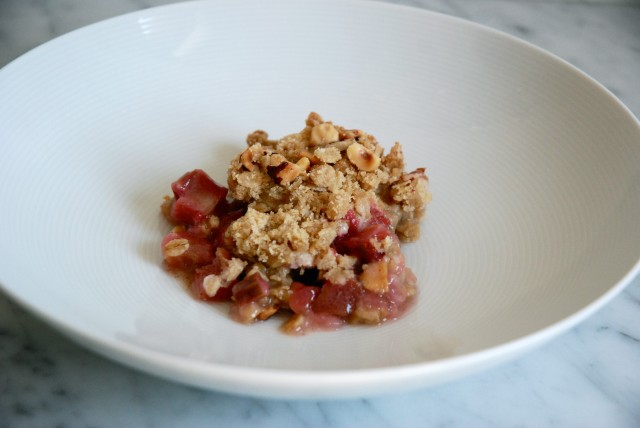 Rhubarb Crumble with Cardamom and Hazelnuts
Does the world really need another rhubarb crisp recipe? Probably not but I'm going to throw my hat into the ring here anyway. The cardamom adds a hit of unexpected warm spice flavour and really compliments the tartness of the rhubarb and the hazelnuts add an earthy crunch.
1 1/2 lb (700 g) rhubarb, trimmed and cut into a half inch dice
3/4 cup granulated sugar
1/4 cup all purpose flour
1/2 teaspoon ground cardamom
pinch of salt
1 cup all purpose flour
3/4 cup packed brown sugar
3/4 cup rolled oats
1/2 cup butter, melted
3/4 cup hazelnuts, toasted and coarsely chopped
Preheat the oven to 375 degrees F (190 C).
In a ceramic baking dish that measure 8 x 12 (20 x 30 cm) toss together the rhubarb, sugar, flour, cardamom and a pinch of salt. Set aside.
In a medium bowl place the flour, brown sugar and oats and stir until combined. Drizzle the butter over the top and mix well using your hands or a fork. Spread the crumb mixture evening over the rhubarb and then sprinkle the hazelnuts over the top.
Bake in the preheated oven for approximately 40 minutes until the top is golden brown and the rhubarb mixture is bubbling.
Allow to cool slightly before serving. Serve alongside a scoop of vanilla ice cream or a dollop of whipping cream or crème fraîche.
Serves 8.