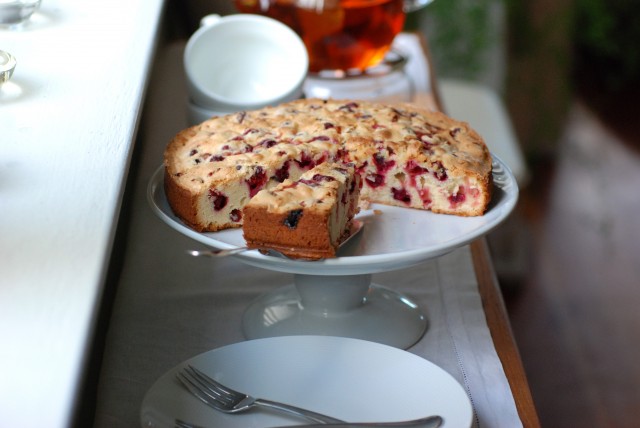 Today has been a very good day.
A day filled with sunshine and temperatures warm enough to prop open the back door and allow the air in to permeate the musty corners of the house.
A day filled with the luxury of time. To have a mellow breakfast with my happy, chatty son before school. Time for a walk with a friend and a visit with my Baba. Time to catch up on some emails and work on some writing revisions. Time to spend a leisurely couple of hours in the kitchen.
I made a big pot of cauliflower soup for tomorrow's lunch and a salad of celery, fennel, Medjool dates, Parmesan and toasted pistachio for today's. There was even time to bake the cranberry lemon cake that you see above and photograph it too. All before 3 pm when I walked the few blocks to pick up Max after school.
A portion of this cake will be making its way with us tonight when we go over to have dinner with my mother-in-law across the city.
Another generous slab with be carefully wrapped in parchment paper and secured with a piece of string to be presented tomorrow to my Mom as a gesture of apology for the argument that we had on Monday night.
The final slice is being enjoyed right now alongside a cup of tea as I sit and type and look out the window where the sunshine has given way to grey skies and some impressive rain showers. Still, there is a glimmer of light in the sky and the clouds are moving fast. Max just called from upstairs that he spotted a rainbow! We went out to the front porch together to see a massive arc going right over our neighbourhood.
I'm taking it as a sign that more good things will come tomorrow.
Cranberry Lemon Cake
Recipe adapted from Vanilla Garlic
The original recipe called for a full two cups of sugar which I found to be a bit sweet. I have cut it down to 1 3/4 cups of sugar. However, if you have a sweet tooth you may want to re-adjust and go with the full 2 cups. Feel free to use fresh or frozen whole cranberries in this recipe.
3 eggs
1 3/4 cups (350 g) of sugar
3/4 cup (170 g) unsalted butter, slightly softened and cut into chunks
1 teaspoon of vanilla
1 tablespoon of lemon juice
1 tablespoon lemon zest
1 teaspoon of fine grain sea salt
2 tablespoons of plain yogurt
2 cups all purpose flour
2 1/2 cups of fresh or frozen cranberries – 1 10 oz (300 g) bag
Preheat the oven to 350 degrees F (175 ºC).
Lightly grease a 10 x 2 1/2 inch (25 x 6 cm) springform pan and line the bottom with parchment paper.
In a stand mixer beat together the eggs and the sugar for 5 to 7 minutes until the sugar has dissolved and the colour is a pale yellow.
Add the butter in chunks and beat well for 2 minutes. Add the vanilla, lemon juice and lemon zest and beat until combined. Add in the yogurt and the salt and beat for another minute or so.
Add the flour and beat on low speed until the flour is just combined. Fold in the cranberries.
Pour into the greased pan and use an offset spatula to work the batter into the pan and smooth the top.
Bake in the preheated oven for about an hour or until a toothpick comes out clean. Remove from the oven and allow to cool completely before serving.
Makes 8 to 10 servings.