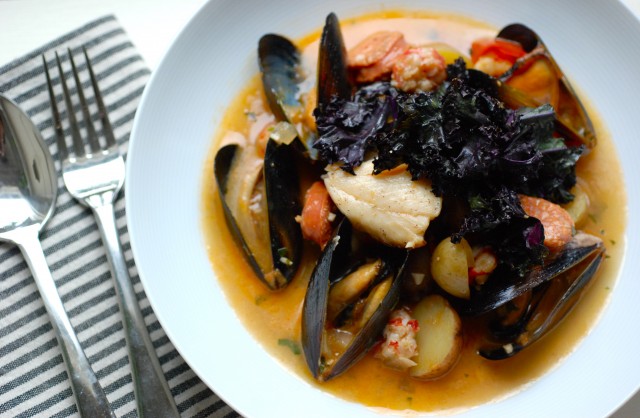 There is snow in our forecast this weekend and I can't think of anything I would rather do than hunker down and read my book, work on the Saturday crossword, bake some cookies/bread/cake, drink tea and make a hearty stew.
My perfect stew would be filled with fresh seafood and earthy potatoes, onions, garlic and fennel, some crispy kale and a broth that is warmed by the addition of some spicy chorizo and a hint of sweet paprika. It would be easy to make and rustic yet still special enough to serve to some good friends who were stopping by for dinner. This Portuguese stew fits the bill.
I first made this dish about 4 years ago when I was helping a friend of a friend test recipes for a cookbook she was writing. I absolutely loved working on that project and testing recipes on a regular basis would be probably be my dream job. I tested about one third of the recipes for A Good Catch and while many of those I tested have remained in my cooking repertoire, this one is probably my very overall favourite from the book.
A Good Catch was published in 2008, the brainchild of Vancouver writer Jill Lambert. Jill is passionate about good, fresh, flavourful seafood but in her book she also wanted to bring some awareness to the issue of sustainability and the environmental impact of what and how we eat from our oceans. The tone of Jill's book is enthusiastic yet never preachy and is filled with great information on how we can all make informed decisions when purchasing from the local fishmonger. The recipes come from top chef's from across Canada and celebrate the diversity of our country's talent and the fresh and saltwater fish and seafood from coast to coast.
I learned so much testing recipes for this cookbook, and broadened my culinary horizons beyond salmon and halibut, Dungeness crab and shrimp. I learned new techniques to cook fish such as Dogfish and Walleye and even found out that the scary looking Geoduck is actually quite delicious. I also discovered just how much I love Sablefish and local spot prawns and Kushi oysters.
I also learned that just because you are "one of Canada's top chefs" doesn't mean that you know how to write a recipe, but that is another story…
Happy weekend!
Portuguese Seafood Stew with Sablefish and Purple Kale
Recipe is adapted from Chef David Beston from the book A Good Catch by Jill Lambert
You can of course add in other seafood that is fresh and available such as calamari or clams. Green kale is perfectly acceptable if you can't find the purple variety.
6 tablespoons of olive oil, divided
4 garlic cloves, finely chopped
1 tablespoon of cumin seeds, toasted and ground
1 medium onion, medium dice
1 bulb of fennel, medium dice, fronds reserved for garnish
2 cups of dry white wine
4 cups of chicken stock
18 small red potatoes, scrubbed well and cut in half
4 links of spicy chorizo cut into 1/4 inch (2/3 cm) slices
2 large tomatoes, cored and chopped
24 mussels, cleaned and de-bearded
1 pound (454 g) prawn tail, shelled and deveined
1 tablespoon sweet paprika
2 tablespoons Italian flat leaf parsley, chopped
6 x 6 oz (170 g) sablefish fillets, skin on
1/2 pound (226 g) purple or green kale, tough stems removed, roughly chopped
Fine grain sea salt and freshly ground pepper
In a large wide sauce pan heat 3 tablespoons of the olive oil over medium-high heat. Add the garlic and cumin and fry for a minute or two until fragrant. Reduce the heat to medium and add the diced onion and fennel. Cook, stirring until translucent about 3 to 4 minutes.
Add the wine to the pan, increase the heat to high and using a wooden spoon scrape up any of the brown bits that are stuck to the bottom of the pan. Reduce the wine by three quarters and then add in the chicken stock. Reduce the heat to medium, add the potatoes chorizo and tomatoes and simmer until the potatoes are cooked through, 10 to 12 minutes.
Once the potatoes are cooked add the mussels and the prawns, cover and simmer until the mussels open, 2 to 5 minutes. Add the paprika and the parsley, stir to combine and remove from the heat.
Meanwhile season the sablefish with salt and pepper and heat a large frying pan over medium high heat. Add the remaining 3 tablespoons of olive oil and add the fillets, skin side down, in the pan and sear until the skin is crispy and golden, about 3 minutes. Reduce the heat to medium and turn the fillets over. Cook for an additional 4 to 6 minutes until the fish is firm and opaque and a knife inserted into the centre and held for 8 seconds comes out warm to the touch when placed against the inside of your wrist. Transfer to a plate and cover to keep warm.
Return the pan that was used to cook the fish back onto the stove and add the kale, some salt and pepper. Cook over medium- high heat, stirring often until the greens begin to wilt.
To serve:
Spoon the broth into six warmed bowls, evenly dividing the seafood, sausage and potatoes. Place a mound of the kale on top and then place a sablefish fillet, skin side up, on top of the kale. Garnish with the reserved fennel fronds, a drizzle of olive oil and a grind or two of black pepper.
Serve with some crusty bread.
Serves 6.