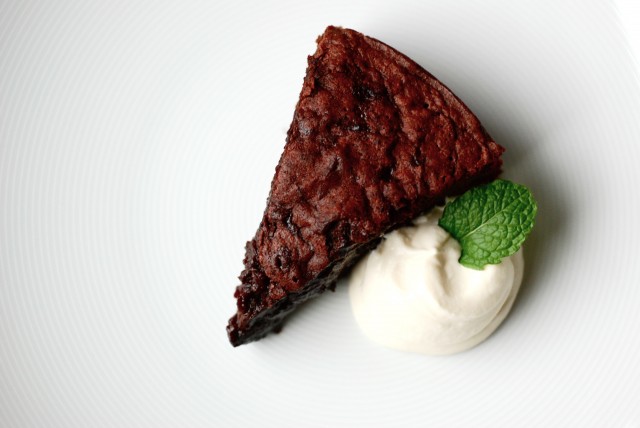 On Wednesday this little blog turned two years old. It was two years ago that my sister challenged me to finally start the food blog that I had been talking about for months and then sat with me for hours helping to set it up. Thank you Lisa for this and so many other things.
I have learned so much since then. I have learned that natural light is best for food photography, that there are a million fonts to choose from, that writing is hard and taking good photographs can be even harder and that this space will always be a work in progress. I have been delighted to discover that it is possible to "meet" some truly amazing, talented, funny and smart people simply by sharing ideas, recipes, photographs and a bit of your heart. This little space challenges me daily and brings a lot of joy to my life. Thank you to everyone who has stopped by and said hello. Every comment means the world to me.
To celebrate on Wednesday we had cake. Not just any cake. A chocolate, espresso and roasted beet cake with a good sized dollop of mascarpone cream.
I first spotted this recipe in Nigel Slater's book Tender which surely must be the most beautiful literary ode to vegetables. There is something about this book (and his many others) that makes me want to slow down, put on a pot of tea, cozy up on the couch and read about food that is tended and cared for by hand and then gently harvested at just the right moment and then fully enjoyed.  From reading his books I always get the feeling Nigel Slater simply cooks what he happens to crave at any particular moment, never trying to please anyone but himself. I want to cook in this spirit a bit more often as I feel pretty sure that when you cook from the heart those who join you around the table will very much appreciate the effort.
What I love most about his style of cooking is that it is neither showy nor complicated but there is always a surprise or two.
Beets in a chocolate cake? Why not. There is carrot cake and zucchini cake so why not beet cake. The beets play a supporting role here and make for a really moist cake that is almost molten in the centre. The predominant flavour is definitely chocolate but there is an underlying, almost ethereal, hint of beetroot earthiness.
After reading about this cake in Tender months ago I recently spotted it again over on David Lebovitz's site in a slightly adapted version. It was then I knew that this recipe was no longer an if but a when on my list of things to bake. I just needed the right occasion. Here it is…
Chocolate, Espresso and Beet Cake with Mascarpone Cream
Recipe is adapted from David Lebovitz who adapted it from Nigel Slater's Tender
I call for roasting the beets as I think that intensifies the sweet flavour but if you prefer to boil them you can do that as well. Just boil in salted water until very tender, about 45 minutes.
The recipe calls for superfine sugar which I couldn't find in Vancouver. David Lebovitz advises processing regular sugar in a food processor for about 10 seconds or so. This can be done before you use the same processor to purée the beets.
For the cake:
8 ounces (240 g) beets, unpeeled but tops and tails removed, scrubbed free of dirt
7 ounces (200 g) bittersweet of semisweet chocolate (at least 50% cacao solids and preferably 70%)
1/4 cup (60 ml) hot espresso
7 ounces (200 g) unsalted butter, at room temperature, cubes
1 cup (135 g) all purpose flour
3 tablespoon unsweetened cocoa powder (I used Valhrona, any dark natural or Dutch-process will work)
1 1/4 teaspoon of baking powder
5 large eggs, separated, at room temperature
1/4 teaspoon of fine grain sea salt
1 cup (200 g) superfine sugar (see note above)
For the mascarpone cream:
1 cup of mascarpone cheese
1 cup of whipping cream
4 tablespoons of sugar
1 teaspoon of vanilla
For the cake:
Preheat the oven to 400 ºF (204 ºC). Wrap the washed beets in tin foil and place on a rimmed baking sheet. Bake in the oven for approximately 1 hour until a knife easily pierces the beets. Remove from the oven and allow to cool slightly. When cool enough to hand, slip off the peels and place in the bowl of a food processor. Process until they are coarsely pureed. Set aside.
Butter an 8 or 8 1/2 inch (20 cm) springform pan and line the bottom with parchment paper.
Preheat the oven to 350 ºF (180 º).
In the top of a double boil set over barely simmering water, melt the chocolate. When it is almost fully melted turn off the heat but leave the pan over the water and add in the 1/4 cup of espresso. Stir once and then add the butter by pushing the pieces into the chocolate mixture without stirring but simply allowing them to soften.
Sift together the flour, cocoa powder and the baking powder and salt in a medium bowl. Set aside.
Remove the chocolate from the heat and stir the butter until it is melted and incorporated. Allow to cool for a few minutes and then add in the egg yolks and briskly stir until they are fully incorporated into the chocolate mixture. Fold in the beets.
In a stand mixture whip the egg whites until stiff peaks form. Gradually fold in the superfine sugar with a spatula and then fold this mixture into the melted chocolate and beets. Take care to not over-mix.
Fold in the flour cocoa mixture and then pour the batter into the prepared springform pan. Bake in the preheated oven for 40 minutes until the sides are set but the centre is still a tiny bit wobbly.
Allow the cake to fully cool in the pan before removing it.
When ready to serve whip the mascarpone with the cream, sugar and vanilla until soft peaks form. You can make this up to 4 hours ahead, covered and refrigerated.
Cut the cake and dollop a generous amount alongside. Garnish with a mint leaf or perhaps some toasted and chopped pistachio nuts.
Serves 8 – 10.