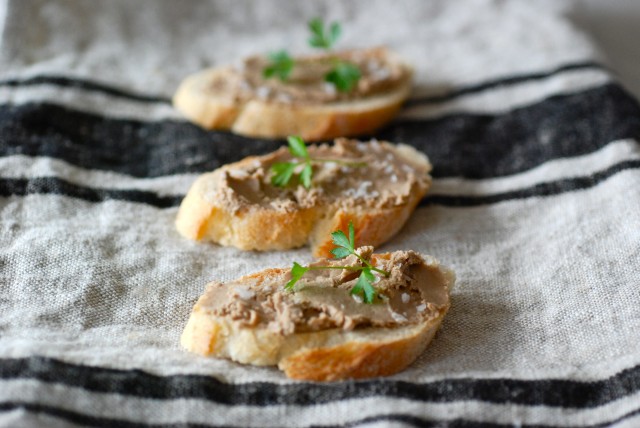 Rustic yet rich, and perfect with a glass of champagne.
Here is a recipe that is wonderful in so many ways. It transforms the lowly chicken liver into something flavourful, decadent, festive and special. The holiday season always seems like the perfect time for pâtés and somewhat surprisingly they couldn't be easier to make at home.
For this particular recipe you will need to plan a little ahead as the chicken livers need to marinate in the port for 24 hours or so. Once they are ready to go this recipe comes together with ease and delivers big earthy flavours. Packed into a pretty bowl, sealed with a layer of clarified butter and dusted with some chopped pistachios or candied walnuts it makes a nice gift to take along to a dinner or party.
It is probably best though, enjoyed at home with 6 to 8 people that you happen to like, with some freshly toasted slices of baguette. Sprinkle with some coarse sea salt and garnish with a sprig of green, pick up your champagne flute and celebrate the season!
Chicken Liver Pâté with Port and Thyme
Recipe adapted from Cooking at Home on Rue Tatin by Susan Loomis
1 lb (454 g) chicken liver, trimmed of any veins or connective tissue
1/3 cup of Port
2 teaspoons of fresh thyme leaves, chopped
1/2 lb (250 g) unsalted butter
1 teaspoon of fine grain sea salt
Few grinds of white pepper
1 baguette, sliced and toasted (preferably right before serving so that the slices are still warm)
Place the cleaned chicken livers and the port in a small glass bowl and stir well. Cover and refrigerate for 24 to 48 hours.
Place the marinated chicken livers and port in a small saucepan. Add in the chopped thyme leaves and bring to a gentle boil over medium high heat. Reduce to a simmer and gently cook for 12 to 15 minutes until the livers are no longer red in the middle and cooked through. Remove from the heat and drain the chicken livers, reserving the cooking liquid.
Place the chicken livers and 3 tablespoons of the cooking liquid in the bowl of a food processor. Blend until smooth. If the puree is very stiff add an additional tablespoon or two of the cooking liquid and process until the mixture is the consistency of heavy cream. Cool the puree and then press it through a sieve to remove any tough bits of chicken liver or woody bits of the thyme.
Return the puree to the cleaned bowl of the food processor and add the butter and salt and a few grinds of pepper. Blend until very smooth. Check and adjust the seasonings.
Transfer the pâté to a terrine or ramekins and smooth the top with an off-set spatula.
Cover with plastic wrap that is pressed right against the pâté to keep it from discolouring and chill for at least three hours before serving.
Serve, topped with some sprigs of chervil, parsley or chopped and toasted pistachios, alongside some toasted slices of baguette.
Serves 6 to 8.