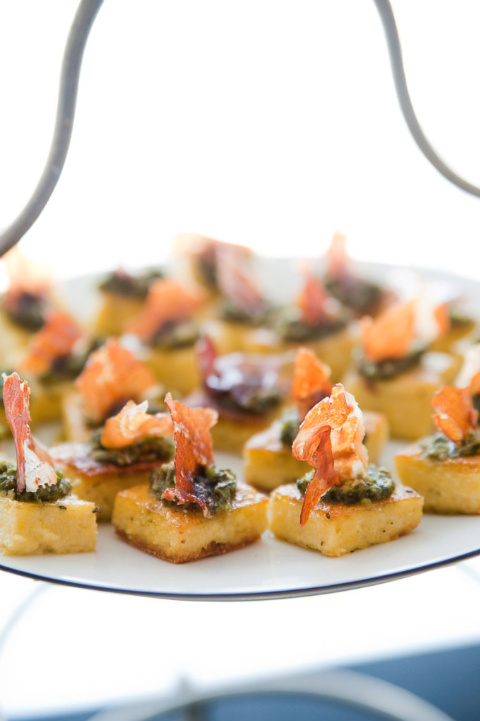 Photo courtesy of Pink Monkey Studios
First up I want to send out a huge thank you to everyone who came by for our Food Bank Fundraiser last night. We had over fifty people show up to mix, mingle, enjoy some wine and and hors d'oeuvres and spend a bit of time in the kitchen as we demonstrated some party canapés for the holiday season. The very best news is that we raised $1360 for the Vancouver Food Bank! I was so inspired by people making the time during the hectic holiday season to come out and raise some money for a great cause. Thank you all for your generosity!
One of the recipes we featured last night were these polenta squares that you see above. I love this canapé as all of the components can be made ahead and then the little squares of polenta just need to be seared off in a hot pan before being topped with the flavourful salsa verde and the crisped prosciutto. I have listed 6 to 8 slices of prosciutto in the recipe below because people are constantly stealing shards of the crispy, salty, delicious prosciutto from the baking sheet. If you happen to have any leftovers the prosciutto shards are great crumbled over a salad or soup!
Polenta Squares with Salsa Verde and Crisped Prosciutto
For the polenta:
1 1/2 cups of polenta (also labelled as corn grits)
6 3/4 cups of water
1 1/2 teaspoons of fine grain sea salt
6 tablespoons butter
1/2 cup grated fresh Parmesan (or more to taste)
Olive oil for frying
For the salsa verde:
1 cup loosely packed flat leaf parsley leaves, washed, dried and finely chopped
4 sprigs of tarragon, leaves stripped and finely chopped
3 scallions, chopped
3 cornichons, chopped
1 tablespoon of capers, rinsed and chopped
3 anchovy fillets (I like good quality oil packed ones), chopped
1 medium clove of garlic, minced
1 tablespoon of preserved lemon rind, chopped (discard the pulpy flesh)
3/4 of a cup of a good quality extra virgin olive oil
Lemon juice to taste
Fine grain sea salt and freshly ground pepper
For the crisped prosciutto:
6 to 8 slices of thinly sliced prosciutto
To make the polenta:
In a medium  pot combine the polenta, water and salt and mix well. Bring to a simmer and whisk the polenta for a few minutes to help bring it together and until the water returns to a boil. Reduce the heat to a slow simmer using a wooden spoon to stir the polenta at frequent intervals. Be careful, as the polenta will sometime spit at you!
Continue to cook and frequently stir for 30 minutes or so until the polenta has become creamy and thick and has lost its raw bite. You can add a bit more water if needed and continue to cook until the desired flavour and texture is achieved. Once it is done add the butter and the grated Parmesan and stir to combine. Season to taste with salt and pepper. Pour the polenta into a parchment lined 9 1/2″ x 13″ x 1″ (24cm x 33cm x 2.5 cm) sheet pan and refrigerate for a couple of hours until firm. Cut into 1 1/2 inch (3.8 cm) squares and set aside.
To make the salsa verde:
Put the chopped parsley, tarragon, scallions, cornichons, capers, anchovies, garlic and preserved lemon rind in a bowl. Add the olive oil and some lemon juice. Taste and add salt if needed (it may well be salty enough) and some freshly ground pepper. Check and adjust the amounts of lemon juice and olive oil to make the sauce sharper or milder in flavour. Best served within a hour or two of making.
To crisp the prosciutto:
Preheat the oven to 350 ºF (180º C) and arrange the slice of prosciutto on a parchment lined baking sheet. Bake for 15 minutes and allow to cool. Break up into shards and set aside.
To assemble:
Heat a large frying pan over high heat. Add 1 tablespoon or so of olive oil. When the oil is hot add in as many of the polenta squares that will comfortably fit into the frying pan. Fry until brown and crisped on one side (2 minutes or so) and then flip the polenta squares over and fry on the other side. Remove and drain on some paper towels. Repeat with remaining squares.
Arrange the browned and drained polenta squares on a serving platter and top with a dollop of salsa verde and a shard to the crisped prosciutto.
Serve.
Makes approximately 40 hors d'oeuvres.