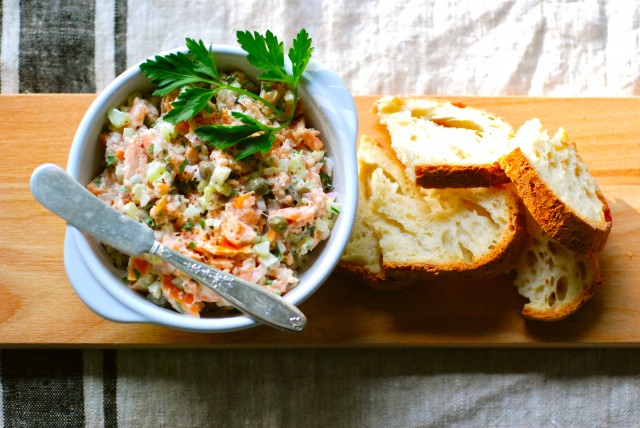 We really love our salmon here on the West Coast. Fresh, wild, salmon is something that we Vancouverites take very seriously. There are five distinct species in BC all with unique characteristics and tastes. All are delicious and can be prepared in a myriad of ways.
This recipe features hot smoked Chum salmon although any hot smoked variety will do. Hot smoking produces a salmon that is less moist and firmer in texture and it works very well when mixed with some herbs, a bit of mayonnaise and a splash of lemon juice.  This recipe couldn't be easier to make and can be served on toasted baguette slices or crackers.
This is a great recipe if you need to bring an hors d'oeuvre to a party or potluck and can be adapted depending on what you have on hand. I used capers and shallots and some flat leaf parsley and chives but cornichons, red onion and dill or tarragon would all be great stand ins.
We are up at our cabin on Keats Island this week and this was the canapé that I made for tonight's cocktail hour. It worked well with my glass of Pinot Gris, the Ripasso Valpolicella that Glen and Paolo were drinking as well as the Pomegranate sparkler that Max and Lisa were enjoying.
I know I tend to use the words "simple" and "rustic"  frequently but this recipe is rustic, simple and, well, West Coast perfect.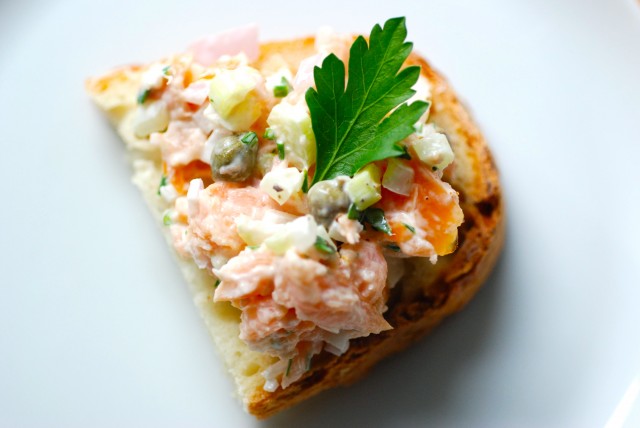 West Coast Smoked Salmon with Capers and Herbs
2/3 lb (300 g) wild hot smoked salmon shredded
1/4 cup of mayonnaise
1 stalk of celery, finely diced
1 small shallot, finely chopped
1 tablespoon capers
1 tablespoon of flat leaf parsley, chopped
1 tablespoon of chives, chopped
Fine grain sea salt and freshly ground pepper
Toasted slices of baguette or crackers
In a medium bowl combine the shredded salmon, mayonnaise, celery, chopped shallots, capers, parsley, chives and salt and pepper to taste, stir well to combine.
Place a heaping teaspoon on a slice of toasted baguette or a cracker and garnish with a sprig of dill or flat leaf parsley. Alternately, pack into a small serving dish and garnish with some herbs surrounded by some toasted baguette slices or crackers.
Makes approximately 36 canapés.