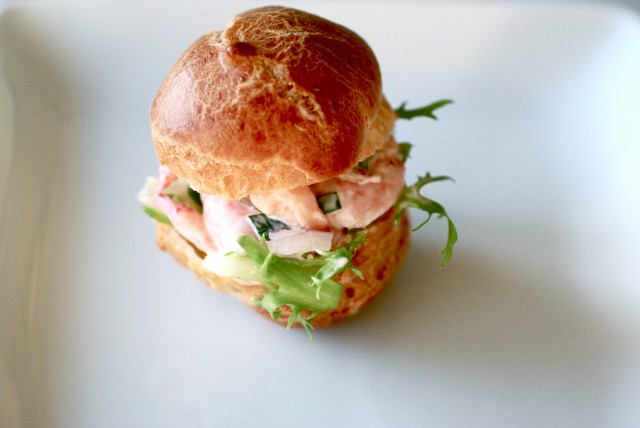 Welcome to the second annual "Twelve Days of Canapés" here at Kitchen Culinaire. I have been meaning to get started on this much earlier in the month but here we are on the 6th of December with my first post, so there you go. I am sure there are plenty of you out there that can relate to the fact that time somehow speeds up during this crazy, festive month…
I am always on the lookout for a good canapé recipe during the holiday season to share with friends, or put out there for a recipe exchange or bring to a potluck. And, as always, my favourite way to entertain during December is to invite a few good friends over, open up a bottle of Prosecco (or two) and put out a few hors d'oeuvres, sit back and enjoy the company of the people that I care about.
I will be posting eleven more recipes before this month is over and would love to hear some family/seasonal favourites from anyone out there that wishes to share.
Happy holidays!
xo J
Choux Puffs with Tarragon Shrimp Salad
I will include a recipe to make the choux puffs below but you can also purchase them at many French or Italian bakeries which makes this a simple "assembly only" canapé.
The puffs can be made in advance and frozen. Jus thaw them before assembling.
For the puffs:
1 cup of milk
1/4 lb (113.4 g) unsalted butter
1 teaspoon fine grain sea salt
1/8 teaspoon freshly ground black pepper
1 cup flour
5 large eggs, 4 will be used for the dough and the 5th for an egg wash on the top of the puffs
For the filling:
1 lb (454 g) shrimp meat
2 stalks of celery, small dice
1/2 small red onion, small dice
2 tablespoons fresh tarragon leaves, finely chopped
1/2 cup good quality mayonnaise
Fine grain sea salt and freshly ground pepper to taste
Frisée leaves for garnish
To make the choux puffs:
Preheat the oven to 425º F (218º C) with two racks. Line two baking sheet pans with Silpats or parchment paper and set aside.
In a medium sauce pan heat the milk, butter and salt and pepper over medium high heat and bring to almost a boil. Remove from heat and add the flour all at once and using a wooden spoon stir vigorously. Return the pan to the burner and over low heat continue stirring the flour mixture for 2 minutes or so. At this point the mixture will come together in a smooth mass and there will be a thin coating on the bottom of the pan. Take the pan off the heat and dump the contents into a food processor that has been fitted with a steel blade. Add 4 of the 5 eggs and pulse until the eggs are well incorporated and the batter is thick and smooth.
Using a pastry bag (or two teaspoons) pipe the dough into mounds 1 inch (2.5 cm) in diameter and 3/4 (1.9 cm) inch high with each mound being about 1 inch (2.5 cm) apart onto the prepared baking sheets. Once you have all the mounds piped, wet your index finger with some water and gently smooth down the swirl on the top of each puff (and to smooth the edges if you have used two teaspoons instead of a piping bag).
Make an egg wash with the remaining egg mixed with 1 teaspoon of water. Using a pastry brush lightly brush the choux mounds with the egg wash.
Bake in the preheated oven for 12 minutes and then rotate the trays and reduce the heat to 375ºF (177ºC). Continue to bake until the puffs are golden and just starting to brown approximately another 10 – 12 minutes. Remove from the oven and cool on a wire rack.
To make the shrimp salad:
In a medium bowl place the shrimp meat, celery, red onion, fresh tarragon and mayonnaise. Fold gently with a spatula until well combined. Check for salt and pepper and season accordingly.
To assemble:
Slice the puffs oven and place a leaf of frisee on the bottom of the puff. Place a small portion of the shrimp salad on top of the frisée leaf and then place the top of the puff back on and place on a serving platter. Repeat with the remaining puffs and serve.
Makes approximately 36 canapés.