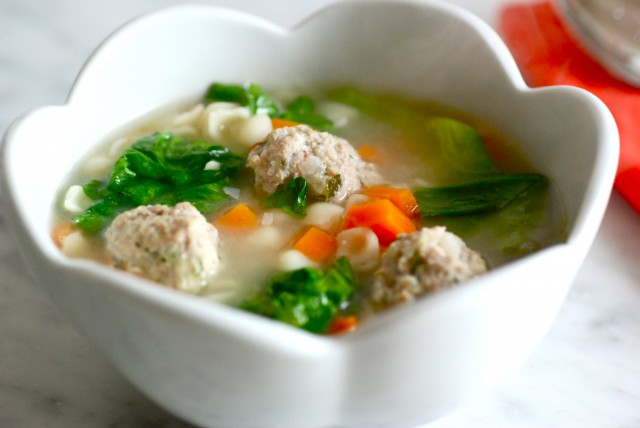 We are home. Home sweet home.
We arrived home to see Vancouver in all of her autumnal glory. Cool and crisp temperatures, red and gold leaves still clinging to the trees, brisk breezes and even some snow on the mountains! This being Vancouver there has been some rain as well, but I am happily embracing it all. Pulling on my boots and a warm coat, finding my gloves and grabbing an umbrella, heading out with the dog to walk our usual route to Trout Lake it almost feels like I never left. Almost. The big gift about going away is that upon your return you can really see your life with fresh eyes. The things you learned, the things you missed, the things that matter.
After having been on the road for two weeks (Miami to the Bahamas to Orlando to Washington DC to New York City) I was absolutely itching to get back in the kitchen. My kitchen. Of all the the rooms in our house, all of the comforts of home it was my kitchen that I missed the most. It is the centre of our home, the place where all good things happen, where so much more than food is shared.
A windy, rainy chilly Saturday is the perfect time to make a pot of soup. I headed out to gather my ingredients and check out the changes on Commercial Drive (the new butcher is open! Liberty Wines is moving in!) and then it was back to the kitchen to cook.
Rolling out the little meatballs, simmering the stock, chopping the crisp leaves of escarole. Soon the table was set with napkins and spoons, some crusty bread was sliced and there were steaming bowls of homemade soup.
These past months have been a magical adventure but sitting there eating soup in the kitchen with my family I felt like Dorothy from the Wizard of Oz. There is no place like home.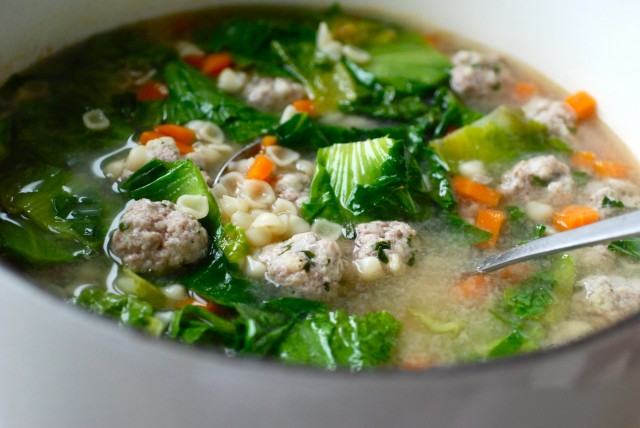 Escarole and Conchigliette Soup with Parmesan Meatballs
This soup is my version of the well known Italian Wedding Soup, named for the perfect "marriage" between the greens and the meat. I used conchigleitte but any small pasta would do. If you can't find escarole you could always use kale or swiss chard.
One final note: this soup is the perfect place to use a Parmesan rind if you happen to have one. I keep a bag of rinds in my freezer for just such an occasion and the addition of one in this particular soup not only echos the Parmesan in the tiny meatball but all adds a real depth of flavour in the broth.
For the meatballs:
1 lb (454 g) of minced pork
1 large shallot, finely chopped
2 cloves of garlic, minced
1 large egg
1/2 cup finely grated Parmesan cheese
1 slice of white bread, crust removed and torn into small pieces
2 tablespoons Italian parsley, finely chopped
Pinch of chilli flakes (optional)
1 teaspoon of salt
Freshly ground black pepper
For the soup:
10 cups of chicken stock (preferably homemade)
1 Parmesan rind (optional)
1 cup of carrots, peeled and chopped
1 cup of conchigliette, or any other small dried pasta
1 medium head of escarole, core removed, leaves washed well and coarsely chopped (about 6 – 8 cups)
In a medium bowl combine the pork, shallot, minced garlic, egg, Parmesan, torn bread, parsley, chilli flakes, salt and pepper. Gently mix until well combined. Form the pork mixture into 1 inch diameter meatballs and place on a baking sheet. Chill for 30 minutes.
Meanwhile heat the broth in a large pot over medium high heat. Add the parmesan rind if using and bring to a simmer. Add the chopped carrots and cook for 15 minutes and then add the meatballs and simmer for an additional 10 minutes. Add the chopped escarole and cook for a final 5 minutes until it is wilted but still bright green. Remove the Parmesan rind and discard.
Serve hot!
Makes 4 to 6 servings.