The past twelve days have been jam-packed and I just haven't been able to spend any time here but I am happy to be back and I brought a cake to celebrate!
Since arriving home we have been settling in and unpacking, seeing friends and family, getting some work projects started and even doing a few cooking events around the city. In between the visits and the projects and the unpacking I have been cooking, cooking, cooking. What a joy to be back in the kitchen and the rainy, cold Vancouver weather is inspiring me.
I have been baking bread and cooking up pots of soup. I hauled out my pasta maker and made sausage, ricotta and swiss chard ravioli and then I braised some lamb shanks for another pasta dish with pappardelle, tomato, arugula and pine nuts. I made a Shepherd's pie with duck confit, caramelized onion and truffled mashed potatoes. An arugula salad with pears, pomegranant and toasted pistachios was served alongside a turkey lasagna and another fall salad with shaved fennel and oranges with slivered black olives accompanied a Portuguese stew with sablefish and kale.
I made apple cakes. Fussing with the ingredients until one tasted just right to me. Now I have a recipe that I know I will return to again and again. I love having a recipe that is stored in my head so that I can adapt it depending on what I have on hand. A recipe committed to memory so that I can think and scheme and plan other things while my hands take over and my mind is free to wander.
I love apples and cardamom together and with a couple of tablespoons of Calvados poured into the batter this cake is very special yet still simple. You can dress it up with a drizzle of homemade caramel sauce and/or ice cream to end a fancy dinner or simply sift a bit of icing sugar over the top and serve it up with a cup of tea on a rainy afternoon.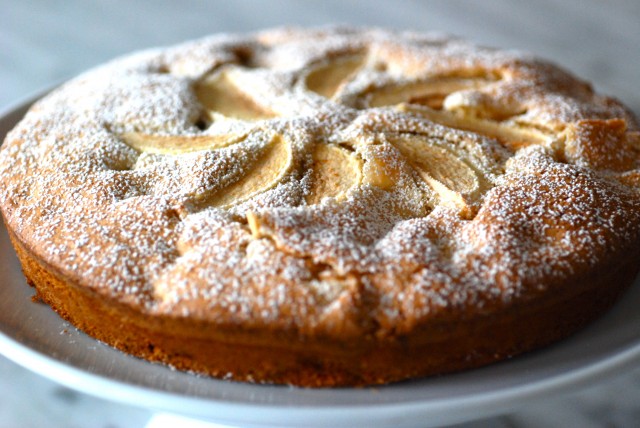 Apple Cardamom Cake
I used Calvados but brandy or even rum would work well here. Top with a sprinkling of icing sugar, some vanilla ice cream, a dollop of whipping cream or some homemade caramel sauce.
1/4 cup butter, room temperature plus more for greasing the pan
3/4 cup of sugar or up to 1 cup if you prefer a sweeter cake
2 large eggs
2 tablespoons Calvados
1 1/4 cup all-purpose flour
1 tsp baking powder
3/4 teaspoon of ground black cardamom
1/4 teaspoon fine grain sea salt
2 large Gala apples
Preheat the oven to 350ºF (180ºC). Butter and flour a 8 inch (20 cm) round cake pan, then line the bottom with parchment paper.
Cream the butter and the sugar in the bowl of an electric mixer fitted with the paddle attachment until light and fluffy. Add in the eggs one at a time and beat well. Add in the Calvados and beat until well combined.
Peel, quarter and core the apples. Cut two of the quarters into thin slices and set aside. Chop the remaining apples and set aside.
Combine the flour, baking powder, cardamom and the salt in medium bowl.  Add the flour mixture into the butter mixture and mix on low speed until just combined. Gently fold the apple chunks into the batter and then pour into the prepared baking pan. Smooth the top with an off set spatula and then arrange the remaining apples slices in a circular pattern on top of the batter.
Bake in the preheated oven 35 to 40 minutes  or until a the cake is golden brown and a toothpick inserted into the centre of the cake comes out clean.
Allow to cool thoroughly in the pan. Dust the cake with icing sugar and serve.
Serves 6 – 8.