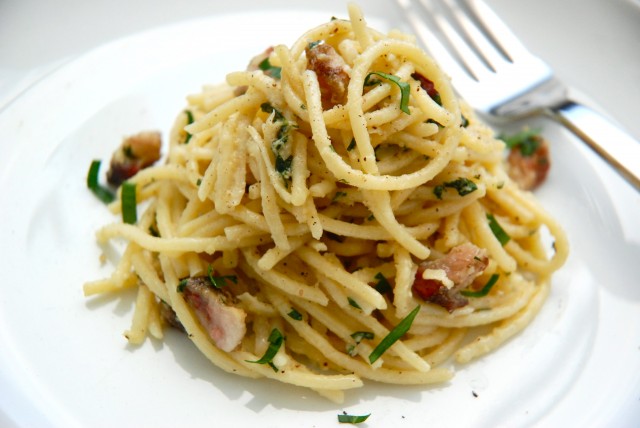 Our days are winding down here. We shipped home some boxes of stuff today and will be cleaning the apartment and packing suitcases over the next few days. We have begun doing things "for the last time" here in Miami. As in, "this will be the last Monday that we have gelato cones after school" or "tomorrow will be our last after-dinner-swim at Miami Beach".
I have been trying to clean out the fridge and so the meals around here have been less than blog worthy. We have had quesadillas and sandwiches and hamburgers in an attempt to use up at least some of the condiments we have accumulated. How is it possible to have gathered so many jars of mustard, capers, anchovies, ketchup, relish, hot sauce(s) in only two and a half months?
The other night there was some pasta in the pantry, a few eggs and a hunk of parmesan in the fridge and a bouquet of parsley in a glass on the counter.
I was inspired by Tracy's carbonara triumph a few weeks ago and remembered I had a this bookmarked recipe from Robin.
I used guanciale as Robin suggests. Guanciale is pork jowl that has been cured using salt and pepper and so it doesn't have the same smokey flavour as bacon or the really salty taste of pancetta. I found some at the Epicure Market here in South Beach but if you live in Vancouver you can also find it at Oyama Meats at Granville Island. In this particular pasta I really love using guanciale over bacon as it has a more subtle flavour that seems almost sweetly spicy to me. Glen doesn't share my opinion as he prefers the smokiness of bacon. We have agreed to disagree on this one.
Once you figure out whether it will be guanciale/pancetta or bacon the rest of this dish couldn't be easier. It really does come together in mere minutes and so is perfect if you have limited time AND limited resources. There are so many versions of pasta alla carbonara floating around out there but as is often the case, simple is best. Pasta, eggs (whole eggs and/or yolks) pork that has been cut into cubes and then rendered to make it a salty crunchy component, some grated cheese. Then there is black pepper. Make sure, as Robin says, to use a decent amount. It really helps to balance the other flavours. I also added a few cloves of minced garlic and some chopped parsley.
One final bit of info regarding carbonara technique. Have your eggs well seasoned, mixed and ready to go and combine the pasta with the eggs OFF the heat. Otherwise you may up with scrambled eggs and pasta which actually doesn't taste terrible but sort of wrecks the whole silky, creamy sauce that a carbonara is known for.
Now, it is back to packing suitcases for me!
Spaghetti Carbonara
Recipe adapted from Caviar and Codfish
The secret to making a successful carbonara sauce are to ensure the pasta is hot when it hits the egg mixture so that it "cooks" the raw eggs but that is done off of the heat so that you don't end up with scrambled eggs. Also, make sure to reserve some of the pasta water which can be used to slightly thin the sauce to the perfect consistency.
1 pound (454 g) dried spaghetti
6 ounces guanciale, cubed or cut into small strips
4 garlic cloves, finely chopped
1 cup of grated Parmesan cheese
2 whole eggs
2 egg yolks
1/4 cup of parsley leaves, chopped
Fine grain sea salt
Lots of freshly ground black pepper
Heat a large skillet over medium low heat and sauté the guanciale cubes until they are crisp on the outside and tender on the inside. Remove from the pan and drain on some sheets of paper towel. Pour off all but two tablespoons of the pork fat and set the skillet aside.
Meanwhile put a large pot of salted water on high heat and bring to a boil.
Once your water is boiling cook your spaghetti until al dente. This will range from brand to brand but you are looking at around nine minutes. This gives you enough time to get your egg mixture ready and sauté your garlic.
In a small bowl whisk together the two whole eggs, the two egg yolks, half of the cheese, some salt and a good amount of black pepper.
When your pasta is just a couple of minutes from being done return the skillet with the pork fat onto the stove top over a medium low flame. Add the chopped garlic and saute for a minute or so until the garlic is soft but has not begun to brown. Add the drained guanciale lardons back into the pan as well and once you pasta is cooked and drained (reserve one cup of the pasta water) add the hot pasta into the skillet and using tongs coat the spaghetti in the pork fat and garlic.
Remove the pan from the heat and pour the egg/cheese mixture over the pasta and then gently but quickly fold the egg mixture into the pasta until the eggs thicken. If the sauce seems too thick use a bit of the reserved pasta water to thin it to the desired consistency.
Check and adjust the seasonings of the salt and pepper and then add in the remaining cheese and the chopped parsley.
Mound the pasta into warm bowls and serve at once.
Serves 4.