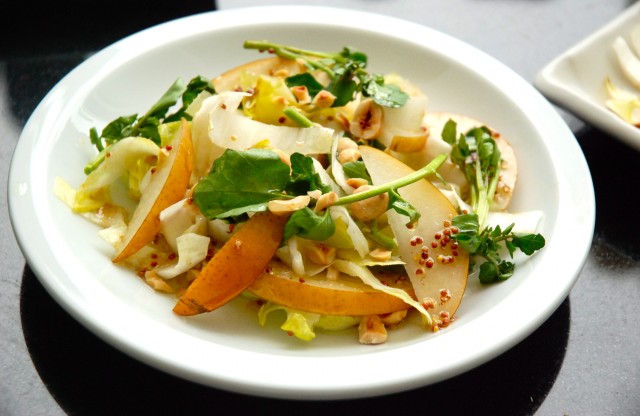 Wow, it has been quite the week around here!
My parents arrived for a visit, we checked out Key West over the weekend and the biggest news is that the show that Glen has been working on was cancelled and so we are leaving Miami and heading back to Vancouver.
It certainly wasn't a surprise that the show was axed but it still feels very bittersweet. We have gone from wondering how much longer we would be living here to how soon we will be heading home. I am excited to see my family and friends (and our dog Mabel!) but I know that I will miss so many things about South Beach. The warm breezes, the morning light, the walks on the beach, the stunning sunsets from our deck, the Art Deco architecture, the amazing food and the friendly Floridians. I will always think of our time here with great fondness and remember how Glen, Max and I became just a little bit closer during this 3 month adventure.
We are planning on packing up our things and taking care of some last minute business over the next week or so and then we will be taking a couple of weeks to wend our way home. We are tentatively going to spend a few days in the Bahamas before we head up to Orlando to see the Nasa Space Centre. From there we are hoping to travel by train to Washington DC to show Max the White House and the new Martin Luther King Memorial and check out a few museums and then it will be on to New York City. We plan on spending four days in New York to visit with friends and check out the sights and from there we will fly back to Vancouver around the middle of November.
If anyone has any hotel recommendations for either Washington or NYC and/or any kid friendly attractions that we should check out I would love to hear from you.
As far as this site goes, postings may be a bit sporadic over the next month. With Glen off work now there may be a few Lunches for Two instead of one. There will probably be less cooking done and more eating out while we pack up here and then next to no cooking while we are on the road. I promise to throw something up here when I can and will be back cooking and hosting classes in full force once I get home. I have a list of recipes in mind for when I am back in Vancouver.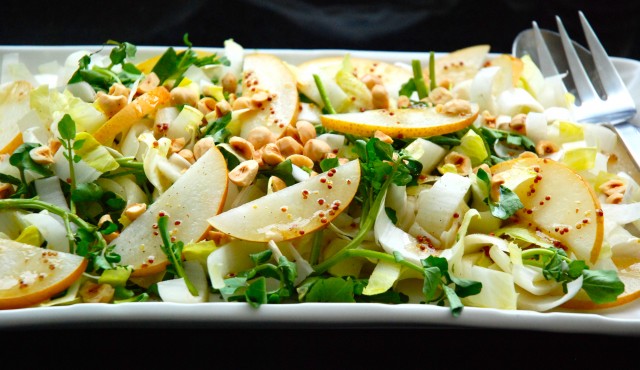 But for now there is the sweet and simple salad that you see above.
Belgian endive paired with a grainy mustard vinaigrette always takes me back to my days as a line cook at the french restaurant where I worked in Vancouver. It was often included as a part of the daily staff meals that we made for both the kitchen and the front of house staff. This is essentially that same simple salad but with a few well chosen additions in the form of a bunch of peppery watercress, a thinly sliced, fragrant and crunchy Asian pear and a few toasted hazelnuts.
It can be further jazzed up with some crumbled blue cheese or shavings of Parmesan and is wonderful served alongside a roasted chicken and some oven fries.
This is the perfect autumn salad whether you are in sunny Florida, cool Vancouver or any point in between. See you soon!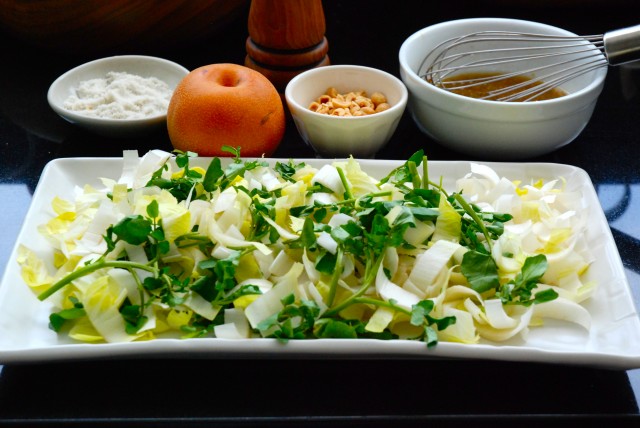 Belgian Endive and Watercress Salad with Asian Pear, Toasted Hazelnuts and a Grainy Mustard Vinaigrette
For the salad:
4 large heads of belgian endive, core removed and cut crosswise into 1/2 inch pieces
1 bunch of watercress, cleaned and tough stems removed
1 Asian pear
1/3 cup hazelnuts, toasted and peeled
For the vinaigrette:
1 tablespoon of grainy dijon mustard
1 tablespoon of sherry vinegar
1/4 cup of grapeseed oil
1/4 cup of hazelnut oil, if you happen to have some, or olive oil
Fine grain sea salt and freshly ground black pepper
To make the vinaigrette:
Whisk together the grainy mustard and the sherry vinegar. Add in some salt and pepper and whisk again. Slowly add the grapeseed oil whisking constantly followed by the nut or olive oil. Taste as you go, you may not need all of the oil, especially if you prefer your vinaigrette on the tart side.  Once the oil has been incorporated check and adjust seasonings. Set aside.
To assemble the salad:
Slice the Asian pear away from the core and then cut into 1/8 inch slices. Place the sliced Asian pear, endive and the watercress in a large bowl. Season with some salt and pepper and then add about three quarters of the vinaigrette. Toss and continue to add the vinaigrette just until the leaves and pear slices are lightly coated. You may not need all of the vinaigrette.
Transfer to a medium platter and top with the toasted hazelnuts. Serve.
Serves 4.