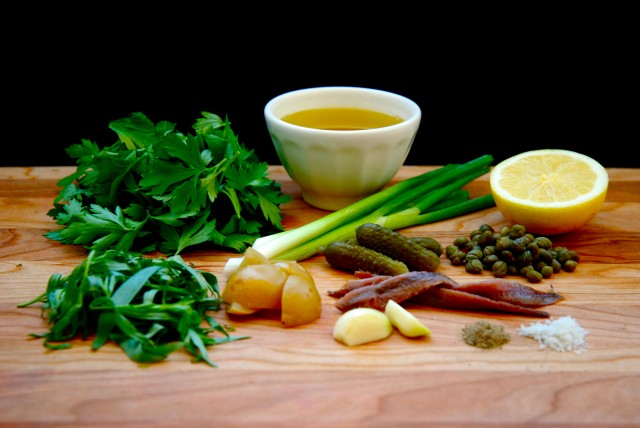 Good things are happening.
First up, I have been asked to contribute some recipes over at Gojee.com
Gojee is a newish site that features hand picked recipes from a really diverse group of food bloggers and allows you to search their curated list of recipes based on what you happen to have on hand or what you are craving. I had a bunch of figs and wanted  to make something other than the pork tenderloin with fig sauce recipe that I always fall back on. Over at Gojee I typed in figs and pork and a food blogger I hadn't heard of took me in a completely new direction…how about a grilled fig and prosciutto pizza with arugula pesto? I have been inspired by the recipes and the bloggers who have contributed. The new set of contributors (including me) will be announced on Wednesday, September 14th.
I also have a couple of ideas that I want to try out here on my site. Over the last month I have started a lovely daily ritual I have dubbed "Lunch for One".  Lunch in Vancouver was often coffee at noon in front of the computer or eating rice cakes and almond butter in the car on my way to an appointment. Since the move I have started to eat a proper lunch every day. It is nothing fancy, maybe a salad with chickpeas, dill, some arugula and red wine pickled onions, or grilled bread with tomatoes and a good lashing of olive oil, but it is thoughtfully prepared and eaten without a phone or computer nearby.
I have made a point of photographing my lunch and it has been an opportunity for me to practise my skills and learn how to better use my camera. I am also beginning to explore Lightroom although that is proving to be an excercise in frustration!
I have come to love this part of my day. And so I am hoping to share a "lunch for one" photo once or twice a week. These won't have a recipe attached, only a very brief description of the dish. Most of the time they will be lunch that I make at home but I may take you out for a restaurant meal every once in a while. There is a Cuban restaurant nearby that I am wanting to try.  I have heard they have amazing sandwiches.
The final new thing I want to introduce is a few more method or technique based recipes on the site. Over the last month I have been revisiting my cooking school roots and exploring some of the very basic building blocks in cooking. Every so often I will post a a technique recipe and then follow it with a few dishes that utilize the sauce, or stock or jam etc. over the next couple of posts.
This brings me to the recipe I am going to share today. It comes from the amazing Christopher Hirsheimer and Melissa Hamilton who produce the cook book series Canal House Cooking. This salsa verde recipe comes from Volume 1 Summer.
Until relatively recently I was always a little put off by the idea of salsa verde. To me it meant a sauce made with lots and lots of fresh cilantro and I greatly dislike cilantro. I thought it was the only way it could be made, kind of the same way Pesto Genovese is always made with basil. When I realized that parsley and/or basil and/or mint and/or tarragon could be used without a sprig of cilantro in sight I was intrigued. That anchovies, capers, lemon and garlic are most often included in the mix made me a convert. This is a great basic recipe to have up your sleeve and can be served as a sauce for grilled steak or fish or seafood. It's great on top of grilled bread with avocado or tomatoes and can be mixed into orzo or added to your favourite spaghetti dish. Endless possibilities.
I have been happily exploring the many variations of this sauce when I came across the Canal House version. I was first drawn to it as it didn't call for any special equipment like a mortar and pestle or a food processor which I don't have in Miami and am trying not to buy.
All you need is a good sharp knife and a sturdy wooden cutting board.
It does call for one unusual ingredient in the form of preserved lemon and this really does give the sauce a unique salty/sour/bright flavour. Preserved lemons can be purchased at most specialty food shops but are actually a breeze to make. They just take some time to "cure" in the refrigerator. Hmmmm, I see another techniques and methods post coming up. Preserved Lemons!
This leads me to a special request. If anyone has some technique or even an ingredient that they would love to know more about please send me an email/comment suggestion and then we can explore it together. You provide the inspiration and I will happily do the legwork.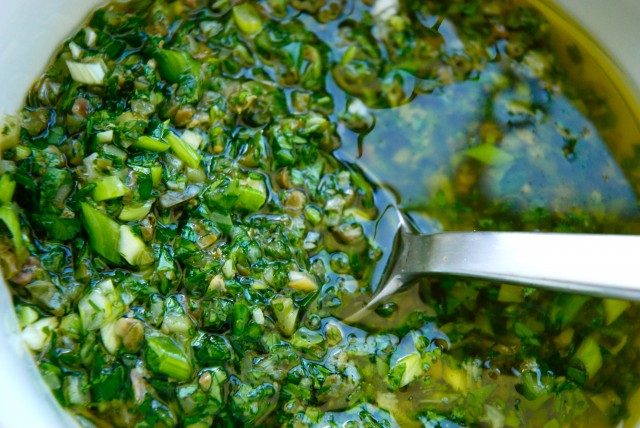 Salsa Verde with Tarragon and Preserved Lemons
Recipe is from Canal House Cooking Volume Nº 1 by Christopher Hirsheimer and Melissa Hamilton
This recipe calls for preserved lemon which can be found at most specialty food shops. In a pinch use fresh leon zest in place of the preserved lemon.
1 cup loosely packed flat leaf parsley leaves, washed, dried and finely chopped
4 sprigs of tarragon, leaves stripped and finely chopped
3 scallions, chopped
3 cornichons, chopped
1 tablespoon of capers, rinsed and chopped
3 anchovy fillets (I like good quality oil packed ones), chopped
1 medium clove of garlic, minced
1 tablespoon of preserved lemon rind, chopped (discard the pulpy flesh)
3/4 of a cup of a good quality extra virgin olive oil
Lemon juice to taste
Fine grain sea salt and freshly ground pepper
Put the chopped parsley, tarragon, scallions, cornichons, capers, anchovies, garlic and preserved lemon rind in a bowl. Add the olive oil and some lemon juice. Taste and add salt if needed (it may well be salty enough) and some freshly ground pepper. Check and adjust the amounts of lemon juice and olive oil to make the sauce sharper or milder in flavour. Best served within a hour or two of making.
Makes 1 cup.