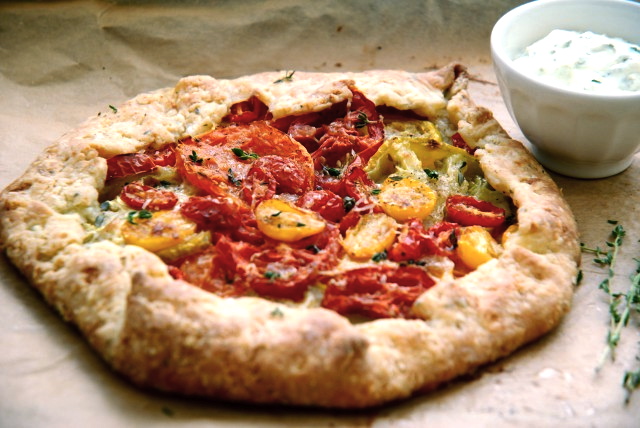 It may be fall but there are still plenty of lovely late summer tomatoes to be found at the market. I made this tart early last week for the first time and it immediately assumed a place on my "favourite summer tomato recipes" list.
I love the simplicity of this tart. Just a few well chosen ingredients. Beautiful ripe tomatoes, some sprigs of thyme, a bit of grated Parmesan cheese. Making pastry tends to send me into a nervous tizzy but I absolutely know this is one fear that I need to conquer. At home I always use my food processor to make sweet or savory pastry but not having access to one here in Miami I knew I was going to have to make this tart the old fashioned way.
My Baba made pastry long before the invention of the food processor and the blueberry pies that I remember vividly from my childhood boasted some of the most tender, flaky flavourful pastry I have ever had.  I headed to the cookware store and purchased a pastry blender. I fired up the computer and looked online for some sort of "pastry-by-hand" tutorial. I set to work.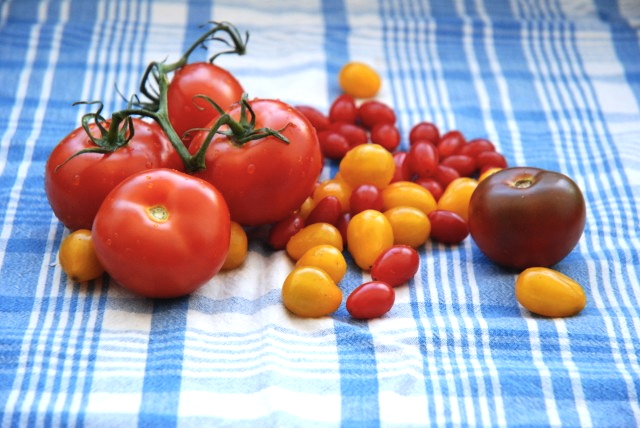 I chilled the bowl with the flour, thyme, salt and parmesan. I froze the chunks of butter. I blended until the ingredients were combined and the butter resembled small peas. I added the water and mixed and added a bit more water and brought the dough together. I kneaded just a very little bit. I gathered the dough into a ball, wrapped it in plastic wrap and allowed it to take a well deserved rest in the fridge for a couple of hours.
I sliced some beautiful heirloom tomatoes and salted them and allowed them to drain for an hour or so.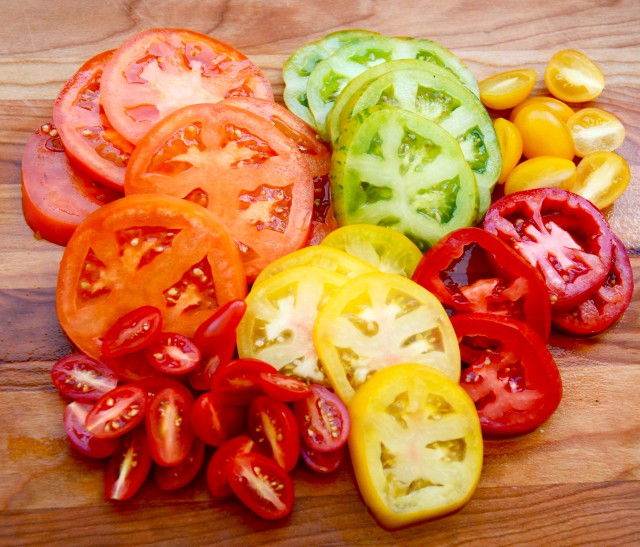 I rolled out the dough on a lightly floured pieced of parchment and then sprinkled on some finely grated parmesan cheese. I layered on my drained and dried tomatoes and pleated the dough up around the tomatoes. A few grinds of pepper and a drizzle of good olive oil and then into the oven. I crossed my fingers.
Then the magic happened. The most lovely, herbal smell began to scent the apartment. I did a bit of hand wringing because I never trust my pastry making skills and a delicious smell does not guarantee a tender crust. After 35 minutes a beautiful, browned, fragrant tart emerged from the oven.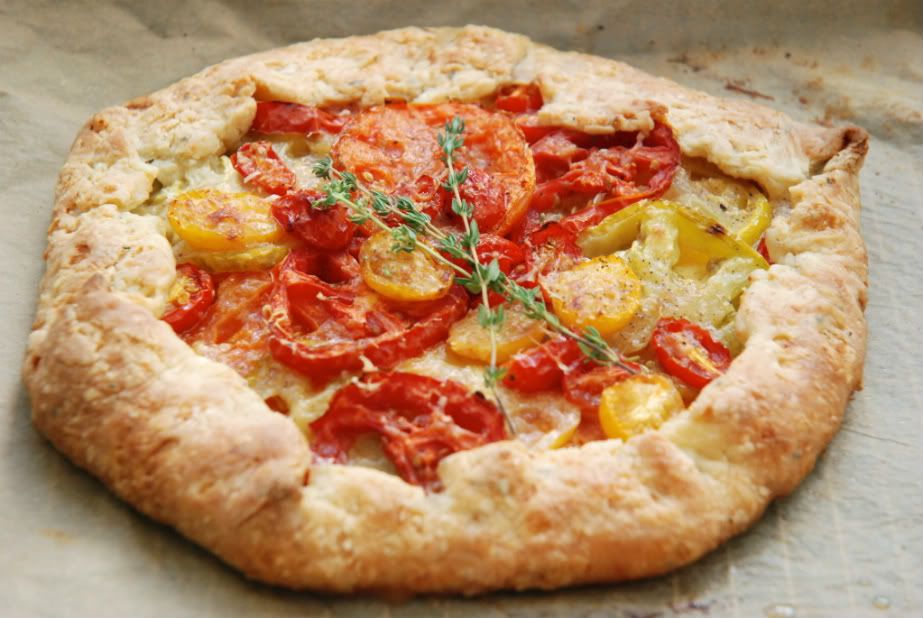 Well, at least it looked good. I sighed, relaxed, smiled and allowed the tart to cool. I took a couple of tablespoons of salsa verde I had in a bowl in the fridge and mixed them into 1/2 a cup of crème fraîche.
I cut a slice  and put it on a plate. I spooned a bit of the salsa verde crème fraîche alongside.  I sprinkled the top with a bit of coarse salt.
Then, I took a bite. I hope it wasn't beginner's luck because this was one of the best tomatoes tarts I have ever, ever had. And the pastry? The best I have ever made and one of the best I have ever tasted. Top five for sure. I will try this when I get home and have access to a food processor but there really is something to be said for making pastry by hand.
If you are nervous about making pastry I urge you to give this thyme scented pastry a try. It pairs beautifully with the tomatoes but I bet it would be good with slices of zucchini or summer squash and a sprinkling of feta. Or how about some wild mushrooms and some Gruyère cheese?
I see a lot more of these tarts in my cooking future. This week, next week and the week after too. Pastry practise makes perfect.
Rustic Tomato Tart with Parmesan and Thyme

It is always best to use a kitchen scale to weigh out your flour when baking. I have included both weight and cup measurements below.
1 cup (4.4 oz/125 g) all purpose flour
1 1/4 cups finely grated Parmesan cheese, divided
1 tablespoon thyme leaves, chopped plus some additional sprigs for garnish
Good pinch of fine grain sea salt
Freshly ground pepper
1/2 cup (1 stick/4oz/113.4g) chilled unsalted butter, cut into 1/2 inch cubes
3 to 4 tablespoons ice water
1 lb (454 g) ripe tomatoes (a mix of colours and shapes in nice here)
1 tablespoon good olive oil
Coarse sea salt
1/2 cup of crème fraîche with a couple of tablespoons of salsa verde mixed in (optional)
To prepare the pastry:
Place the flour, 1/4 cup of the Parmesan, the thyme leaves and the salt in a bowl. Chill in the fridge for 20 minutes or so. Place the chilled pieces of butter in the freezer for 20 minutes or so. Place the frozen butter in the bowl with the flour, cheese etc and using a pastry blender work the butter into the flour until it resembles small peas. You want to work fairly quickly here so that the butter is worked into the flour before it melts.
Sprinkle in 3 tablespoons of water and using a large spoon or your hands stir the flour and butter and water mixture until a shaggy dough starts to form. If the mixture seems too dry add the remain tablespoon of water.  Transfer to a work surface and gently pull the dough together, kneading ever so slightly until the dough comes together into a ball. Flatten into a disk and wrap in plastic wrap. Chill for at least an hour and up to 1 day ahead.
To prepare the tomatoes:
While your dough is chilling, slice your tomatoes about 1/4 inch thick. Layer into a colander and sprinkle some coarse salt in between the layer. Allow to drain for at least 45 minutes and up to an hour. every so often tilt the colander to allow the juices trapped between the layers to drain freely.
To assemble and bake the tart:
Preheat the oven to 450º (230 C). Cut a piece of parchment to fit a baking sheet and dust lightly with flour. Remove the dough from the fridge and allow it to warm up slightly, about 5 minutes. Working directly on the parchment paper, roll the dough into a 12 inchround that is about 1/8 of an inch thick. Transfer the parchment and dough to a baking sheet and return to the fridge for 15 minutes or so.
Remove the tomatoes from the colander and drain them further by laying them on several layers of paper towel. Well drained tomatoes make for a crisp tart.
Remove the dough from the fridge. Scatter the remaining 1 cup of grated Parmesan cheese over the base of the tart, leaving a 2 inch wide border. Arrange the drained tomatoes evenly over the cheese. Fold the edges of the dough over the tomatoes, pleating as you go.
Season with a few grinds of black pepper and a drizzle of the olive oil. Bake in the preheated oven until the tart is golden, about 30 – 35 minutes. Remove from the oven and transfer to a cooling rack for at least 30 minutes before cutting.
Serve with a sprinkling of coarse salt and another drizzle of good olive oil or a dollop of crème fraîche that has been scented with a tablespoon or two of salsa verde.
Serves 4 to 6.