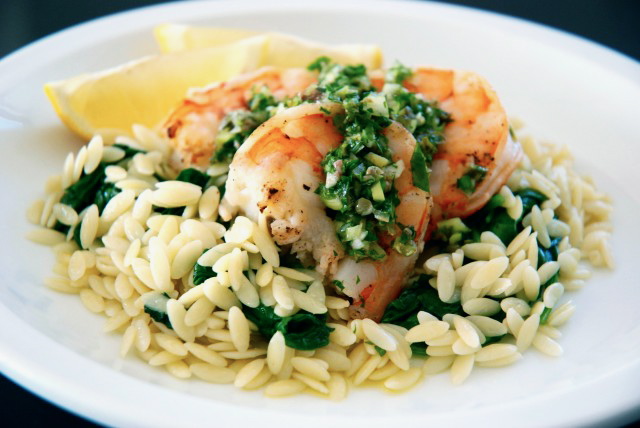 Here is a great way to use the salsa verde from the last post. I will be sharing another recipe that includes this amazing sauce later this week too! I have found myself a bit obsessed in the salsa verde department lately, making three batches in as many weeks. I just can't help it, I really love the stuff.
Anchovies, garlic and lemon are right on the top of my list of favourite ingredients. Capers and tarragon and flat leaf parsley are up there too.  Max has a total thing for anchovies as well and he would choose eating them straight out of the jar over a cookie any day of the week. The kid loves salty, briny, sour things just like me. Having just found out my sister has a dislike for cilantro that rivals my own (how did I not know this?) I started thinking about genetic predispositions towards flavours and foods. Do food preferences or biases run in families?
In addition to the pungent, earthy flavour of salsa verde I also love the process of making it.
The older I get the more I savour quiet moments in the kitchen with just a sharp knife and a wooden cutting board. I love the process of preparing to cook; tying my hair back, pulling out a clean apron to wear, washing my hands, gathering the tools and ingredients. I enjoy focusing on each ingredient, the methodical/rhythmic chopping, slicing or mincing. Putting the prepped ingredients into little mise en place bowls.
I once read on a food site a raging debate on the use of bowls and dishes to prepare ingredients for a recipe. How people simply loathed washing all of the extra dishes in order to properly prep for a meal. Who cares about washing a few extra bowls? For me the mise en place set-up is absolutely one of the best parts of the  cooking process, getting everything all ready and organized, lined up in pretty bowls. True joy.
Is this weird?
Anyway, back to this recipe. This is a great weeknight dish as it is simple and easy, quick and adaptable. It is a breeze if you happen to have a bit of salsa verde already in the fridge. It should be noted that salsa verde is best made within two hours of serving to preserve its beautiful bright green colour but I have used it a day or two later from the fridge where I have sealed it with a thin layer of olive oil and it is still very, very good. If it is coming out of the fridge let it come up to room temperature and check and adjust your seasonings, maybe a quick squeeze of half a lemon and another grind or two of pepper and you are back in business.
Don't have shrimp? Use some salmon or halibut. No orzo? Use penne or rice or farro or couscous. Anything and everything tastes amazing with this salsa verde. At least my family thinks so…
Key West Shrimp with Salsa Verde and Orzo with Spinach and Lemon
I am giving a nod to local shrimp from Key West as I am here in Miami. You can, of course, use any large size shrimp (or prawn) that you have available to you. Also, you will have leftover salsa verde but it can be used in a myriad of ways from sandwiches, to tossing with pasta etc.
The salsa verde recipe comes from Canal House Cooking Volume No. 1 by Melissa Hamilton and Christopher Hirsheimer.
For the shrimp:
16 to 20 (depending on the size) large shrimp, peeled and deveined
1 tablespoon olive oil
1 clove of garlic, finely chopped
Fine grain sea salt and freshly ground pepper
For the orzo:
1 cup of orzo
2 tablespoons butter
5 oz (142 g) baby spinach leaves
Zest of 1 unsprayed lemon
Squeeze of lemon juice to taste
Fine grain sea salt and freshly ground black pepper
For the salsa verde:
1 cup loosely packed flat leaf parsley leaves, washed, dried and finely chopped
4 sprigs of tarragon, leaves stripped and finely chopped
3 scallions, chopped
3 cornichons, chopped
1 tablespoon of capers, rinsed and chopped
3 anchovy fillets (I like good quality oil packed ones), chopped
1 medium clove of garlic, minced
1 tablespoon of preserved lemon rind, chopped (discard the pulpy flesh)
3/4 of a cup of a good quality extra virgin olive oil
Lemon juice to taste
Fine grain sea salt and freshly ground pepper
To make the salsa verde:
Put the chopped parsley, tarragon, scallions, cornichons, capers, anchovies, garlic and preserved lemon rind in a bowl. Add the olive oil and some lemon juice. Taste and add salt if needed (it may well be salty enough) and some freshly ground pepper. Check and adjust the amounts of lemon juice and olive oil to make the sauce sharper or milder in flavour.
To make the orzo:
Bring to a boil a large pot of salted water. Add the orzo and give a stir and cook according to package directions (it should be about 6 to 8 minutes. Drain. Add the cooked orzo back into the same pot and add the spinach, butter and some salt and pepper. Stir the hot orzo around to wilt the spinach and melt the butter. Add in the lemon zest and juice and check and adjust seasonings.
For the shrimp:
Put the shrimp in a bowl with the finely chopped garlic. Season with a bit of salt and pepper.
Heat a grill pan or large sauté pan over medium high heat. When hot add the shrimp and cook for approximate 2 minutes and then flip them over and grill for additional 2 minutes until just opaque.
Serve alongside the orzo and top with some of the salsa verde.
Serves 4.