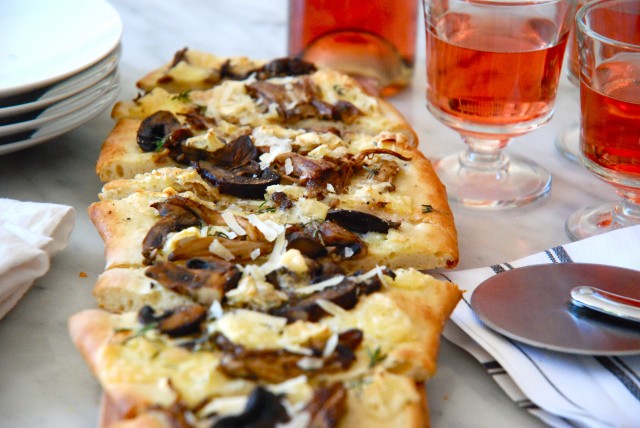 Yesterday was Max's 10th birthday!
As Glen's, Max's and my birthday are very close together (Max is August 10th, I am the 18th and Glen is the 19th) we have, for the past 9 years, had a big birthday/summer party to celebrate. There are generally upwards of 75 people, a ton of food, crafts for the kids, cocktails for the adults and it starts at 2 pm and goes until 2 am. It is always one of the highlights of my summer.
This year with our imminent departure and Glen being away we decided to scale things back. Eight school buddies plus some family and close friends were invited. We also enjoyed a wonderful and unexpected gift when my sister surprised us by flying up from Los Angeles to be here for Max's big day.
In addition to a few rounds of laser tag and Mega Block building, there were cards and gifts, some hugs and kisses from family, time with his pals, a purchased ice cream cake (God help me…) and homemade pizza.
For the kids I kept the pizzas quite simple. Pesto or tomato sauce with some prosciutto and cheese. For the adults I made some old standbys with slightly more grown up flavours. Some with caramelized red onion with Cambazola and thyme, others with basil pesto, Boursin cheese, bocconcini and arugula and a few (as pictured above) with mixed mushrooms, Brie, fresh thyme and a hit of truffle oil.
When it comes to topping a pizza crust I subscribe to the "less is more" school of thought. Three or four carefully chosen ingredients is the most I tend to put on my pizza as I think that allows each ingredient to shine.
The kids happily ate their slices before heading off to play and then we started production on the adult pizzas which flew off the cutting boards as soon as they emerged from oven. By the end of the evening we were left with just the crumbs.
My cooking partner and sweet friend Sarolta took over the pizza making duties part way through the party so that I could do some socializing and take a few photos. She and her husband Ross made an amazing potato, parmesan and rosemary pizza. They used both fresh rosemary and also infused olive oil with rosemary to brush on the pizza base. So delicious. I am hoping that maybe she will do a guest post here and share the recipe.
Okay, on to the recipe and then on to some packing! I leave in two days! Next post…Miami!
Mushroom and Brie Pizza with Thyme and Truffle Oil
You can make two 12 inch pizzas or four 14×4 inch pizzas that allow for smaller, cocktail size pieces.
For the dough:
1/2 cup warm water (105 -110 F/40 – 43 C)
1 1/4 ounce envelope active dry yeast (about 2 1/4 teaspoons)
4 cups unbleached all purpose flour
1 1/2 teaspoons fine grain sea salt
1 1/4 cup cold water
2 tablespoons extra-virgin olive oil, plus more for the bowl
For the toppings:
1 3/4 lbs (794 g) mixed wild mushrooms such as oyster, chanterelle, shiitake (remove the stems for shiitakes) enoki, etc. wiped clean
4 tablespoons of olive oil
1/2 lb (227 g) French Brie cheese, broken into nickel size pieces
1 teaspoon thyme leaves
Fine grain sea salt and freshly ground black pepper
Coarse cornmeal to use on the pizza peel
Truffle oil
To make the dough:
Place the warm water in a 2 cup measuring cup. Add the yeast and stir with a fork to combine. Set aside for 5 minutes.
Meanwhile, place the flour and salt in a large food processor and pulse 4 or 5 times to combine.
Add the cold water to the measuring cup and add the oil. Stir to roughly combine with a fork.
Turn the food processor on and add the yeast mixture through the feed tube. Continue to process until the dough comes together and forms a smooth ball, about 30 seconds. Place the ball of dough on a lightly floured surface and knead for a minute or two until the dough is smooth and elastic and resembles a baby's bottom.
Pour a little oil into a large bowl and use your hands to grease the bowl. Transfer the dough to the oiled bowl and cover tightly with plastic wrap. Set the bowl aside and let the dough rise until doubled in size, about 2 hours.
To make the mushrooms:
Ensure that your mushrooms are wiped clean of any dirt or grit and then tear or chop them into large pieces. Heat 2 tablespoons of oil in a large skillet, over medium high heat, until hot but not smoking.
Add half of the mushrooms in a single layer and allow them to brown on one side for 2 to 3 minutes. Flip them over, season with some salt and pepper and allow to cook for another 30 seconds or so and then remove them from the pan to the plate. Repeat with the remaining 2 tablespoons of oil and mushrooms. Season this second batch with salt and pepper and then return the reserved mushroom to the skillet.
Allow to cool before putting on the dough, if the mushrooms are hot they cause the dough to stick to the pizza peel and it is very difficult to get them from the peel to the pizza stone in the oven.
To roll out the dough and assemble the pizzas:
Preheat the oven, with your baking stone (if using) to 500 degrees F (260 C) for at least 10 minutes.
Place your pizza dough on a lightly floured surface and cut into 4 portions. Take one of your portions of dough and cover the remaining pieces with a clean dish towel.
Using your hands form the dough into an 8 x 2 inch (20 x 5 cm) rectangle and then I usually switch to a rolling pin to continue to work the dough until I have it shaped into a 14 x 4 inch (35 x 10 cm) rectangle.
Sprinkle a pizza peel or a baking sheet with some of the coarse cornmeal and place the dough on top.
Place 1/4 of the mushrooms on top of the dough and then top with with 1/4 of the cheese. Add on a sprinkling of the thyme leaves and season with some salt and pepper.
If using a pizza stone, slide the pizza off of the pizza peel directly onto the heated stone. Or if using a baking sheet put it directly onto the oven rack.
Bake until the crust is golden 12 to 15 minutes.
Remove to a cutting board and drizzle on a small amount of the truffle oil.
Slice crosswise at alternating angles into wedges and serve warm.
Serves 4 as a main course and 8-10 as hors d'oeuvres.