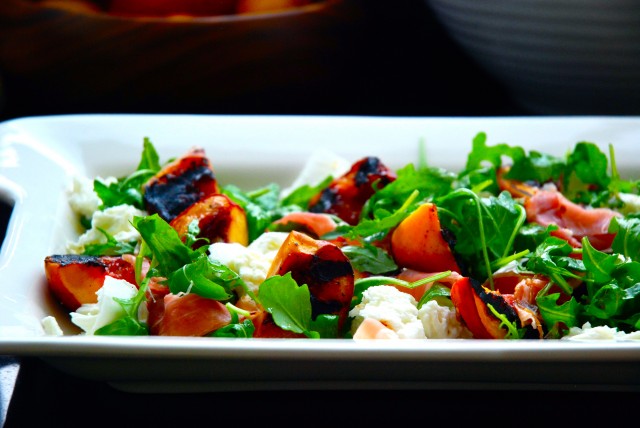 It has been just over a week since we arrived although it feels like forever since we left Vancouver.
We have fully settled into our lovely flat I have been cooking almost every day but many of our meals have been past favourites that have already been photographed and posted on this blog. With everything around me changing I have found myself gravitating towards staple recipes in my cooking repertoire. Dishes that are simple, easy and comforting.
Last night I roasted some chicken breasts wrapped in prosciutto. Just as they were ready to go into the oven I realized that along with a few leftover prosciutto slices I also happened to have a some ripe peaches, a container of fresh mozzarella and some arugula. And I had just purchased a small grill pan earlier that day. Voila, all the ingredients/tools necessary for a grilled peach salad I saw in the September issue of Food and Wine. Actually they used burrata and country ham and apricots but close enough.
It was time to try a new recipe, take a few photos, set the table, and spend some time together as a family.  A good distraction from the fact that all three of us were feeling just a little bit homesick.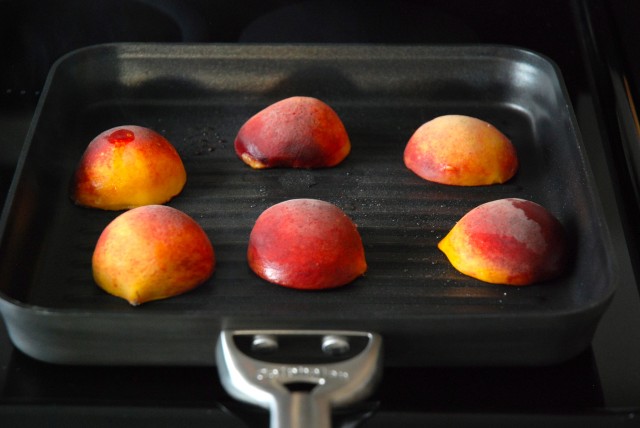 Yesterday was Max's first day at his new school and, to be honest, it was a bit of a tough one. My son has such a sweet spirit and tends to be pretty sensitive and I have been worrying how he would do at this brand new school, in a new country so far from everything familiar. His school in Vancouver was a tiny annex school that went from kindergarten to grade five and had approximately one hundred kids. Max knew everyone by name at Queen Vic and this year he would have finally been at the top of the school, a wise and weary grade fiver.
Cut to our first day at Feinberg Fisher yesterday. Max's new school is right on Washington Avenue, a very busy street in South Beach, and is a sprawling campus with no less than 17 entrances and a student population of 900. Gulp…
Max started the morning in good spirits, donning his school uniform (another first), eating his eggs and organizing his backpack. Both Glen and I went to drop him off and in he went to his classroom with hardly a backward glance. It was actually Glen and I that got teary, watching our son bravely head off for this new adventure.
When I picked up Max after school he was still trying to act stoic but admitted that there had been a few tears during the day. He had found everything to be so different and he felt alone and out of place. I moved quite a bit as a kid and was the "new kid" at a number of schools. I could totally relate to how he was feeling.
There were, of course, a few bright spots in his day.  Max told me that the kids in his class had been kind to him and he even made a new friend. On the walk home we stopped for a chocolate milkshake and I promised him that it would get easier every day.
By the time we sat down to dinner my laughing, carefree son was back. We ate our chicken and this delicious salad and talked about what we miss about Vancouver and what we love about Miami and how day 2 at school would be much, much easier than day 1… Fingers crossed.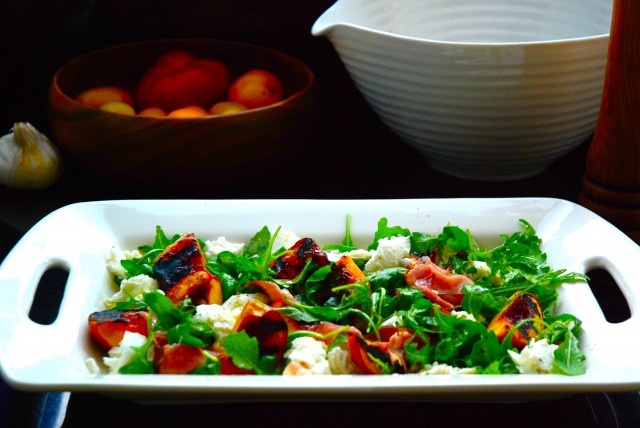 Grilled Peaches with Buffalo Mozzarella, Prosciutto and Arugula
You could of course make this with apricots or plums, use burrata in place of the buffalo mozzarella and any thinly sliced smoked meat instead of prosciutto.
Recipe adapted from Food and Wine, Septmeber 2011.
6 – 8 medium peaches, halved and pitted
1/4 cup of olive oil, plus more for brushing on the peaches
Fine grain sea salt and freshly ground pepper
1 teaspoon dijon mustard
1 1/2 tablespoons sherry vinegar
5 ounces (142 g) baby arugula leaves
8.8 ounces (250 g) buffalo mozzarella (or burrata or bocconcini), torn into pieces
5 ounces (142 g) thinly sliced prosciutto
1 tablespoon aged balsamic vinegar
Light a grill or heat a grill pan over medium high heat.
Brush the cut side of the peaches with some olive oil and season with salt and pepper. When the pan or grill is preheated grill the peaches, cut side down until just lightly charred, about 5 minutes.
Remove from the grill and set aside to cool. When cool enough to handle cut the peach halves in half again. Set aside.
In a large bowl whisk together the mustard, sherry vinegar and some salt and pepper. Slowly whisk in the olive oil to form an emulsion. Add the peach quarters and the arugula into the bowl and toss gently.
Arrange the peaches and arugula on individual serving plates on onto a platter and top with the buffalo mozzarella and the prosciutto. Drizzle on the balsamic vinegar and add a few grinds of pepper.
Serves 6 to 8.