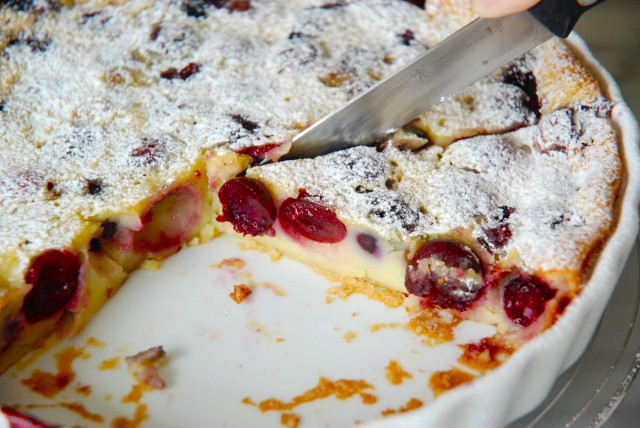 I can hardly believe that I have been back for a week. I am in the final stages of shrugging off the jet lag that has plagued me since my arrival home and today is the first day that I feel like my old Vancouver self.
I was up with the sun, which is one of the wonderful things about a body readjusting to a different time zone, and finally got to the dishes that were left over from a Supper in the Kitchen class on Friday. I spent time today with my family and had a leisurely lunch and then made a cherry clafoutis à la Dorie Greenspan that is pictured above.
When my Mom and I were in Paris we met up with our very dear friend Jeannot to have dinner one night at a wonderful brasserie/bistro/restaurant called Savy. After a delicious dinner that was followed by a beautiful cheese course we ordered a strawberry tart and a cherry clafoutis for dessert. While the strawberry tart was good the clafoutis was so wonderful that I barely got my spoon into it before it had been devoured by my dinner companions.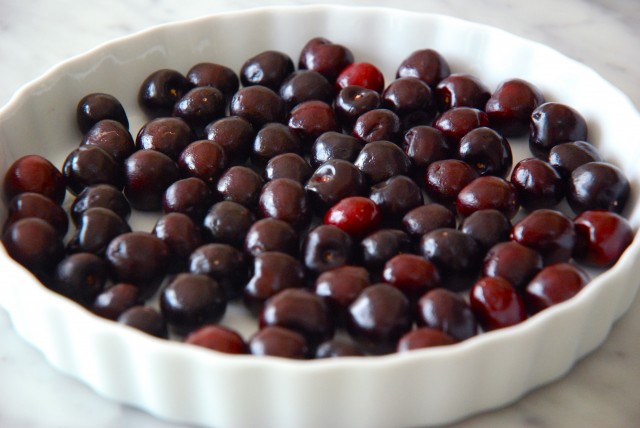 I did a bit of research upon my return home and came across this absolutely winning recipe by Ms. Greenspan. She advises, as any serious french cook would, to leave the pits in the cherries when making this dessert.The reasoning behind this is that the un-pitted cherry provides more flavour and juice and that, frankly it is just the proper way to do things. Sometimes you just need to trust the French.
I made this today for my Mom and Dad and Grandmother who came by for an afternoon coffee and everyone had a second helping. I was wondering how my Dad would feel about dealing with all of those pits but he was so busy enjoying his first (and second) piece he didn't slow down long enough for me to pose the question. I have a small sliver left to go with my coffee tomorrow. I can eat it while I think about how much I miss Paris.
In my last post I mentioned that I had some news to share.
Ever heard the expression "Man plans and God laughs"?
Okay, so here is what I had planned:
This summer Glen would be off from work (the first time in 10 years!) and we would spend some long, lazy days over at our cabin on Keats Island. Mornings would be spent reading, the afternoons would be taken up with a leisurely lunch and then we would head down to the beach in the late afternoon to have a cocktail or two with friends and watch the kids paddle on the wake boards or swim out to the dock. We would BBQ our dinner and play board games or take walks or roast marshmallows in the evening. Once or twice a week I would come back into town to work with my sweet friend Sarolta hosting a cooking class or a culinary tour and maybe do a wine evening.
Here is the part where God starts laughing:
Glen scored a job on a television series that just happens to be shooting in…Miami, Florida!
And so we are moving. Not forever. Just for a while. Depending on the ratings it will be anywhere from 4 to 9 months. Glen leaves on Wednesday and Max and I will follow a month later.
While this has been a remote possibility for the past few months I only found out it was a go when I was in Paris. I somehow thought that it would never really happen. I put in out of my mind until I got home and now we are in full moving mode.
We have found a lovely apartment to rent right in South Beach and there is a good school for Max close by.
We have been told that Miami is a wonderful city with great restaurants, some pretty decent weather (Vancouver in November anyone?) warm and friendly people and someone even mentioned a kick ass farmer's market. Just think of that growing season.
Apart from leaving my family and friends and the wee little business that was starting to really thrive I am looking forward to the adventure ahead. I am intrigued by the idea of stepping out of my day to day life here in Vancouver for a finite period of time. I am happy to leave a few chores behind…
But for now, I need to post this amazing, easy, satisfying clafoutis recipe from Doris Greenspan and then spend some time with my husband who is leaving so soon. We will have a month hiatus from one another and we don't do very well apart…
I will be back after Wednesday to share a couple of "how to clean out your freezer and pantry" recipes. Every cloud has a silver lining.
PS: I finally got all of my Paris photos up on my flickr site. Many of them may well be a bit of a bore but the sets are arranged so you can see our trip in chronological order. They were designed for my sweet travelling companion and biggest supporter, my Mom.
PPS: If anyone happens to live in Miami that looks at this site, or has a sister, mother, cousin or friend that lives there and/or has any, ANY, advice or recommendations or thoughts or even random theories on things that we should do or see or shop at or… please leave a comment here or email me at kitchenculinaire@gmail.com xo J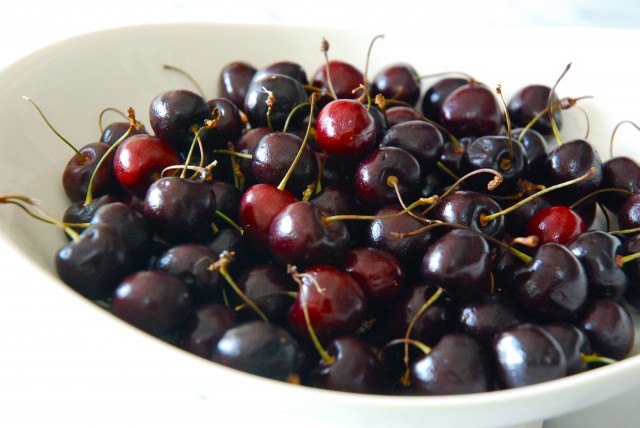 Whole Cherry Clafoutis
Recipe is from Dorie Greenspan from her book Around My French Table
1 lb (450 g) sweet cherries, stemmed but not pitted
3 large eggs
1/2 cup of granulated sugar
Pinch of fine grain sea salt
2 teaspoons pure vanilla extract
1/2 cup all purpose flour
3/4 cup of whole milk
1/2 cup of heavy cream
Icing sugar/confectioners' sugar for dusting
Preheat the oven to 350 degrees F.
Ensure that your oven rack is centred in the oven.
Generously grease a 9 inch pie or quiche pan with butter.
Place the washed and dried cherries into the prepared baking dish in a single layer.
In a medium bowl whisk the 3 eggs until they are light and frothy. Add in the sugar and beat with a whisk for a minute or so until the sugar has dissolved. Add in the pinch of salt and the vanilla and whisk well. Add in the flour and beat the mixture vigorously until the flour is well incorporated and smooth. (Dorie makes a note here to comment on the fact that generally when incorporating flour you want to be very gentle but this recipe is the exception- use some muscle!).
Gradually pour in the milk and cream and whisk until well incorporated. Rap the bowl against the counter to release any air bubbles and then pour the batter over the cherries in the prepared baking dish.
Bake in the preheated oven for 35 to 45 minutes until the clafoutis is puffed up and golden brown and when a sharp knife blade inserted into the centre of the clafoutis comes out clean. If you hit a cherry, try again!
Remove from the oven to a cooling rack and allow the clafoutis to cool to room temperature. When you are ready to serve, dust the clafoutis with icing sugar by using a fine mesh sieve.
Serves 6.