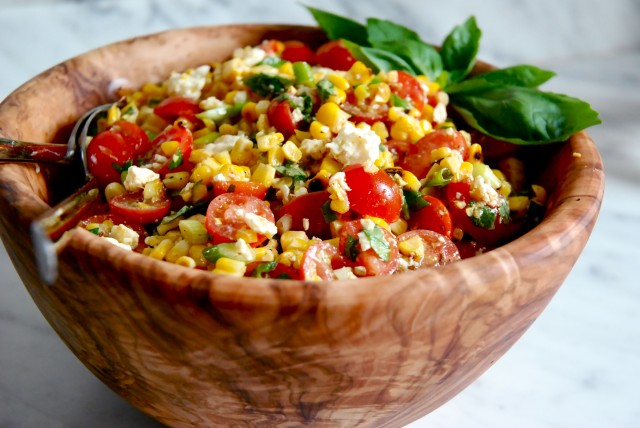 Just heading up to the cabin this afternoon but wanted to post a simple, summer recipe before I go.
I make this salad all summer long and even though summer has yet to hit the West Coast of Canada and we are still wearing jeans with sweaters (although I am defiantly wearing flip flops) this will be nice when we do finally dip our toes into some sunshine and warm weather. The forecast for this weekend looks promising!
I have my family coming up to the island on Saturday and then some friends are due to arrive on Sunday morning and then another girlfriend or two on Sunday night. This easy, do ahead salad will probably make an appearance more than once and even though the refrigeration of tomatoes is sacrilege this is still pretty good straight out of the fridge the next day.
The grilling of the corn really helps the overall flavour here although if you happen to be grill-less you can always just boil the corn instead. When I am at home where I don't have a BBQ I use my beloved stove top grill pan instead.
This weekend it will be served alongside some ribs one evening, mixed into a cob salad with chicken for lunch one day and may even appear alongside some salmon fillets on another night.
Colourful, flavourful summer in a bowl.
Fire Roasted Corn Salad with Feta and Tomatoes
Recipe adapted from Entertaining: Inspired Menus for Cooking with Family and Friends by Williams-Sonoma
Juice of 3 limes
1 tablespoon Dijon mustard
2 teaspoons ground cumin
1 teaspoon chili powder
3/4 cup (180 ml) extra-virgin olive oil plus more for brushing on the corn when grilling
Fine grain sea salt and freshly ground pepper
6 ears of corn, shucked
3 cups cherry tomatoes, cut in half
6 green onions (scallions) cleans and thinly sliced
1/2 cup basil, leaves thinly sliced
1/4 lb (125 g) feta cheese, crumbled
2 teaspoons cumin seeds, toasted and lightly crushed using a mortar and pestle
In a bowl whisk together the lime juice, Dijon, cumin, chilli powder and salt and pepper. Slowly drizzle in the olive oil whisking constantly to make the vinaigrette. Check and adjust seasonings.
Prepare a charcoal or gas grill for direct grilling over medium high heat. You can use a stovetop grill pan or even just boil the corn if no BBQ is available. Brush the corn with a bit of the olive oil and grill the corn turning the ears frequently so that they are lightly charred on all sides. This will take 10 to 15 minutes.
Steady an ear of corn on a cutting board and using a sharp knife cut down along the cob to slice off the kernels. Repeat with the remaining ears of corn. Place all of the kernels in a large bowl and add the tomatoes, green onions, basil, feta. Add the vinaigrette and toss to coat evenly. Taste for salt and pepper.
Transfer the salad to a serving bowl or platter and sprinkle on the cumin seeds. Serve.
Serves 8.