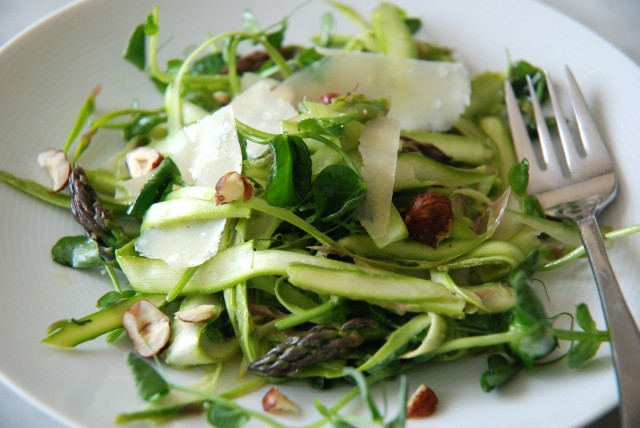 It has been more than a bit of a grind to get here but I think it is safe to say that spring has finally arrived. No matter that we are closing in on the summer equinox, the weather has been downright chilly since March but along with the blooming peonies some great spring vegetables and herbs are finally beginning to make an appearance.
When I see the first spears of asparagus poking through the dirt in my neighbour's garden I am relieved and excited. Onto a new season, they seem to say, and after the last few months I am more than ready.
As the asparagus season is a fleeting one,  I find myself coming up with any excuse to slide them into my daily menus. Steamed with just a bit of butter, salt and pepper, roasted and topped with a couple of silky slices of prosciutto and a poached egg, or mixed up to make a filling for ravioli to be topped with some brown butter sauce. So many recipes, so little time.
Here is a lovely salad that uses the springy asparagus in its purest form. Raw. The crunchy texture and woodsy flavour is fully preserved here, and is rounded out by some crisp pea shoots, a herbal hit of mint, some earthy toasted hazelnut and some salty, nutty Parmesan.
Finding myself on my own today, (Glen was working and Max was at a sleepover) I spent a glorious morning in the garden. Apart from being somewhat overwhelmed by the sheer number of weeds that must be attended to I fully relaxed into the moment and enjoyed the feel of the soil between my fingers. By noon my mind was wandering from where to move the Shasta daisies to what to have for lunch. Being on my own meant that lunch could be anything I wanted. Avocado on toast? Baguette with butter and slices of prosciutto? Some soft scrambled eggs with toast?
I was in the area of my vegetable garden near the peas with their crisp sweet tendrils climbing up the trellis and also near the mint that is spreading like a weed nearby and I remembered there was a bunch of asparagus left over from dinner on Friday night. Pea shoots, mint and asparagus. In my mind, lunch was born.
When making this salad be sure to dig out a decent vegetable peeler. I have always struggled with those swivel blade peelers that my Mom used when I was a kid. It wasn't until I worked at the restaurant that I was introduced to Kuhn Rikon peeler. Now I am sure that everybody already knows this (I am very often late to the party with these kinds of things) but these peelers are simply the very best and easiest to use. Plus they are dirt cheap at about five bucks each. And they come in a bunch of pretty colours. They look like this: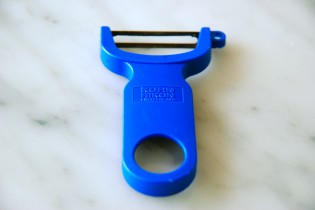 This little peeler will make quick work of shaving the asparagus into long, silky strands. It also works like a charm when it comes to making the thin curls of Parmesan.
After my hunger inducing morning in the garden it took me all of 20 minutes to make this lunch which I ate on the front steps with a few hunks of baguette while my dog Mabel, hunched nearby, waiting to see if any scraps might miraculously fall from the plate. Even she seemed to be coveting those first of spring spears of asparagus.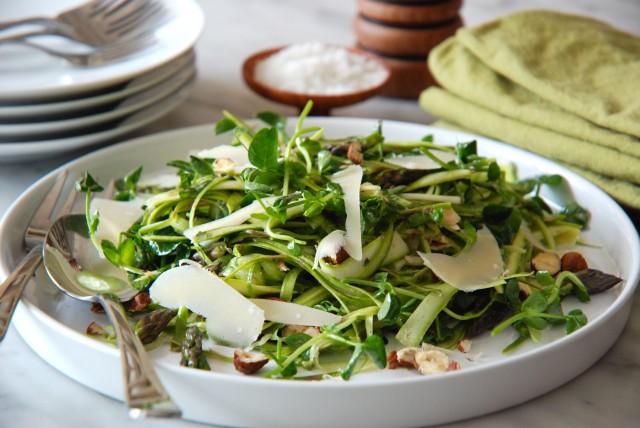 Shaved Asparagus Salad with Pea Shoots and Toasted Hazelnuts
Recipe adapted from Fine Cooking Magazine April/May 2011
When peeling the asparagus hold it by the tip and then rotate it as you peel using even pressure to keep the spear from snapping. It is a bit of a finesse move but easily mastered.
Ensure that you don't toss the raw asparagus with the vinaigrette more than 15 minutes before serving.
For the vinaigrette:
4 tablespoons sherry vinegar
1 tablespoon Dijon mustard
1 tablespoon honey (I had some truffle honey and it was really good here but any honey will do)
1/4 cup of extra-virgin olive oil
Fine grain sea salt and freshly ground pepper
For the salad:
1 bunch of thick asparagus (about 3/4 lb), trimmed
2 cups of pea shoots
1 tablespoon chopped mint leaves
1/2 cup toasted hazelnuts, peeled and chopped
2 1/2 ounces (75 g) thinly shaved Parmesan
Fine grain sea salt and freshly ground pepper
For the vinaigrette:
Whisk the vinegar, mustard and honey together and then slowly whisk in the olive oil to form an emulsion. Season to taste with the salt and pepper.
For the salad:
Remove the tips of the asparagus and place in a large bowl. Using a (good quality) vegetable peeler shave each stalk of asparagus, rotating the spear as you go. Add the shavings to the bowl and then add in the pea shoots and the chopped mint leaves.
Add enough of the vinaigrette to coat and season with salt and pepper. Arrange on a platter (or individual plates) and top with the toasted hazelnuts and the shaved Parmesan. Check and adjust seasoning. Serve.
Serves 4.