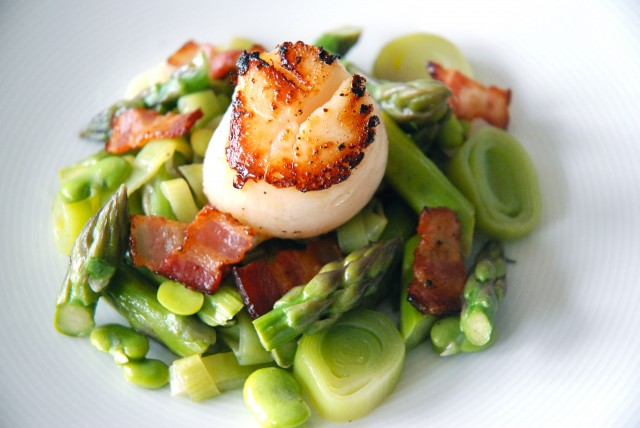 Nothing says spring to me like the arrival of fava beans at the market. Those long, dark green pods that must be split open to find the jewel like green beans nestled in fur-lined beds waiting to be quickly blanched and peeled again. It takes a bit of work to get to the fava itself but the creamy, buttery texture and nutty flavour makes it worth it.
I was in Los Angeles last week visiting my sister and for reasons that are still somewhat unclear to me I ended up at Lisa's workplace peeling a giant mountain of fava beans. By my second hour of fava peeling I had basically put myself into a meditative state and really had a rhythm going. This is one of those kitchen tasks that I especially love. The type that allows your mind to wander while your fingers are hard at work. While I was working on that mound of favas in LA I was hoping the first favas of spring would be available in Vancouver upon my return.
On Sunday, as I shopped my way down Commercial Drive, there they were, fresh springtime favas at Norman's Fruit and Salad, in a small bin, waiting to be chosen. I filled a large bag with them and then chose a couple of leeks, some asparagus spears that were looking particularly fetching and a bunch each of mint and flat leaf parsley.
Heading back along the Drive I stopped into one of my very favourite shops, The Daily Catch where I spied some amazing Lion's Paw scallops. Perfect.
At home, waiting in the fridge were a few strips of double-smoked bacon and, on the counter, a loaf of crusty Tuscan bread.
While Glen mowed the lawn and Max played hockey with his friends in the driveway I set to work, happy to be back in my kitchen after a week away.
I slid my finger down the seam of the pods, shelled the favas and blanched the beans. I sat at the counter and peeled the favas and then blanched the asparagus and the leeks. I cut the bacon and crisped it in a pan and then carefully dried the scallops and seasoned them with salt and pepper. After searing the scallops on each side I slid them into a hot oven for a minute or two while I sliced some bread and chopped the herbs.
I set the table and called the boys.
A springtime dinner for three.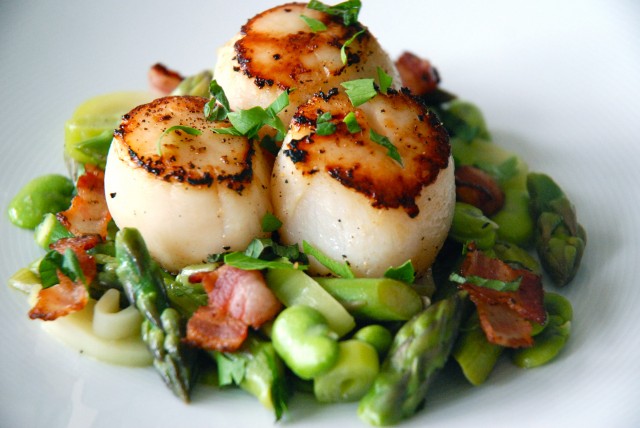 Seared Scallops with Fava Beans, Asparagus and Leeks
2 1/2 cups shelled fava beans
2 large leeks, washed well to remove any dirt and sliced into 1/4 inch rings
1 large bunch of asparagus, washed, woody stem removed and cut into 3 inch pieces
6 sliced of bacon, cut into large lardons
12 large Lion's Paw scallops or 20 medium Qualicum or Pacific scallops
1 tablespoon of grape seed oil
1/4 cup of loosely packed flat leaf parsley, finely chopped
1/4 cup of loosely packed mint leaves, finely chopped
1 tablespoon of sherry vinegar or lemon juice
Extra-virgin olive oil
Fine grain sea salt and freshly ground pepper
Preheat the oven to 350 degrees F.
Bring a large pot of lightly salted water to a boil. Get an ice bath prepared. Blanche the fava beans in the boiling water for 2 or 3 minutes. Remove to the ice bath and allow to cool. Reserve boiling water for additional blanching.
When the beans have cooled remove them from the ice bath and using your thumb and finger pop the inner bean from its waxy covering and place beans in a bowl. Sometimes if the beans are really young and small you can leave the skin on but they can add a slight bitter taste.
Once the beans are peeled, blanche the asparagus and then the leeks. The asparagus need just a minute or two before being removed to an ice bath and the leeks will need two to three minutes before they are shocked in the cold water to stop the cooking process and help set the colour.
Place the bacon in a medium frying pan and fry until the lardons are golden and just beginning to crisp.
Meanwhile heat a second large frying pan over medium high heat. Thoroughly dry the scallops and remove the opaque looking muscle that can often be found on the side of each scallop. Season well with salt and pepper and once the pan is hot add the grape seed oil. Carefully place the scallops into the pan, taking care that they don't touch or are over crowded and allow them to sear without moving them for 2 to 3 minutes if you are using the very large Lion's Paw scallops and 1 to 2 minutes if you are using the smaller Qualicum scallops). Turn the scallops and allow to sear on the second side. If you are using the large scallops you are going to want to finish them off in the preheated oven for 2 to 3 minutes until they are just cooked through. Remember that they will continue to cook a bit once they are removed so don't overcook in the oven. Remove from the oven and place on a warm plate and tent with foil until ready to serve.
Once the bacon is just beginning to crisp remove it from the heat (it too will continue to cook) and if there is a lot of bacon fat in the bottom drain some of it off until you are left with a tablespoon or two. Add in the blanched favas, asparagus and leeks and season with salt and pepper and put back on burner on medium heat. Fold in the vegetables and cook for a couple of minutes until the vegetables are warm. Swirl in a bit of olive oil and the tablespoon of sherry vinegar and check for seasonings.
Remove from the heat, fold in the herbs and divide onto 4 dinner plates. Top with the seared scallops, 3 to five each, depending on the size, top with any remaining herbs and a drizzle of olive oil and serve.
Serves 4.