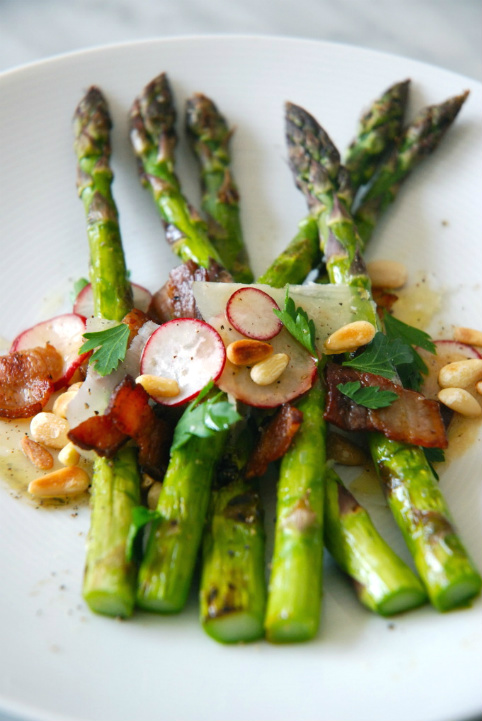 With the first spears of asparagus appearing in the garden and the Farmer's Market it is time to roll out a few new recipes for one of my favourite spring vegetables.
Here is a spring salad that is perfect for lunch with a bit of bread or for dinner alongside some grilled meat or fish. We have also been pairing it with pizzas topped with wild mushrooms, Brie and truffle oil as well as my personal favourite trio of red onion jam, Cambazola and fresh thyme.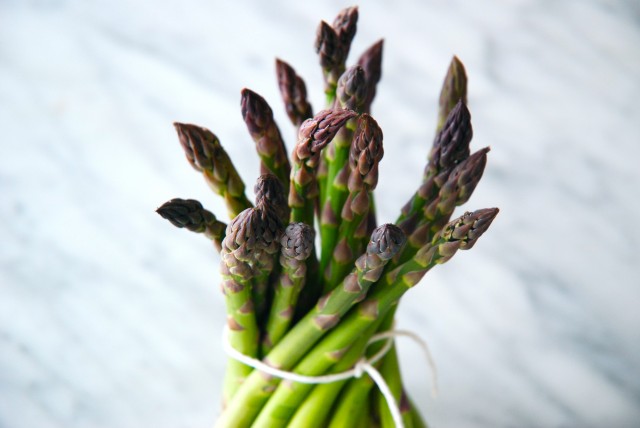 We have been teaching this salad at a bunch of the recent classes as it is so simple and springy and packed with great flavours. And if I haven't sold you yet, it is also a salad you can make ahead of time and sprinkle on the pine nuts and the sliced radishes right before serving. Perfect for a potluck!
I will be back in a few days with a fantastic French rhubarb cake I made earlier this week as well as some recipes for the baking extravaganza I will doing on Friday and Saturday to get ready for the bake sale that is part of the Spring Fling Festival that is being held at Max's school this Sunday, May 29th. More details on that to come…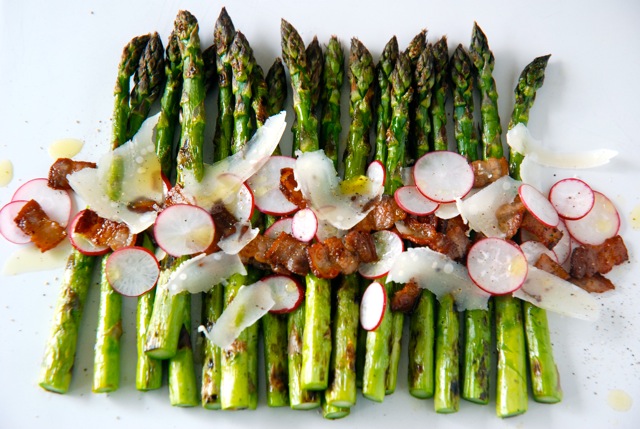 Grilled Spring Asparagus Salad
30 medium spears of green asparagus
8 radishes, sliced paper thin
6 slices of bacon or pancetta, cut into batons
1/4 cup pine nutes toasted
1/4 cup plus 1 tablespoon of extra virgin olive oil divided
3 tablespoons sherry vinegar
3 ounce (85 g) wedge of Parmesan cheese
1 tablespoon of coarsely chopped fresh flat leaf parsley
Fine grain sea salt and freshly ground pepper
Time the woody ends from the asparagus and wash and dry well. Heat a grill pan or BBQ over medium-high heat and while it is heating toss the asparagus spears with 1 tablespoon of the oil and season with salt and pepper. Grill the asparagus spears until they begin to brown but are still bright green and al dente. Remove from the grill and set aside.
Meanwhile heat a medium pan over medium-high heat and fry the bacon batons until crisp. Remove from the heat and drain on a piece of paper towel.
To make the vinaigrette, whisk together the mustard and the sherry vinegar with a bit of salt and pepper. Slowly whisk in the remaining 1/4 cup of oil to form an emulsion. Check for seasonings.
Place the asparagus spears and the radish slices in a bowl and toss with enough of the vinaigrette to lightly coat.
Divide the asparagus spears and radish slices between 6 plates, or place on a large serving platter and top with some of the crisped bacon. Using a vegetable peeler, shave the Parmesan in thin strips over the salad. Top with a sprinkling of toasted pine nuts and a few grinds of black pepper. Serve warm or at room temperature.
Serves 6.