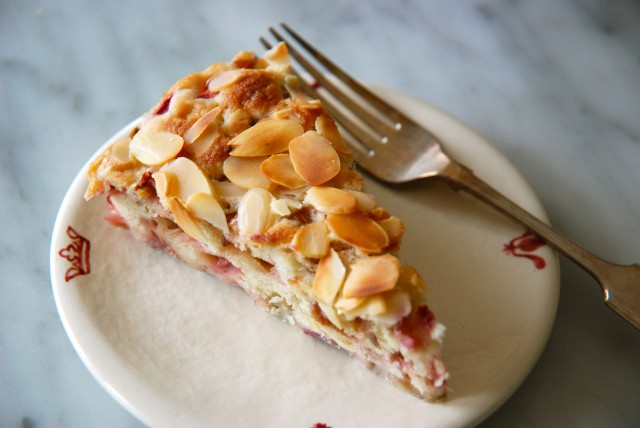 This is a public service announcement.
Tomorrow, Sunday May 29th is the Queen Victoria Annex Spring Fling! If you happen to be unfamiliar with this epic, annual event I will shed a bit of light for you.
Every year, the sweet little school that Max attends has a big spring festival to raise money for student programs that fall outside provincial funding and that help enrich the educational experience for so many great kids in our neighbourhood. The Spring Fling is comprised of a massive garage sale and has other family activities such as face painting, an art bus, rare reptiles (?!), a 50/50 draw and a raffle, musical stylings by Tambai Marimba, Vancouver Police department horses and dogs, not to mention a "gift basket bonanza"!
There also happens to be a bake sale and this is where I come in! There are a wonderful bunch of Mom and Dad bakers at Queen Victoria Annex and I am thrilled to add my contribution into the mix.
If you are able to make it by tomorrow the Spring Fling runs from 10 am until 2 pm. The location is Victoria Drive and 3rd Avenue, just down from the fire station and across from Figaro's Garden.
In terms of baking I am sure there will be some amazing cupcakes and cookies and squares and even hopefully a few pots of jam. For my part I have made some sea salt caramels, some two bite lemon cheesecakes, a batch of blueberry and lemon crumb bars and now I am moving on to some chocolate, almond biscotti and some salted chocolate chunk cookies.
I also made a couple of French Rhubarb Cakes. This is a brand new rhubarb recipe in my repertoire and it is definitely a keeper. I had been looking for a rhubarb cake that would replicate a slice of heavenly baking that I experienced in Paris last year when I was there with my family. That cake looked like this: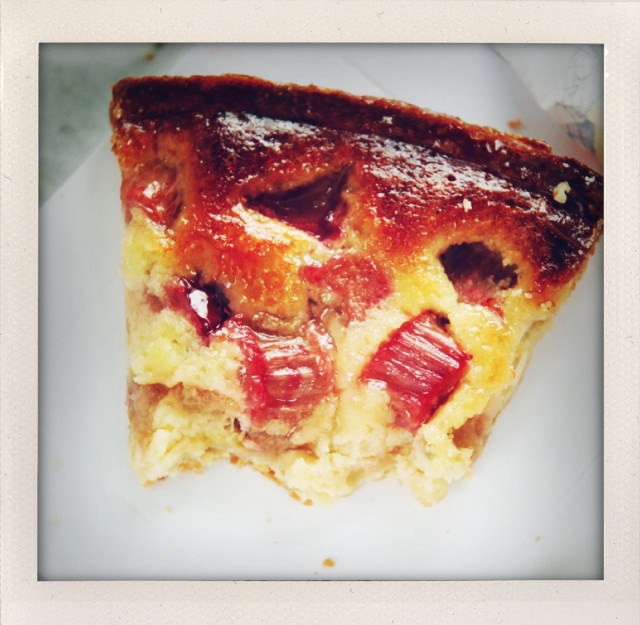 I went online and plugged in "French rhubarb cake" (although in retrospect I might have been smarter to have typed in French rhubarb tart) and what I came across was not at all like the above pictured dessert. But do not despair, I found something just as good, maybe better! This is from a wonderful website called My Kitchen in the Rockies, here is Kristen's recipe that she adapted from another another blogger called Katja over at Bolli's Kitchen. Aren't food blogs great!
This cake is full of sweet/tart rhubarb flavour and is so very moist. My Mom loved this cake when she tried it last week and commented that it is almost like a bread pudding cake. So very good. It is amazing with the soft sweetness of the cake itself topped by the crunch of the sliced almonds. A simple and lovely slice of spring.
See you tomorrow at the Spring Fling!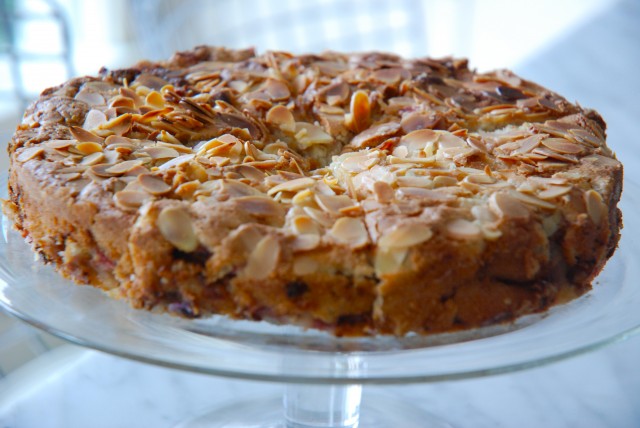 French Rhubarb Cake
Recipe from Bolli's Kitchen via My Kitchen in the Rockies.
6 cups (about 650 g) rhubarb, medium dice
8 tablespoon/1 stick (114 g)  unsalted butter
1 1/4 cup (200 g) sugar
1 teaspoon vanilla extract
3 large eggs
1 2/3 cup (200 g) flour
2 teaspoons baking powder
1/4 teaspoon salt
1/2 cup of sliced almonds
Preheat oven to 400 degrees F.
Butter a 9 inch (26 cm) round spring-form pan and line it with parchment paper.
Mix flour, baking powder and salt in a medium bowl. Set aside.
In a stand mixer using a paddle attachment cream the butter and sugar for about 5 minutes until lightened in colour and creamy. Add the eggs, one at a time until well incorporated. Add the vanilla extract and mix well.
Turn the mixer on low and slowly add the flour mixture. Mix until just incorporated but take care to not over mix or cake will be tough. Fold in the cut rhubarb and transfer to the prepared baking pan. Smooth the top using an off-set spatula and sprinkle with the slice almonds.
Place in the preheated oven and bake for about 50 minutes or until an inserted toothpick comes out clean.
Allow to cool on a wire rack.
Serves 8.