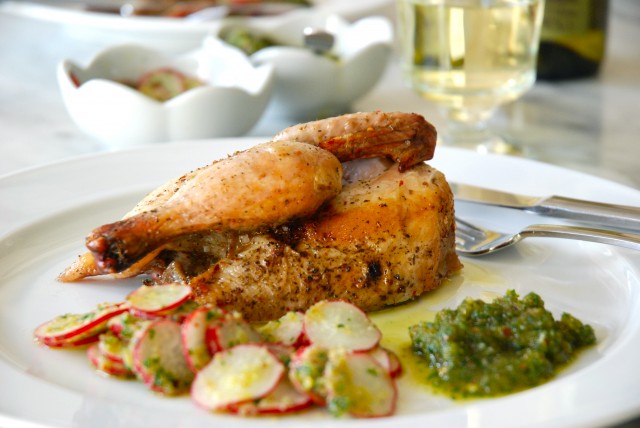 A few weeks ago when I was doing a major cleaning of my kitchen I also spent a bunch of time going though my cookbook collection. I am lucky enough to have a good size office where I have two fairly large bookshelves that are dedicated to cookbooks.  A stash of additional cookbooks ends up in the kitchen on a countertop nestled between the back wall and some heavy enamel pots. These overflow kitchen cookbooks are the ones that are the most used and loved of the moment. The ones in "heavy rotation" if you will. There are certain books that have held their place on that kitchen shelf for months and even years, books that are thumbed through daily and cooked from weekly or sometimes even more often.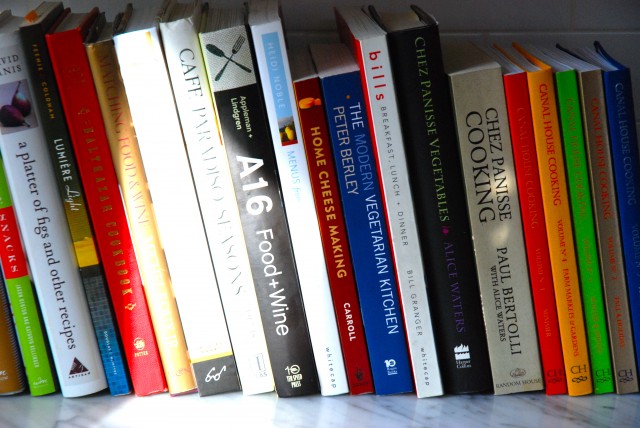 Judy Rogers' "Zuni Cafe", Rob Feenie's "Lumière Cookbook", Bill Granger's "Bills" and a number of the Chez Panisse cookbooks always hold a place on the shelf. These books endure due to their pertinent kitchen wisdom, timeless recipes and ability to inspire.
Some newcomers on my kitchen counter are the books of David Tanis, the Canal House series, the "Tartine Bread" book, and Doris Greenspan's "Around My French Table". The joy that I feel from perusing a new, beautifully designed and inspiring cookbook is something that I hold very dear. I love to be taken on a culinary journey through a eyes of a passionate cook, chef, food writer or winemaker. Great food photography doesn't hurt either!
The recipe posted below is from a newcomer to the kitchen counter. A16 is a well loved Italian restaurant in San Francisco and the cookbook "A16 Food + Wine" by owners Nate Appleman and Shelley Lindgren is such a beautiful and inspiring book.  The name A16 comes from the highway that runs from Naples to Canosa in Puglia and the rustic, flavourful and thoughtful recipes from this book implore you to just get in the kitchen and cook. I could cook and eat from this book from start to finish…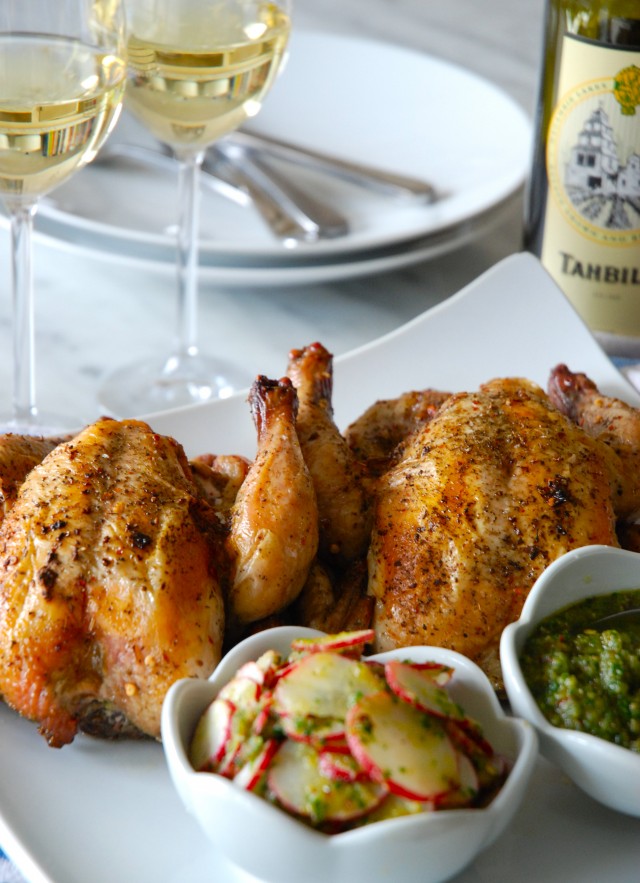 Roasted Cornish Game Hens with Radishes and Salsa Verde

The A16 folks call for poussins (a young 1 pound chicken) or quail (use 2 per person and roast for approximately 10 minutes) but I like to make this recipe with cornish game hens than can run from 1 pound to 1 3/4 pounds. If the game hens are on the larger side then ensure that you cook them for an additional 5 or 10 minutes or so and then cut them in half when serving.
It is also important to season these birds at least one day (and up to 2 days) before you are going to roast them. This not only helps to infuse them with flavour but helps to keep them moist and tender as well.
For the roasted game hens:
3 tablespoons dried oregano
1 teaspoon aniseeds (I have also used fennel seeds in a pinch with good results)
1 teaspoon dried chile flakes
4 – 1 pound cornish game hens 
Fine grain sea salt
For the salsa verde:
1 cup loosely packed flat leaf parsley leaves
1/2 teaspoon capers
1/2 cup bread crumbs (preferably fresh)
1/2 clove of garlic, coarsely chopped
1/2 cup extra virgin olive oil
2 tablespoons freshly squeezed lemon juice
1 bunch red radishes, trimmed and thinly sliced
In a mortar and pestle grind together the oregano, aniseeds and 1/2 teaspoon of the chile flakes to a powder. Season the game hens skin and cavities with about 2 tablespoon of fine sea salt and the spice mixture. Rub well into the skin, cover and refrigerate overnight and up to two days.
When you are ready to roast the game hens remove them from the fridge and allow them to come up to room temperature, about 30 to 40 minutes. Preheat the oven to 500 degrees F.
Roast the game hens on a rimmed baking sheet, rotating the pans (front to back) halfway through cooking for about 20 minutes until the birds are well browned and the juices run clear when a thigh is pierced with a knife.
While the chickens are cooking prepare the salsa verde. Using a food processor combine the parsley, capers, bread crumbs, garlic and the remaining 1/2 teaspoon of chile flakes. Pulse until well combined and then drizzle in the olive oil while the motor is running. Once everything is well combined, stir in the lemon juice and check for seasoning. Add salt and pepper to taste.
Toss the thinly sliced radishes with a pinch of salt and a couple of tablespoons of the salsa verde.
Serve the game hens on a warmed platter alongside the seasoned radishes. Serve the remaining salsa verde in a bowl to be passed around the table.
Serves 4.
Recipe from A16 Food +Wine by Nate Appleman and Shelly Lindgren with Kate Leahy.