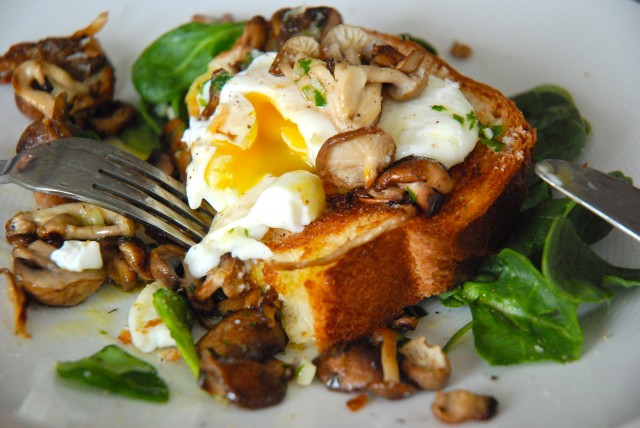 I want to share a recipe that I hope will inspire you to get into the kitchen this weekend and cook some breakfast for a handful of people you like/love.
Springtime is the perfect time to host an informal brunch. Why not stir up a batch of Bloody Marys or a few Mimosas, enjoy some lively conversation, cook something simple yet delicious and perhaps even enjoy a walk with the dogs and/or kids once the meal is complete.
I saw this recipe in the May/June edition of Fine Cooking Magazine and was immediately plotting when I could work this into lazy weekend morning. I made it for Glen and Max last weekend (minus the spinach for Max) and we all really enjoyed it.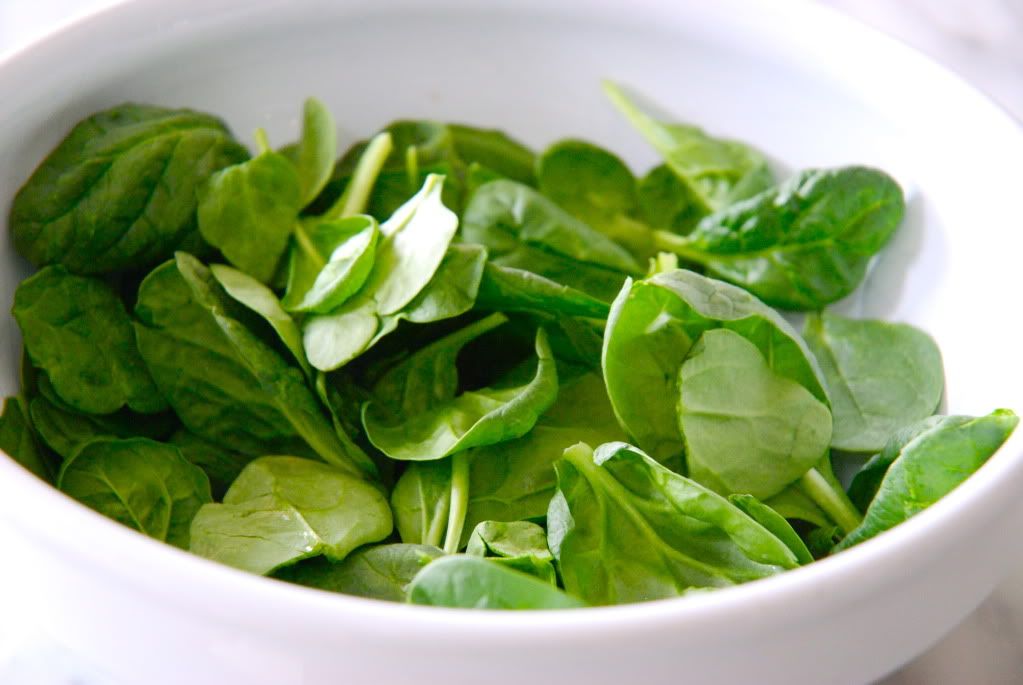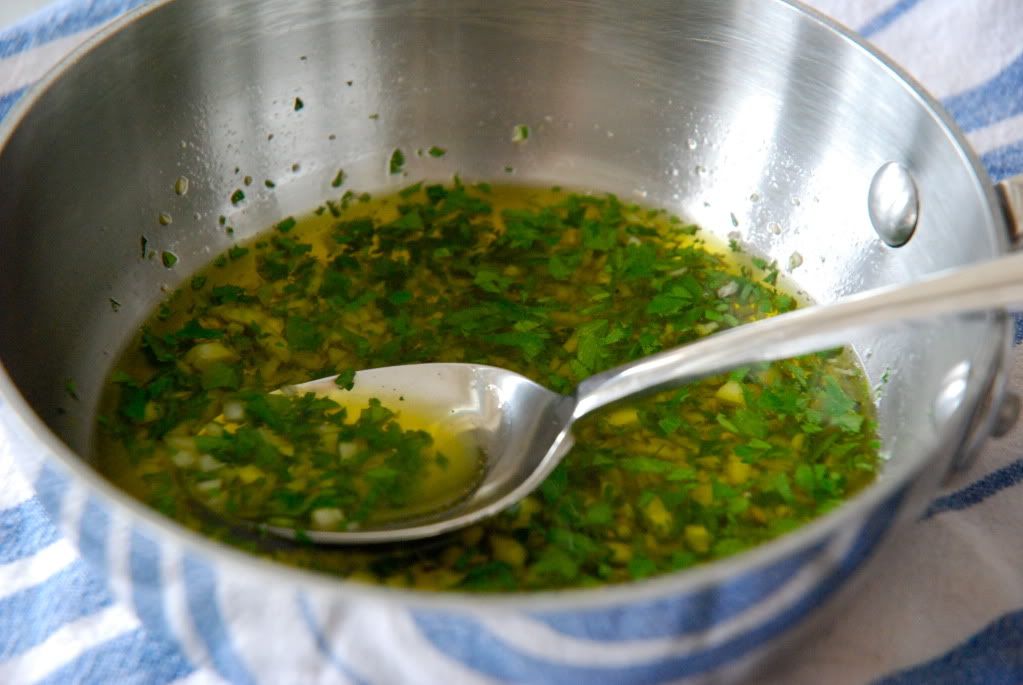 I am drawn to this recipe for a number of reasons. It is pretty straightforward to make and many of the components can even be made ahead of time. You can par-poach the eggs (which are then reheated in simmering water for an additional minute before serving), make the garlic and parsley infused olive oil and even sear off the mushrooms which are then finished in the oven with a tablespoon of water right before serving.
The very best thing about this dish though, even more than the relative ease, is the way in which the bright, rich, creamy, bold, fresh, garlicky flavours of all the individual components work together on the plate. That it is vegetarian is a nice bonus although Max did say this would be just about perfect if you added in some brown sugar bacon. Maybe next time.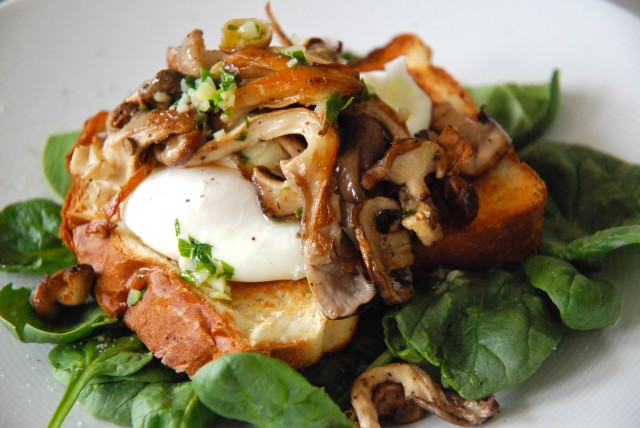 Poached Eggs on Toasted Brioche with Garlicky Mushrooms
Loaves of brioche are available at many French bakeries. I got mine at La Baguette at Granville Island. The original recipe calls for serving this with a single poached egg but as my slices of brioche were large I am opting for two eggs per person. Adjust accordingly.
For the mushrooms:
4 tablespoons extra-virgin olive oil, divided
1 1/2 lb of mixed mushrooms (I used oysters, shiitakes, some hen of the woods and some buttons)
Fine grain sea salt and freshly ground pepper
For the poached eggs:
16 large eggs
1 tablespoon of distilled white vinegar
Fine grain sea salt and freshly ground pepper to season
For the garlic/parsley oil:
1/2 cup extra-virgin olive oil
1 tablespoon minced garlic
2 tablespoons finely chopped fresh flat-leaf parsley
To serve:
8 sliced of brioche cut 3/4 of an inch thick
4 tablespoons (or more) salted butter
6 ounces (about 6 cups loosely packed) of baby spinach, washed and dried well
Preheat the oven to 450 degrees F.
For the mushrooms:
Ensure that your mushrooms are wiped clean of any dirt or grit and then tear or chop them into large pieces. Heat 2 tablespoons of oil in a large skillet, over medium high heat, until hot but not smoking. Add half of the mushrooms in a single layer and allow them to brown on one side for 2 to 3 minutes. Flip them over, season with some salt and pepper and allow to cook for another 30 seconds or so and then remove them from the pan to the plate. Repeat with the remaining 2 tablespoons of oil and mushrooms. Season this second batch with salt and pepper and then return the reserved mushroom to the skillet and add 2 tablespoon of water. Roast in the preheated oven for about 5 minutes until the mushroom are tender and warmed through.
For the eggs:
While the mushrooms are cooking fill a 4 quart sauce pan 3/4 full of water. You may even want to get two pans going here and cook the eggs 4 at a time in each of the pans, repeating until all 16 of the eggs are cooked.  Add the vinegar and 1/2 tablespoon of  salt to each of the pans and bring to a boil. While the water is heating, crack 4 of the eggs into separate cups or small bowls. Reduce the heat to a simmer and using a wooden spoon to stir the simmering water create a water "swirl". Carefully slide the eggs into the swirling water one at a time. Do this in each of the pans of poaching water. Continue to gently swirl the water in one direction and cook the eggs for about 2 minutes for a yolk that will still be runny or a bit more if you prefer. Remove the eggs with a slotted spoon and place on a tea towel to drain of any excess water. Transfer to a warmed plate and season with salt and pepper. Repeat with the remaining eggs.
For the garlic/parsley oil:
In a small skillet over medium heat place 1/2 cup of extra-virgin olive oil and the garlic. Stir for a minute or so until garlic becomes a light golden colour. Be careful not to brown the garlic as it will take on a bitter taste. Carefully add in the chopped parsley and remove from the heat. Season with salt and pepper and set aside.
To serve:
Toast and butter the brioche. Lightly season the spinach with some salt and pepper and divide among 8 serving plates. Drizzle with a bit of the garlic oil. Place a piece of toast in the centre of the plate with the spinach nestled around it and then top with two of the poached eggs. Top with some of the mushrooms and then drizzle with more of the garlic oil. Serve.
Serves 8.
Recipe from Fine Cooking April/May 2011.