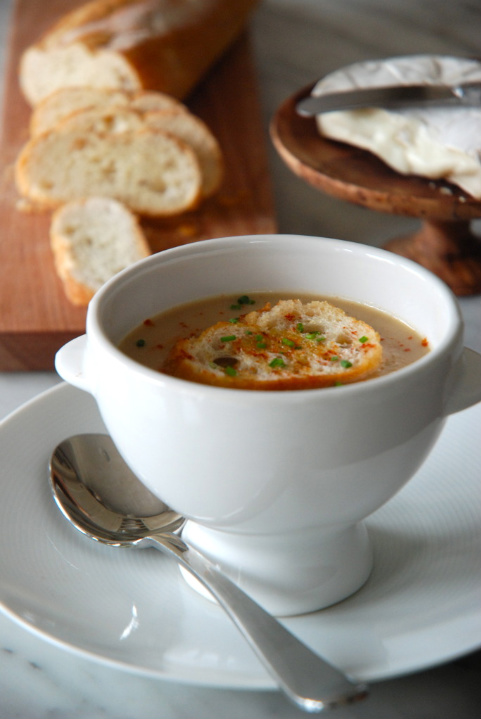 After one sunny, warm spring-like day on Monday and a bit of sunshine yesterday we are now in for a week of grey skies and rainy weather. I am usually unaffected by the rain. I was born and have spent most of my life in Vancouver and so I am used to it, but today I am feeling a bit blue over the prospect of bone chilling rain for the foreseeable future.
Sadly, my emotional landscape is as bleak as the weather. Two days ago I was heartbroken to see my neighbour, who has been living with cancer for the last few years, being moved from her beloved home to a palliative hospice facility for the remaining weeks of her life.
We weren't super close but we would always smile and stop to chat when we met on the sidewalk. We would talk about what Max was up to, or where she was at with her cancer treatments or what was thriving in her vegetable plot at the community garden. I was always very taken with her striking beauty and optimistic spirit. I admired and appreciated her penchant for wearing brightly coloured scarves in the winter and pretty patterned sundresses in the summer. On occasion she wore red, red lipstick and it suited her so perfectly. I will miss her.
For now there is the welcome distraction of loads of laundry to fold, a sink filled with dishes to wash, a little boy to help get ready for school and a dog to walk. At lunchtime I will slip into the kitchen and warm up a bowl of soup which will hopefully take the chill off of my bones and comfort my mind. The restorative powers of soup.
I will impatiently wait for the rain to stop and for the first true glimmer of spring.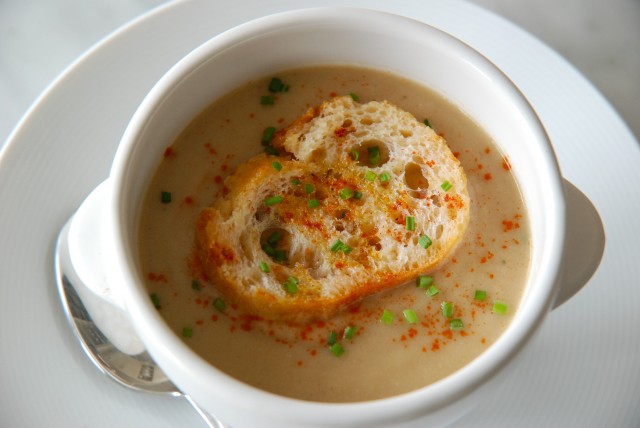 Roasted Cauliflower Soup with Paprika and Garlic Croutons
I am not a fan of super thick pureed soups and so I have added an option of 6 to 8 cups of stock. I tend to use the entire 8 cups but feel free to adjust this amount to achieve the consistency of the soup that you prefer. Also feel free to adjust the amount of hot paprika to suit your palate.
For the soup:
2 medium heads of cauliflower
4 cloves of garlic, peeled
2 large shallots, peeled and cut in half
3 tablespoon olive oil, divided
6 to 8 cups of chicken stock (or vegetable stock to make this a vegan soup) 
1 bay leaf
1 teaspoon of thyme leaves, finely chopped
1/4 teaspoon of hot Hungarian paprika (or more to taste)
Fine grain sea salt and freshly ground pepper
Sprinkling of sweet paprika for garnish
Finely chopped chives for garnish
For the croutons:
6 to 12 slices of baguette
2 tablespoons of extra virgin olive oil
1 clove of garlic, peeled and cut in half
Fine grain sea salt and freshly ground pepper
Preheat the oven to 375 degrees F.
Cut the cauliflower into 1 inch florets and place in a bowl. Add the cloves of garlic and the peeled and cut shallots and toss with 2 tablespoons of olive oil. Season with some salt and pepper and arrange on a rimmed baking sheet in a single layer. Roast in the pre-heated oven for about 30 minutes until the cauliflower is golden in colour.
Reduce oven temperature to 350 degrees F. Place the baguette slices in a single layer on a baking rack placed on top of a cookie sheet and drizzle a little bit of olive oil on each side of the bread and season with salt and pepper. Toast in the preheated oven for 5 to 7 minutes until lightly browned. Remove from the oven and once the baguette slices are cool enough to handle take the cut garlic and rub the toasts on one side with the cut cloves. If making ahead they can be stored in an airtight container for a day or two.
Meanwhile, in a medium stock pot heat the remaining 1 tablespoon of olive oil over medium flame. Add the 1/2 teaspoon of hot paprika and sauté gently for a minute or so. Take care with this step as over toasting the paprika will lend an unwanted bitter taste to the soup instead of a spicy warmth. Add the roasted cauliflower mixture, the thyme and the bay leaf and then 6 cups of the stock. Bring to a simmer and cook for 30 minutes of so until the cauliflower is very tender. Discard the bay leaf and working in batches purée the soup using a blender. Pass the puréed soup through a fine mesh sieve and into a large, clean saucepan or medium pot. Check for and adjust the seasonings and also add some or all of the remaining 2 cups of stock to adjust the soup's consistency. Heat the soup over moderate until heated through.
Ladle into warmed soup bowls and top with one or two of the garlic croutons and dust with the sweet paprika and a sprinkling of chives. Serve hot.
Makes 10-12 cups serving 4 to 6 people.