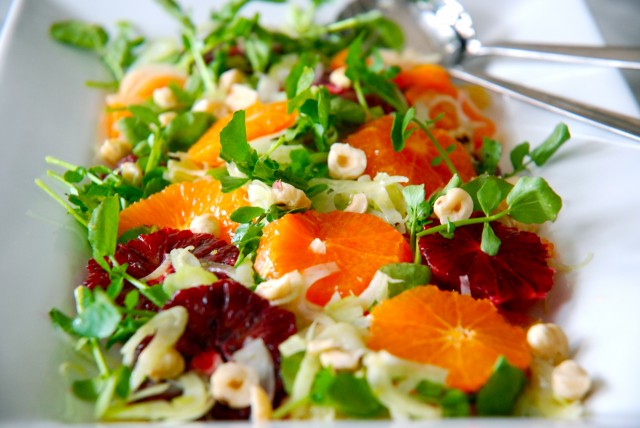 It is that time of the year. Spring is supposedly right around the corner but in my heart I know that those first spears of asparagus are still a good two months away. My palate is feeling a bit tired (and somewhat jaded) by the seasonal ingredient options available. I need something light, bright, juicy, and tangy.
Enter the saving grace of the last weeks of winter: citrus fruits. Honey tangerines, ruby grapefruits, Meyer lemons, good old navel oranges, clementines and especially the beautiful, jewel-like blood oranges.
For the last few weeks I have been finding comfort in using citrus and its juices in a myriad of ways. From braising Belgian endives in orange juice to making a butter sauce for sablefish using the juice of blood oranges, churning grapefruit sorbet (with a gin vanilla jus) and just eating sweet clementines out of hand everyday.
One of my very favourite ways to incorporate these winter fruits is to use them in salads alongside another winter staple, fennel.  And since there was a particularly fetching bunch of watercress at the market yesterday it also made its way into this salad adding a wonderful crunch and peppery flavour. A few toasted and chopped hazelnuts and a vinaigrette made with sherry vinegar, minced shallot, a bit of Dijon and a splash of hazelnut oil and this officially becomes something wonderful to re-awaken those somewhat tired winter taste buds.
I had this for lunch with a bit of bread and cheese but it would be great alongside other heavier, more wintery dishes like Coq au Vin, Osso Bucco, roasted chicken, braised lamb shanks or beef short ribs. Hmmmm, those all sound super appealing to me right now so perhaps I am not quite done with all of those traditional winter dishes quite yet.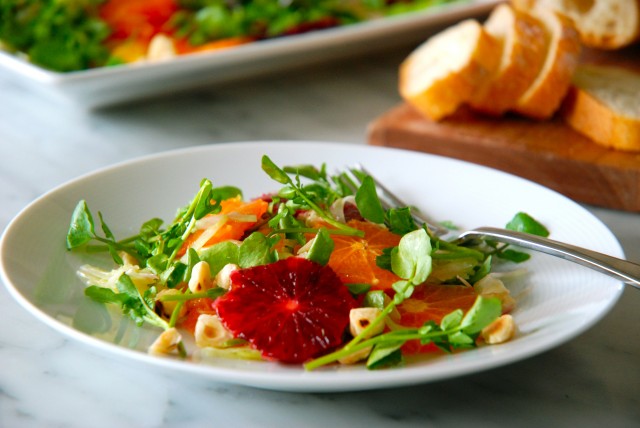 Clementine and Blood Orange Salad with Fennel, Watercress and Toasted Hazelnuts
I like to dress each of the components of this salad individually so that I can layer them on a serving platter. I also prefer to dress the shaved fennel a bit ahead of time to allow it to mellow in the vinaigrette, soften a bit and absorb the flavour.
Also, I have called for hazelnut oil which helps to tie all of the flavour elements together but it is a specialty oil and can be pricey so don't run out and buy a bottle for this one recipe. Do you have some walnut oil on hand? Great, then use that and if not feel free to substitute an extra virgin olive oil instead.
For the vinaigrette:
2 teaspoons Dijon mustard
2 tablespoons sherry vinegar
1 medium shallot, minced
Fine grain sea salt and freshly ground pepper
1/4 cup of hazelnut oil (or walnut oil, or olive oil)
1/4 cup of grape seed oil
For the salad:
1 medium fennel bulb
6 clementine oranges (or navel oranges)
3 blood oranges
1 medium bunch of watercress, washed well and tough stems removed 
1/2 cup toasted and skinned hazelnuts, coarsely chopped
For the vinaigrette whisk the mustard, vinegar, salt and pepper in a medium bowl. Slowly whisk in the hazelnut oil (or walnut of olive oil) and then the grape seed oil to make an emulsion. Stir in the minced shallot. Check and adjust seasoning and set aside.
Cut the fennel bulb in half and cut out the core at the base of each half. Using a mandolin or a very sharp knife thinly slice the fennel. Transfer to a medium bowl and season with a bit of salt and pepper and a few tablespoons of the vinaigrette. Toss well, coating the fennel and set aside.
Take each of the clementines and blood oranges and using a sharp serrated knife or butcher's knife slice a thin piece of peel from both the top and the bottom of each orange so that the flesh is exposed. Now, having created a flat surface (on both the top and the bottom) place a clementine on a cutting board and using your knife follow the contour of the fruit and slice away the peel and the pith starting from the top of the fruit and ending at the bottom. Repeat with the remaining clementines and blood oranges. Once all of the fruit has been peeled take each fruit and slice them into 1/2 inch slices and place in a medium bowl.
Toss the peeled and sliced citrus fruits with some of the vinaigrette, just enough to coat and season with a bit of salt and pepper. Layer the citrus fruit on a platter (or evenly amongst 6 plates). Reserve the bowl to dress the watercress.
On top of the sliced orange segments place the marinated fennel.
In the bowl reserved from the citrus slices toss the watercress with some of the remaining vinaigrette (you may have some vinaigrette left over) and season with salt and pepper. Place the watercress on top of and around the citrus and fennel.
Scatter the toasted hazelnuts over the top and serve.
Serves 6.