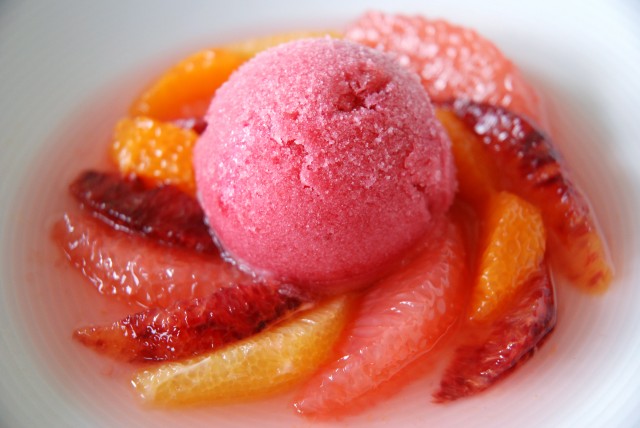 I am sorry that I haven't been around over the past week or so. I was feeling pretty much paralyzed by the many devastating world events that were unfolding. It was tough to do much blogging when my heart was aching over the loss of one person that I knew well who passed away last week and thousands of others whom I had never met who lost their lives, their family members, friends and homes.
As a small act of self-preservation I pried my fingers off the keyboard (as they flew from the CBC to the BBC to CNN) and moved into the one room in the house that can always make me feel a bit more centred.
I spent last week in the kitchen cleaning and cooking and thinking.
I organized cupboards, scrubbed pots, went through the freezer and fridge (how many jars of half used Tom Yum sauce does one person need?) and weeded through the flotsom and jetsom of that catch-all drawer next to the cutlery.
As I cleaned and organized I thought and thought. I thought about what I could do and where I could donate and then I gave what I could. I thought about how lucky I am to be surrounded by such wonderful family and friends and how much they mean to me. I thought about how life can be so unpredictable and fragile and about its fleeting beauty. About the importance of living your life as if each day were your last yet still planning on living for a very long time. And about how I could possibly explain all these things to my son when I struggle to understand them myself.
And then I cooked. Nothing fancy or earth shattering or even very photogenic. I made chicken noodle soup, a beef stew, some garlic pasta, a fennel salad.
The sun came out this afternoon (finally) and I remembered that I had some blood oranges and tangerines and grapefruits in the fridge left over from a dinner that we had with our wonderful neighbours on Sunday. I thought about how spring was officially here and with the coming of the daffodils the season for citrus fruits would soon be gone.
I have been pondering the words of Ruth Reichl who posted this past week on her blog "…in the face of ongoing disaster, it is […] our moral resonsiblilty to appreciate what we have. That is why cooking good food for the people that I love is so important to me; in a world filled with no, it is a big yes. So eat a good breakfast. Be grateful for what you've got. Enjoy the sunshine while you've got it. Then go out and save the world."
Well said.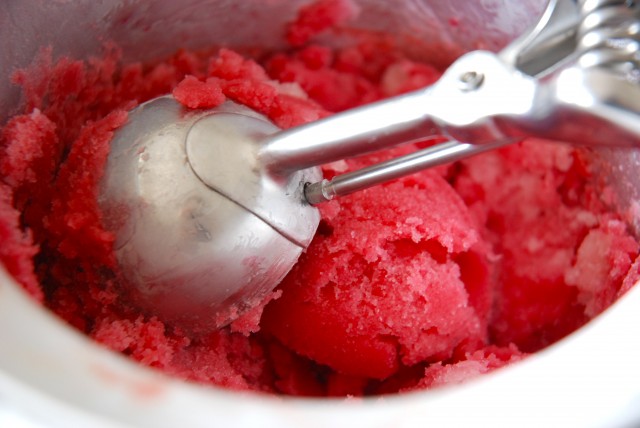 Blood Orange Sorbet with a Cardamom Scented Citrus Salad

Feel free to use any combination of citrus fruits that you have on hand for the salad. Also, tangerine or orange juice can be substituted for the blood orange juice using the same ratios listed below.
For the sorbet:
2 cups fresh blood orange juice (from approximately 8 to 10 blood oranges)
1/2 cup simple syrup (recipe below)
Juice of 1/2 lime
For the citrus salad:
2 grapefruit, peeled and segmented
2 blood oranges, peeled and segmented
2 navel oranges, peeled and segmented
2 tangerines, peeled and segmented
1/2 cup of cardamom jus (recipe below)
For the simple syrup: (this makes enough for both the sorbet and the cardamom jus for the citrus salad):
1 cup of water
1 cup of granulated sugar
For the cardamom jus:
3/4 cup of simple syrup
3 cardamom pods, crushed
Zest of 1/2 orange
To make the sorbet:
Combine the chilled syrup and chilled blood orange juice. Pour the mixture into and ice-cream maker and freeze according to the manufacturer's instructions. Transfer the sorbet to an airtight container and freeze for at least two hours or for up to one week.
For the cardamom jus:
Combine the 3/4 cup of simple syrup with the crushed cardamom pods in a small saucepan. Bring to a boil and remove from the heat. Add the orange zest and allow to cool. Strain and refrigerate until needed.
To assemble:
In serving dishes place a selection of segmented fruit in the base of the dish. Pour some of the cardamom jus over the fruit and top with a scoop of the blood orange sorbet on the top. Serve immediately.
Serves 8.