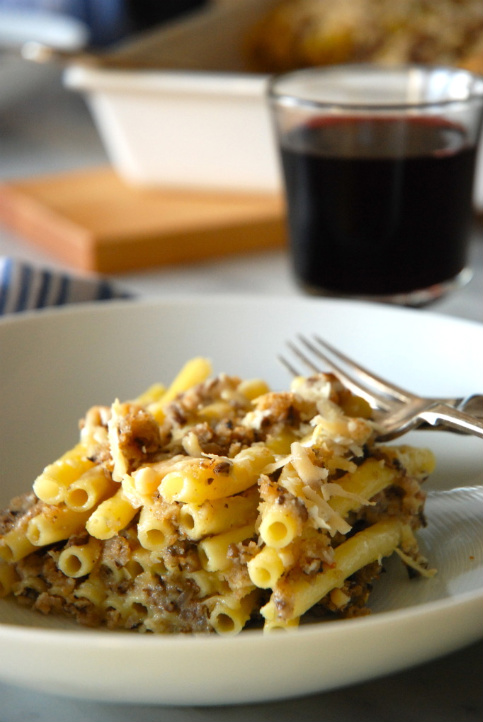 It is almost Valentine's Day! Being on a Monday this year made me re-think my plans for a special Valentine's dinner for the two sweethearts in my life. Things are made a bit more complicated by the fact that we will be away this weekend in Los Angeles and won't be flying home until mid-day on Valentine's Day Monday.
My husband Glen has been nominated for an award by the American Society of Cinematographers and the ceremony will be held on February 13th at the Kodak Theatre in Hollywood! His nomination is in the episodic television category for his work on Smallville.  He is thrilled to be recognized by his peers and his enthusiasm almost matches Max's who is ecstatic to be missing a few days of school so that he is able to join us.
I am exited for Glen and also happy to be able to spend a bit of time with my sister Lisa, who lives in Los Angeles. The weekend is promising to be filled with other lovely adventures. There is a trip to the Getty Museum planned for Saturday afternoon and a family dinner at a restaurant called Jar that I have always wanted to try. The awards ceremony is on Sunday evening and my friend Sarolta helped me pick out a pretty black dress to wear and some new shiny black heels as well.
These shoes are the only thing that have me a bit worried. High heels have absolutely no place in my daily life and I have visions of myself breaking my neck if/when I encounter any stairs. I have spent a few hours this week tottering around the house dutifully trying to break them in (while wearing my sweat pants). Quite the sight. Thankfully, no one has been around to see it.
After all is said and done we should arrive home by about 4 pm on Valentine's Day just in time to start thinking about dinner. After the suitcases are unpacked and the laundry is started and we settle back in to life at home there really won't be a ton of time to whip up something fancy for dinner. So my plan is to make two relatively simple pastas for the two men who mean the most to me.
For Glen, it will be this truffled macaroni with shallots and mascarpone and a sprinkling of Parmesan. I think a crisp escarole salad with a lemon-anchovy vinaigrette and some fried capers will pair beautifully alongside. A big Italian red (maybe from Tuscany) will be the perfect pairing.
And for Max. His dream would be a big bowl of Annie's white cheddar bunnies with a selection of hot sauces on the side. Plus a plate of hot house tomatoes sprinkled with salt and a big glass of milk.
I think I can make that happen and even provide something chocolaty for dessert. Simple and perfect for my sweet guys on Valentine's Day.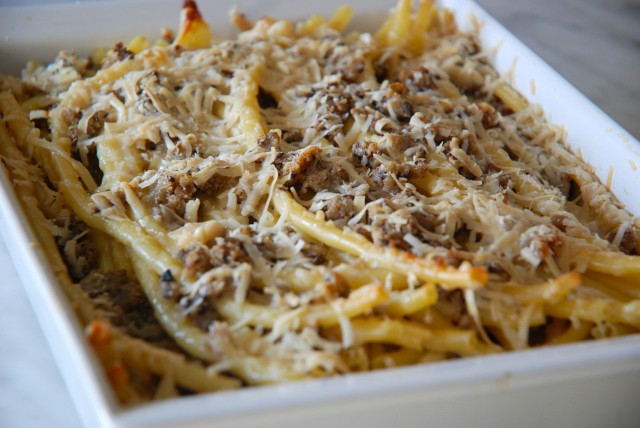 Truffled Macaroni
The original recipe from Michel Roux Jr. called for 100 g cooked black truffle chopped. Since I never seem to have truffles kicking around my house, nor can I afford to buy 100 g of truffle at my local gourmet market, I have substituted a jar of white (or black) truffle purée which can be found at many of the Italian markets in my neighbourhood.
500 g (approximately 1 pound) large macaroni (I used a #9 mezzi ziti from La Molisana)
Olive oil
400 g (just under a pound) brown button mushrooms, cleaned and finely chopped
2 large shallots, peeled and finely chopped
2 tablespoons butter
140 g (2/3 cup) mascarpone cheese
2 whole eggs, lightly beaten
Fine grain sea salt and freshly ground pepper
A pinch or two of freshly ground nutmeg
1 100 ml (2.8 g) jar of white (or black) truffle puree
100 g (1 cup) grated Parmesan cheese
Bring a large pot of salted water to a boil. When rapidly boiling add the macaroni and cook until al dente. Drain and toss the pasta with a bit of olive oil to keep it from sticking. Set aside.
Preheat the oven to 375 degrees.In a large, wide pan melt the butter and add the shallots and mushrooms and season with a bit of salt and pepper. Sauté over medium low heat until all of the moisture has evaporated and the mushroom mixture is soft and fragrant. Add the mascarpone cheese, stir well and continue to cook for a minute or two until the mascarpone is melted into the mushroom mixture.
Take off the heat add the nutmeg and check and adjust seasonings. Add the beaten eggs and a bit of the Parmesan. Stir in the truffle paste.In a large bowl toss the cooked pasta with the mushroom mixture and then layer into a lightly buttered baking dish large enough to accommodate the pasta in a few layers. Sprinkle the top with the remaining Parmesan cheese and bake in the preheated oven for about 20 to 25 minutes until the cheese has melted and golden and the pasta is bubbling.
Serves 6.