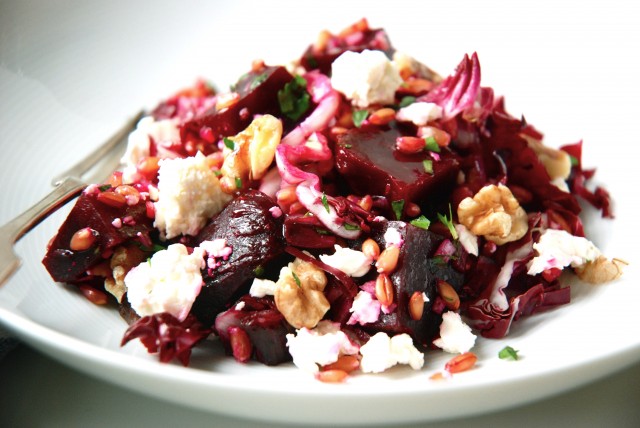 We made it back safe and sound from our weekend in Los Angeles and while Glen didn't come home with a new trophy we did have a really wonderful time anyway.
Glen was thrilled to be able to meet and talk with all of his idols in the cinematography world and Max had a jam-packed, fun-filled weekend with his aunt and uncle. We had some good walks, met up with some old friends, made a few new ones and ate some really wonderful meals.
The weekend had its share of culinary highlights including the dinner for all of the nominees on Friday night that was prepared by chef and fellow food blogger Audrey Kovacs. Her new(ish) tumblr site has more than 8500 followers! Her hors d'oeuvres were wonderful and the four course meal that she and her staff prepared was outstanding. No easy feat when you are cooking for a few hundred people. She has posted her recipe for Shrimp Two Ways on Toast that I sampled on Friday which was delicious. Check out her site here.
On Saturday night we had a delicious family dinner at a restaurant called Jar. The five of us enjoyed an amazing meal of many courses which included the most delicious roasted cauliflower soup I have ever had. I am trying to re-create it here at home so that I can share it with you, so watch for that next week. There was no cream in this soup yet it was rich and creamy and there was a real earthiness from the roasted cauliflower and a hint of spice which I think might have been smoked paprika. I am dreaming of this soup and many of the other dishes that we tried that night.
On Sunday I took a walk and ended up at the Hollywood Farmer's Market. What a place! It was cool to see what is in season and local compared to what we have right now in Vancouver in the dead of winter. Avocados and citrus fruits, strawberries and radishes, tender lettuces, pomegranates and hedgehog mushrooms. I sampled some of the sweetest strawberries and clementines I have ever tasted. They even had raw milk and raw goat cheese, grass fed bison and fresh oysters and crabs and a selection of beautiful flowers including a myriad of orchid varieties.
Right next door to the market was a Umami Burger restaurant (which I love) and so I ducked in for a tuna burger with wasabi mayonnaise. Absolute heaven.
After the awards ceremony/dinner on Sunday night they had an after party at the American Society of Cinematographer's clubhouse where they had a BBQ set up and were serving sliders and little hotdogs served on the most delicious brioche buns. I might have had just a couple.
But now we are home and after five days of eating everything in sight my stomach is telling me to slow down and eat something (anything!) healthy. Some nutrient rich beets, earthy, wholesome farro, bitter radicchio and a bit of salty feta fits the bill. If you can't find farro (which is also sometimes labelled as emmer wheat) you can certainly substitute wheat berries or even pearl barley. This was lunch yesterday and will happily be consumed for dinner today with a bit of roasted chicken on the side. Healthy but still delicious and full of flavour. It is nice to be home.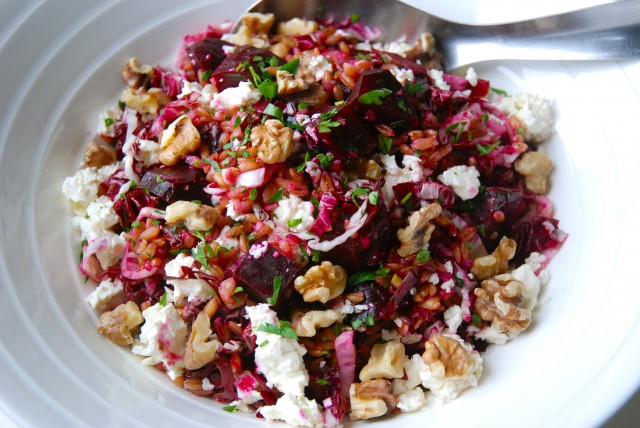 Roasted Beet Salad with Farro, Feta and Radicchio
You can roast the beets and cook the farro ahead of time which then makes this salad a cinch to pull together.
8 medium beets, washed and tops trimmed
1 1/2 cups farro
2 tablespoons of olive oil
4 tablespoons of red wine vinegar, divided
2 tablespoons of walnut oil (or olive oil) 
2 cloves of garlic, minced
2 cups (packed) of radicchio, cored and thinly sliced
1 small red onion, finely chopped
1 cup feta cheese, crumbled
1/2 cup walnuts, toasted and coarsely chopped
1/3 cup fresh parsley, chopped
Fine grain sea salt and freshly ground black pepper
To roast the beets:
Preheat the oven to 400 degrees. Place the washed and trimmed beets on a sheet of aluminum foil and season with a bit of salt and pepper. Wrap tightly in the foil and place in an oven proof baking dish. Roast in the preheated oven for 45 minutes or an hour until the beets yield easily when pierced with the tip of a sharp knife. Allow to cool slightly and then the peels should easily slip right off. This can be done up to a day before. Cover and chill.
To cook the farro:
Clean and rinse the farro and then combine it in a medium saucepan with a generous amount of salt and then cover by a few inches with water. Give a stir and put the heat to medium. Cover and simmer, stirring occasionally until the farro is tender but remains a bit toothsome and retains its structure. If you are using regular farro the cooking time should be about 45 minutes to an hour but if you are using semi-pearled farro it will be about half that amount of time. Taste as it cooks to ensure that it remains a very slight bite and isn't cooked down to a mush. Drain any excess water and transfer to a large bowl. Season with some salt, pepper, 2 tablespoons of the olive, 1 tablespoon of the red wine vinegar and the garlic. Allow to cool to room temperature.
To assemble the salad:
Cut each of the beets into 6 or so wedges. Add the beets, sliced radicchio, chopped onion and parsley to the farro and toss well. Whisk the 2 tablespoons of walnut oil and the remaining vinegar and drizzle over the salad. Check for seasoning. Top with crumbled feta, toasted walnuts and a bit more of the parsley and toss gently to coat. Serve.
Serves 6.
Recipe adapted from Epicurious.com