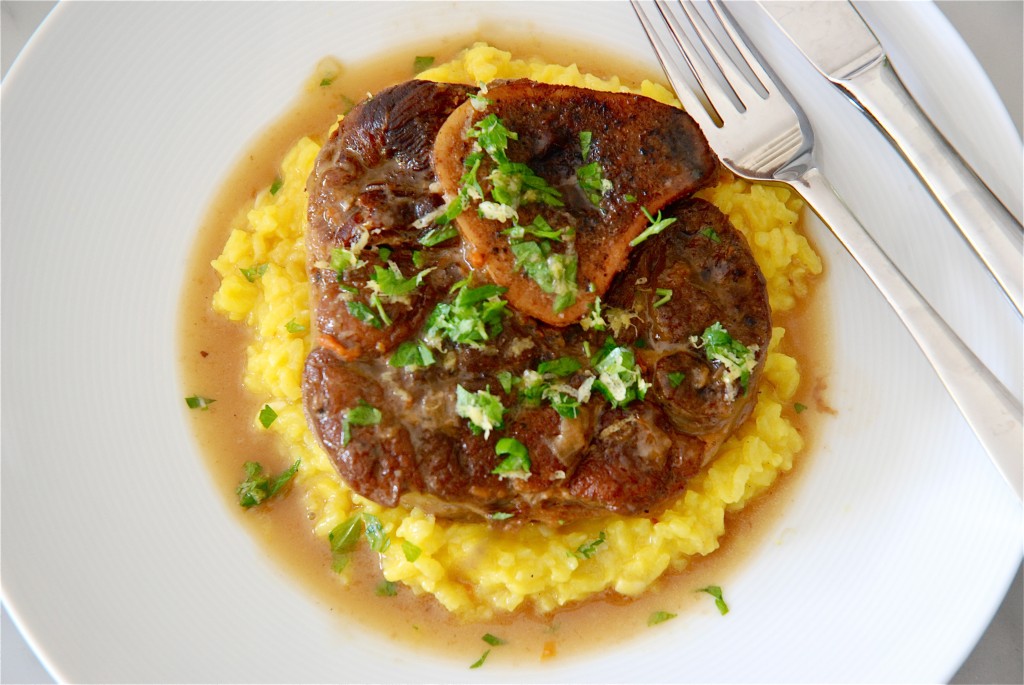 We are back into the swing of things around here after a wonderful Christmas break. Our time in Mexico was relaxing and filled with perfect weather, some great food and good laughs with my Mom and Dad and we made it home just in time to go up to the cabin and ring in the New Year with some family and dear friends. On New Year's Day Glen, my sister Lisa (who is up from LA visiting) and I all braved the frigid waters to dive in for the annual Keats Island Polar Bear Swim and then we spent the rest of the day napping, reading and talking and had garlic pasta for dinner. A perfect way to start the year.
Now with everyone back to work and school I have had the time to focus on some brand new food related projects and have eased back into the kitchen to cook up some hearty fare that is perfect for winter.
January cooking for me always rests heavily on comfort food that is not too heavy on the palate or the pocketbook. And after all of those fancy parties and big dinners that accompany the holiday season a simple meal like this braise is exactly what I am craving.
Whenever I have osso buco in a restaurant it is made with tomatoes but the way that I learned to make it is based on the Milanese version that omits tomatoes and instead features the delicate flavours of  some warm spices (allspice and ground cinnamon) and fresh bay leaves and is finished with a gremolata which adds an ethereal citrus note. Traditional Osso Buco alla Milanese is served with risotto that has been perfumed with saffron. It can, of course, be served with a creamy polenta or even mashed potatoes to soak up all the delicious juices.
What is great about this recipe is that it can be made the day before you plan to serve it and truly does improve with an overnight rest in the fridge. I love this for dinner parties as you have to do the legwork long before your guests arrive which frees up time to actually spend with the folks you have invited over instead of running around in the kitchen frantically cooking a meal. I most often serve this with a salad composed of thinly shaved fennel and orange segments, tossed with a grainy mustard vinaigrette.
A Chianti Classico would be an ideal pairing for this dish and I picked up a bottle of Toscolo Chianti Classico 2007 from Firefly Wines on Cambie Street and it was a match made in heaven!
Additional cooking notes:
*I buy my centre cut veal shanks at Cioffi's which is at 4156 East Hastings in Burnaby. Cioffi's has two shops almost next door to one another, one is a meat market and one is an Italian deli. In the meat shop the friendly butchers will dry age any meats upon request and they offer everything from Salt Spring Lamb to fresh rabbit and a whole selection of homemade sausages. The deli has a great array of pastas, olive oils, cured meat and even Burrata cheese.
*When cooking the osso buco I like to use two dutch ovens in order to make sure that I don't overcrowd the pot and ensure that the veal cooks properly.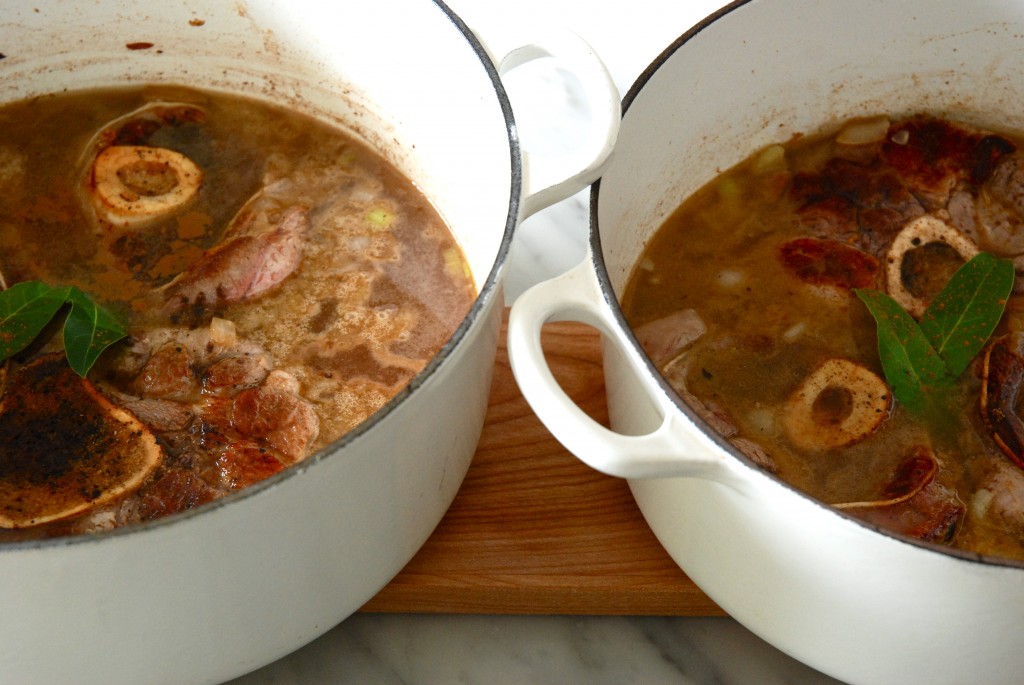 Osso Buco Alla Milanese
I use two dutch ovens to sear the veal shanks and braise them as well. If you have a braising pan or a pot big enough to hold all the shanks in a single layer you will only need one pan.
For the osso buco:
6 centre cut veal shanks, 10 to 12 ounces each
Fine grain sea salt and freshly ground pepper
1/4 cup of olive oil
1 cup diced onion
1/2 cup diced carrot
1/2 cup diced celery
2 garlic cloves, smashed
2 cups dry white wine
6 cups veal stock or chicken stock
4 fresh bay leaves
Pinch of ground allspice
Pinch of ground cinnamon
For the gremolata:
2 teaspoons of finely grated lemon zest
6 tablespoons finely chopped parsely
1 garlic clove, minced
For the saffron risotto:
1/2 teaspoon saffron threads
3/4 cup dry white wine
6 tablespoons unsalted butter, divided
1 medium onion, small dice
2 cups Arborio, Carnaroli or Vialone Nano Rice
6 cups chicken stock
1/2 cup grated Parmigiano Reggiano
Fine grain sea salt and freshly ground pepper
Take the veal shanks out of the fridge one hour before cooking so that they can come up to room temperature.
Using kitchen twine tie each shank around the middle to secure the flesh. Season well on both sides of each shank with salt and pepper and set aside.
Preheat the oven to 325 degrees.
Heat the oil in a heavy bottom pan or dutch oven over high heat. Place the shanks in the heated pan and sear to evenly brown on all sides. Depending on the size of your pan you will need to do this in batches or use two pans. Take your time during this step, the shanks should not be touching one another in the pan and it will take a full 15 minutes to ensure that the shanks are well browned on all sides. Once the meat is a deep golden brown remove the shanks and place on a plate.
Turn the heat down in the pan and add the onion, carrot and celery, garlic cloves and stir well. If you are using two pans just divide the vegetables and simultaneously cook them side by side. Cook over medium heat until the vegetable begin to caramelize approximately 5 to 7 minutes. Add the wine and using a wooden spoon scrape up all the browned bits that are stuck to the bottom of the pan.
Place the shanks back into the pan(s) making sure they are sitting flat, in a single layer with the bones facing upright. Add the stock, which should almost cover the shanks. If it doesn't add a bit more stock or water. Add the bay leaves, allspice and cinnamon. Cover with a tight fitting lid and place in the preheated oven. Cook for 3 hours or until the meat is tender and you can cut it with a fork.
Transfer the shanks to a plate and strain the broth into a clean saucepan. Press down on the vegetables to ensure that all the liquid is extracted. Skim the fat from the braising liquid and reduce the broth over medium high heat for 5 to 7 minutes until it thickens slightly. Check and adjust seasoning.
Return the shanks to a dutch oven and pour over the strained and thickened sauce. Gently heat through until the shanks are warmed through. Keep warm until ready to serve.
For the risotto:
Put the wine in a medium bowl and crumble the saffron threads between your fingers and then add to the wine. Warm the chicken stock in a medium saucepan over medium heat and keep warm throughout the risotto preparation.
In a medium, heavy bottomed saucepan melt 4 tablespoons butter and then add the diced onion over medium heat. Sauté the onion until translucent but do not allow it to brown. Add the rice and using a wooden spoon stir well to coat the grains of rice in the fat and allow to toast slightly. Add the saffron infused wine and  stir until all of the liquid has been absorbed. Stir in a the warm chicken stock about half a cup at a time, stirring until each half cup of stock has been absorbed before adding more. Continue until all the stock has been added and the rice is al dente. You may not need all of the stock or you may need a little more, taste as you go.
Stir in the Parmigiano Reggiano cheese and the remaining 2 tablespoons of butter. Season with salt and pepper. Serve at once.
For the gremolata:
Mix together the lemon zest, chopped parsley and minced garlic in a medium bowl. Set aside.
To serve:
On heated dinner plates place a small mound of risotto in the centre of each plate. Remove the kitchen twine from the shanks and place a shank on top of the mound of risotto. Ladle some of the remaining braising juices over the meat and then add a pinch or two (or three!) of the gremolata on top. Repeat for the remaining plates. Serve at once.
Serves 6.